Electricity prices still not falling despite oversupply
The Electricity of Vietnam's (EVN) latest report showed that the Covid-19 pandemic has led to a decrease in electricity demand. The real electricity output in 2020 was 247 billion kwh and the additional charge growth rate was 3 percent.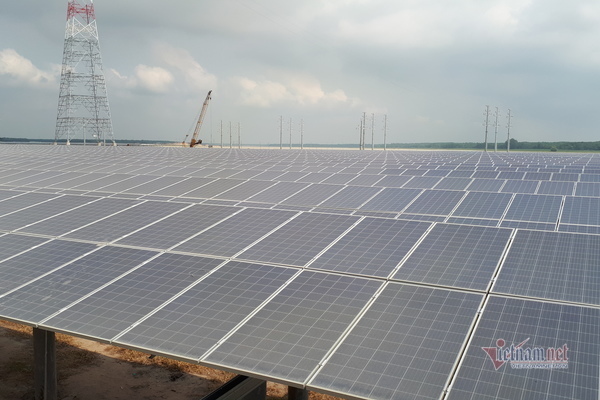 These were low figures. In previous years, the additional charge growth rate was 9-10 percent.
Meanwhile, the year 2020 witnessed a boom in renewable electricity. The total usable renewable electricity output was 12 billion kwh, higher than the initially planned 10 billion kwh.
The pandemic continues to have a big impact on electricity demand in 2021. The electricity supply from now to the end of 2021 will depend on the pandemic's further developments and the Government's policies. However, renewable power sources will still be mobilized at high levels.
The Electricity Regulatory Authority of Viet Nam (ERAV) estimates that in 2021, Vietnam can mobilize 32 billion kwh of renewable electricity, many times higher than 2020.
A large amount of investments has been poured into developing renewable energy, particularly solar energy, over previous years in Vietnam, according to the ministry.
With the serious pandemic outbreaks ongoing in Hanoi, Bac Ninh and Bac Giang, tourism remains frozen and there is no sign of rapid recovery of electricity demand. In March 2021, EVN warned that the electricity oversupply may become even more serious.
The diminishing of renewable power generation and other sources are undesirable. However, EVN still has to cut the electricity output mobilized from renewable power plants because of the low increase in electricity demand.
Nguyen Tam Tien, CEO of Trung Nam Group, said because of Covid-19, electricity demand for production, business and service has decreased, causing an oversupply at times moments, but the excess is just temporary.
"It would be better to be sympathetic to EVN rather than reproach them," Tien said.
He pointed out that when the electricity demand increases again, the overloading of the transmission line may occur, thus leading to a possible capacity cut.
If the current low-demand situation continues for a long time, power plant owners won't be able to have cash to pay bank debts, or will have to restructure payments, extending the payment time to 11 years from seven years.
Retail prices not falling

If the current low-demand situation continues for a long time, power plant owners won't be able to have cash to pay bank debts, or will have to restructure payments, extending the payment time to 11 years from seven years.
Though electricity is abundant, a retail price cut has not occurred. The excess only occurs at certain moments of the day, especially midday, weekends and holidays, when solar power plants generate electricity at full capacity, while demand is low.
If mobilizing electricity from solar power plants, EVN has to cut the volume of electricity from traditional power sources, including hydropower, coal-fired and gas-fired thermopower plants.
Nevertheless, using up all the solar power output is clearly not feasible, because the entire power system may face risks if weather conditions impact on the plants' generation capacity.
Experts also pointed out that market rules must be observed when regulating the power system. EVN has to be responsible for the consumption of BOT power plants, and other contracts signed. Large hydropower plants have to ensure water supply for lowlands.
Because of the prioritizing of renewable power, hydropower units have to adjust the generation capacity at different moments and water level limits, which may affect electricity supply security at the end of the dry season. Thermopower plants may have to adjust the capacity of coal- and gas-fired thermopower generation units, thus increasing risks for the units.
About 4,500 MW of solar power was put into operation in 2019. Solar power production cost is much higher than hydraulic and thermal power, VND1,644-2,100 per kwh, not including transmission fee.
A question was raised at a recent meeting at EVN about how the solar and wind power capacity increase has affected EVN's financial situation.
Since EVN has to buy electricity from renewable power plants at prices higher than the average retail prices, EVN has seen profits decrease.
This means that the retail prices are not likely to decrease, especially when EVN lost VND12.3 trillion after two power bill cut campaigns as a support to consumers amid Covid-19.
Amid the current electricity excess, experts say that Vietnam will still have high electricity demand in the medium term, and an electricity shortage will occur if Vietnam doesn't develop more power projects.
EVN reported that in 2021-2025, the additional charge would increase by 8.9 percent per annum, or an increase of 23.6-30.5 billion kwh per annum. Meanwhile, new sources can provide 6.1-16.7 billion kwh per annum, much lower than demand.
This is attributed to the slow implementation of many thermopower projects and unclear pricing when the FIT2 mechanism ends, slated for October 2021.
Renewable power makes up 32-50 billion kwh per annum, accounting for 12-14 percent of the demand of the total electricity system.
Analysts believe that in 2022-2023, EVN will have to mobilize oil-run power sources to satisfy demand in rush afternoon hours, when solar power sources reduce capacity and other power sources cannot satisfy the additional demand. 
Luong Bang

The proportion of alternative energy to the total primary energy supply in the central city of Danang will reach 9.69% by 2035.

Vietnam's total output of electricity from renewable energies hit 9.5 billion kWh in the first four months of 2021, up 156.9% year-on-year, and accounting for 11.8 percent of the total electricity output, according to Vietnam Electricity.