E-government: removing bottlenecks with a new approach
After two years implementing Resolution No. 17/NQ-CP on e-government, Vietnam has made great progress, adopting a new approach to solving bottlenecks and problems that have existed for a long time.
The resolution dated March 7, 2019 concerns the key tasks and solutions for e-government in 2019 - 2020, with a vision to 2025. It has achieved many important results, creating a premise for the development of digital government.
The core components of e-government and the basic legal environment for it have been created. Technical infrastructure has improved greatly, while applications have been prioritized for effective implementation.
According to a report from the Ministry of Information and Communications (MIC) at a meeting of the National Committee for E-Government on March 10, so far most of the tasks and projects under Resolution No. 17 have been implemented and completed by ministries, agencies and provinces, making an important contribution to promoting the development of e-government.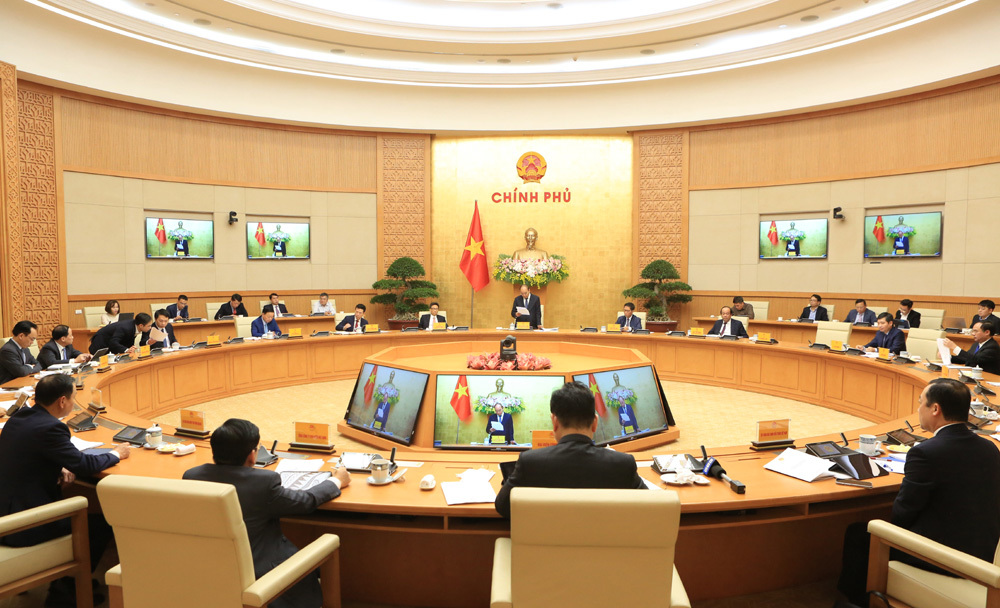 The meeting of the National Committee for E-government on March 10. Photo: Duc Huy
The Government Office has been a pioneer in advising and building e-government to serve the Government's operation.
"With the view of improving service quality, taking people and businesses at the center, the Government Office has developed and submitted to the Government for promulgation Decree No. 61/2018 on the implementation of the one-stop mechanism in solving administrative procedures as a legal basis for the implementation of the National Public Service Portal and re-planning of IT systems to provide online public services, ensuring that each ministry and province has only one public service portal," said Head of Government Office Mai Tien Dung.
According to the Government Office, as of March 8, 2021, more than 2,800 out of nearly 6,800 public services are included on the portal at four administrative levels. The portal has received over 116 million visits and more than 468,000 registered accounts. More than 940,000 administrative documents have been processed online through the portal, while 67,000 e-payment transactions have been made, with the total amount of VND26.7 billion.
The portal also received more than 10,000 feedback responses. The portal has helped save more than VND8.1 trillion ($351.53 million) each year, along with over VND1.2 trillion each year in paper and delivery costs.
So far, the national reporting information system has connected the systems of 14 ministries and agencies as well as 37 localities, helping save about VND9.9 trillion each year in accordance with the calculation by the Organisation for Economic Co-operation and Development (OECD).
The rate of providing online public services of level 4 has increased over the years. Source: egov.mic.gov.vn
Solving bottlenecks
"Under the leadership and direction of the Prime Minister and the National Committee for e-Government, Vietnam has made great progress, with a new approach to solving bottlenecks, resolving many problems existing for many years, laying a foundation for faster, stronger and more efficient development in the next 5 years," said Deputy Minister of Information and Communications Nguyen Huy Dung.
According to Dung, some ministries, agencies and provinces have implemented effective ways to remove bottlenecks to develop e-government. Da Nang City is a bright example. The city has used a synchronous network infrastructure, based on virtualization technology and cloud computing, shared by all local government agencies.
The model of a common technical infrastructure for all agencies in the local political system has clearly demonstrated its superiority. This approach saves time and costs in construction, management and operation, and ensures information security as well as enhances connection and data sharing. It also avoids duplication and waste.
In the case of the southern province of Ba Ria - Vung Tau, it has used the cloud computing services of Quang Trung Software Park. This has solved the problem that has existed for many years that data centers are invested with high costs, but are not fully used and operate inefficiently due to lack of technical personnel.
Another bottleneck for the development of e-government which has existed for many years is the connection and sharing of data. But recently, especially in 2019-2020, great strides have been made in solving this problem thanks to the implementation of the National Government Service Platform (NGSP) and Local Government Service Platform (LGSP).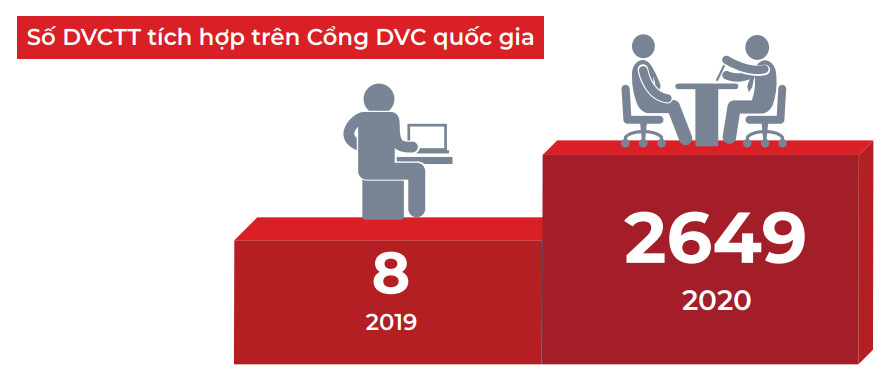 The number of online public services on the National Public Service Portal increased greatly in 2019-2020. Source: egov.mic.gov.vn
In 2018, only 3%, and in 2019 only 27% of ministries, agencies and provinces had an integrated data and sharing platform. In 2020, the figure was 100%.
In 2018, there was no local information system connected to and sharing data, but in 2019 there were 51 systems, and more than 200 systems connected through the National Data Sharing and Integration Platform in 2020.
In 2019, there were more than 2 million transactions and it rose to nearly 9 million transactions made through the National Government Service Platform in 2020.
On average, there are 18 sharing data transactions per minute between the information systems of central and local state agencies through this platform.
Developing e-government
2021 is the year to start and shape the development strategy of e-government in a new stage. Digital government will become the platform to lead the digital transformation of countries based on all three pillars of development: digital government, digital economy, digital society.
In order to facilitate the development of e-government towards a digital government, the Ministry of Information and Communications proposes that the Government and the Prime Minister soon consider and issue important decrees to complete the development of e-government institutions such as the Decree on protection of personal data and Decree on electronic identification and authentication; and promulgate the e-government development strategy towards a digital government in the period of 2021 - 2025 with a vision to 2030.
Pham Duc Long, chairman of the Vietnam Posts and Telecommunications Group, said that Vietnamese firms were capable of solving problems in national digital transformation, resources and technologies. Long said tech firms should not only provide what they have but must also pay attention to solving problems that localities are facing.
Nguyen Dinh Chien, deputy director of the military-run telecommunications group Viettel, said it was important to hasten the development of the legal framework for digital Government, digital economy and digital society and develop mechanisms for capable firms to deploy the digital database in order to create new values.
Binh Minh

Digital government will be formed by 2025, representing a transition from e-government. The challenge will be management of change.