Doing business in the time of the pandemic
In the fight against Covid-19, heavy economic losses to some people and businesses are unavoidable.
Huy, a motorbike driver for an e-hailing taxi service, said: "From the morning until now (4:30 pm), I only got VND81,000 (less than $4). Yesterday I earned net revenue of VND300,000 ($13). VND300,000 is just barely enough to exist. VND50,000 for gasoline, VND50,000 for food, and money for house rent, I almost have no money for savings."
The situation has worsened as Covid is returning to a serious extent, spreading across many provinces, especially in hospitals in Hanoi.
"I hope the outbreak is over soon so everything will be back to normal," Huy said.
On a Bamboo Airways flight from Con Dao Island to Hanoi on the afternoon of May 7, there were only about 20 passengers, and most of the seats were empty. A flight attendant explained: "Due to the epidemic, many people canceled the flight."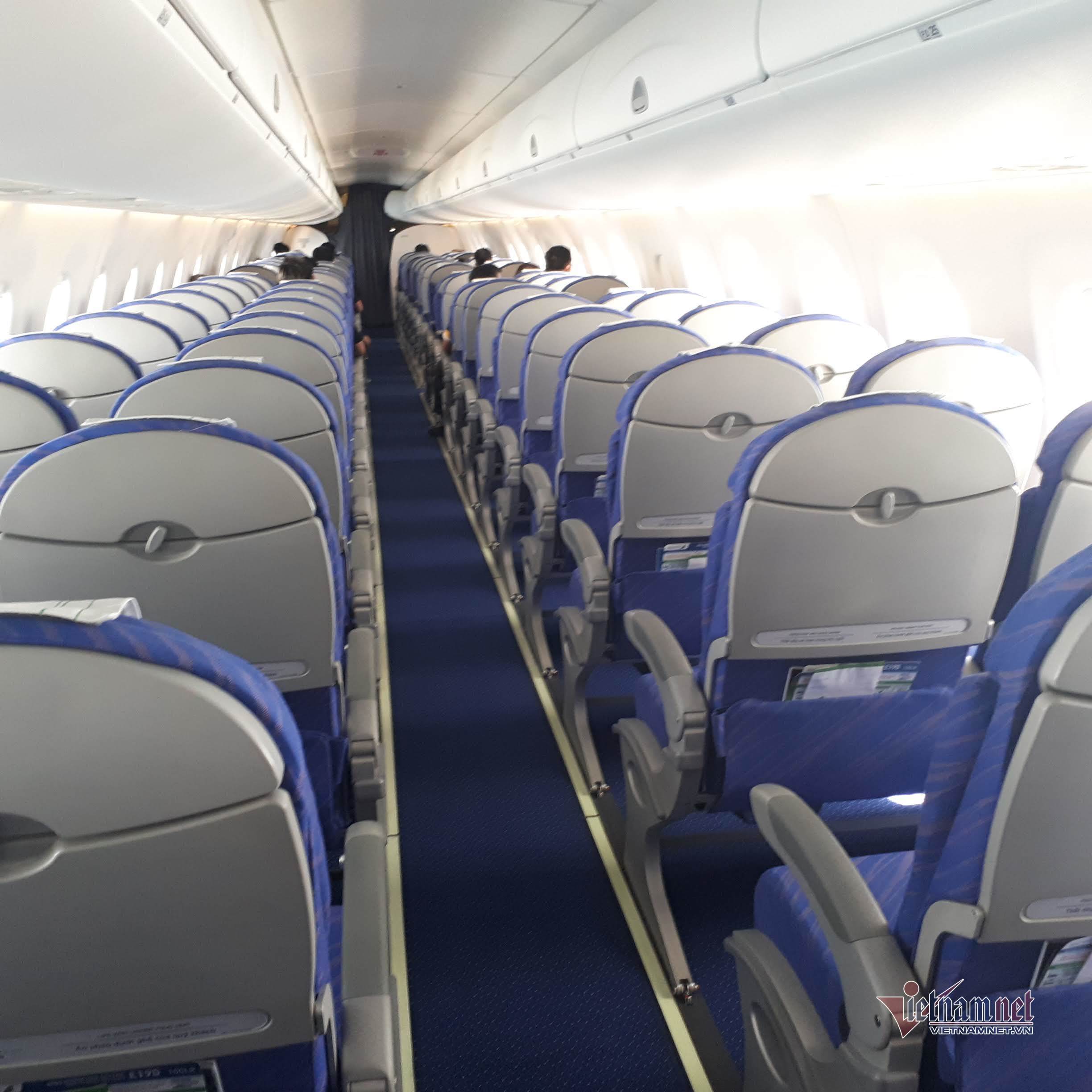 A flight with only several passengers. Photo: Luong Bang
At the airport, the scene was unusually quiet. There were long lines of taxis waiting for customers. That scene appears in almost all areas in Hanoi. People understand that it is advisable to limit leaving their homes and not go to crowded places when not necessary.
The economy will be affected. Tech-motorbike taxi driver like Huy or airlines have to undergo a new "fire test", and the losses are unavoidable.
Factories in Vietnam are activated on an anti-epidemic emergency state, because even if one person gets Covid-19, the whole plant is in danger of closing down.
At this point of time, Vietnam is still considered a country that has achieved success in epidemic control. The people are still safe, and factories are still operating in the "new normal" except for some high-risk businesses that have to be suspended.
This is a global pandemic, with unpredictable developments and many new strains can appear. Vietnam's anti-epidemic attitude is "know ourselves", which means that the authorities understand the weaknesses and what the consequences will be if the epidemic breaks out.
Trust of the business community
The way Vietnam is combating the epidemic at present is different from the first wave when it is now calmly controlling it by region, step by step, and strengthening traceability, instead of applying nationwide social distancing as in the first wave in early 2020.
Do local businesses support the Government's anti-epidemic measures?
According to a study by the Vietnam Chamber of Commerce and Industry (VCCI) on the impact of Covid-19 on enterprises, most respondents said they would support social distancing measures in the future. The results, according to VCCI, demonstrated the achievements of the Government in effectively dealing with the epidemic during the outbreak of early 2020 as it strengthened the business community's trust in the Government's responsive decisions and ability to manage another crisis.
After all, this is a global "catastrophe", a tough battle. In that war, heavy economic damage to a part of people and businesses is unavoidable. This is not desirable, but when the vaccination rate is still low, and is not enough to achieve "community immunity", epidemic prevention by using drastic measures as the Government is doing is essential.
If the coronavirus spreads to the community as is now happening in several countries, the consequences will not be measured in money, but with people's lives. If we have health, have the people, and have the factories, we have a chance to come back stronger when the disease is controlled.
Luong Bang

While carrying passengers from Tan Son Nhat International Airport to Mekong Delta recently, Huy, a worker at a transport firm, talked about Covid-19, noting that this is an unprecedented crisis in her last 20 years of working.

Instead of staying idle and waiting for the pandemic to be contained, many businesses in Vietnam are making investments, training workers and laying down the foundation to make a breakthrough when the Covid-19 pandemic is over.