Diverse markets of houses for rent

Tenants in need of renting a house, a flat or a room in HCMC now have more options from diverse types of houses and rents in different market segments.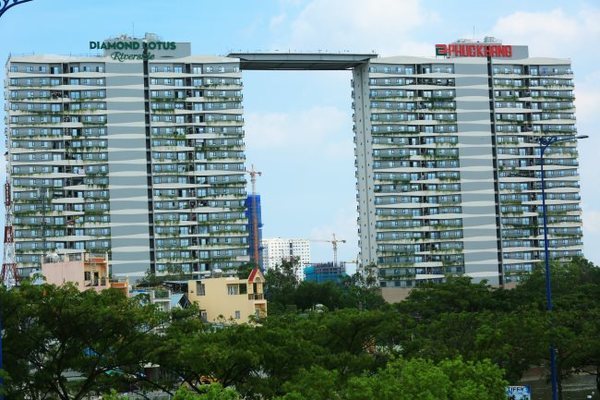 Apartments or houses in alleys are now the choices of young families
After searching and exploring different locations in the city, Vuong Khanh Dao and her husband chose to rent a one-bedroom apartment in Tecco Town building in Binh Tan District, at VND5 million a month. This is a green apartment building with such facilities as a shopping mall, a kindergarten, a gym and healthcare services.
One-bedroom flats in need
It takes Dao and her husband about 30 minutes to travel from their new home in Binh Tan to their workplace in District 1. However, in return they have gained peace of mind since their children are now taken care of at the kindergarten even though their parents get back home late from work. "We can rent a house in the city's downtown at this price, which is convenient for us to go to work, but it is hard to find a daycare service for our children," Dao says. "On the weekend, we can enjoy dining and entertainment services right in the apartment building."
Like the above couple, young people tend to prefer serviced apartments. Because very few of them can afford to buy a house, most instead rent a small flat in the inner city or a bigger one in the suburb. Many owners of apartments in An Gia Riverside building (District 7), Dong Hung II building (District 12) and Tecco Town building (Binh Tan District) have offered their apartments for lease at rates ranging between VND5-12 million each.
Some renters are ready to share a house to cut rental. Having rented a 40-square-meter apartment on Phan Xich Long Street (Phu Nhuan District) at VND7 million a month, Nguyen Thi Diem says she has shared the lodging with another tenant to reduce her expenses. She adds that many other tenants have also shared a rented flat.
A survey of rentals in HCMC shows that prices differ depending on the grade of an apartment building and its amenities. The monthly rents of flats in old buildings in Thanh Da (Binh Thanh District), Bau Cat (Tan Binh District) or Vuon Lai (Tan Phu District) are VND4-7 million, in line with the floor area. Though no lift is available at these old buildings, tenants find it relatively convenient to travel to the downtown.
Rents of serviced apartments may be much higher. Tenants of a two-bedroom flat in The Botanica apartment building (Tan Binh District), which is adjacent to Tan Son Nhat Airport, have to pay VND16 million or more a month. The rents of other serviced apartments in apartment buildings on Dien Bien Phu Street (Binh Thanh District), Hong Ha Street (Tan Binh District) or Ben Van Don Street (District 4) also start from VND16 million a month. This rate includes furnishings while tenants have to deposit a two-month rent and sign a lease contract which lasts for at least one year. Those tenants are high-income earners or expatriates working in the city.
"Two-in-one" houses wanted by many
According to investors who buy apartments for lease, the demand for "two-in-one" houses (renters live in the same house with the owner's family) is high because of the increasing number of people working in the city. As the supply of houses of this category is small, many investors buy apartments (with furnishings and security services) whose prices are under VND2 billion to lease at around VND10 million a month each. Those landlords often buy apartments that give as many conveniences for tenants as possible to ensure their profitability. An apartment in the outlying districts may cost between VND1-1.5 billion.
Quite a few landlords have leased one or more of the rooms in their houses to interested renters. Among them is Nguyen Thanh who has rented out one of her two-bedroom flat in Binh Thanh District to a lessee at VND7 million a month. "The rent is rather high because this is a serviced apartment building with a swimming pool and a gym," she says. Such rooms for rent at the same price in districts 4 and 7 and Phu Nhuan District are also available on several websites.
Some tenants used their rented apartment or house for both living and doing business. Nguyen Huu Minh from Tien Giang Province, who is now working in HCMC, says he rents a house along a small street in Binh Tan District for VND6 million a month for living and for his new wife to sell some dishes. He adds the monthly rental of a house like this in an alley in Go Vap or Thu Duc, or District 12, is VND8 million or higher.
Houses covering some 40 square meters with two or more bedrooms in small alleys in Phu Nhuan and Tan Binh districts are leased for VND8 million a month. The rents will be higher if the houses for lease are in bigger alleys or in good conditions. The rate will amount to over VND15 million a month for two- or three-story houses with 4-5 bedrooms, and may be as high as tens of millions of or even hundreds of millions of dong for big houses on main streets.
The rents are lower in those districts of Go Vap, Tan Phu and 12. A two-story, two-bedroom house in a big alley in Tan Phu District can be leased for VND9 million a month. Those who run a small firm, open a shop, or do business online often rent houses in large alleys. 
Sought-after rooms for rent
Not all tenants can afford to rent a house or an apartment. Many with a tight budget opt for a room. Some owners of lodging houses say this year's rents of rooms in uptown districts are higher than last year's. Hai Yen, the owner of a house with rooms for rent in an alley on Le Van Sy Street (Phu Nhuan District), says her monthly rent for a room is VND3.5 million this year compared to VND3 million last year. Owners in other areas have also increased their rents hundreds of thousands of dong.
The average monthly rental for a 15-square-meter, air-conditioned room (including one or more windows and a toilet) in districts 3 and 4, and Phu Nhuan, Binh Thanh and Tan Binh districts is VND3 million or higher. The rate will be from VND5 million for an over 20-square-meter room with furniture and a balcony in these districts, and will be a little lower in districts 2 and 12, and Thu Duc, Tan Phu and Binh Tan districts. Terrace lodging houses, with or without a mezzanine, near universities or industrial parks are rented from VND1 million a room.
There are houses built in the form of a mini-condominium, in which each room for lease is equipped with 2-3 bunks while the ground floor is for bike parking. Their monthly rents is around VND1 million per person, and renters can use the common kitchen.
Many like to rent a room in a terrace lodging house with security guards and cameras, and sanitation workers. The rent of such a room is VND3-4 million a month. Some elect to rent a room to live in the same house with the owner, whereas others opt for quiet lodging with green space in areas far from the city center.
Warnings for tenants
• Lessees should know more about rentals posted on such websites as muaban.net, batdongsan.com.vn, nha.chotot.com, muabannhadat.vn, etc., before renting a house or a room. They should know the broker's fee, if any, before being guided to a house or a room for rent.
• Tenants should scrutinize equipment and furniture of a room or a house, as well as provisions concerning the lessor's responsibility to repair them, in the contract before renting it.
• Lessees should study well provisions on taking back a deposit (often worth rental of one or two months) in case the owner or the lessor liquidates the contract ahead of the lease term.
My Huyen & Khiet An

HCM City faces a housing shortage caused by the rapidly rising population and shortage of new housing projects.

Ho Chi Minh City's realty sector experienced a hazy first half of the year, with dwindling supply of both high-end and pocket-sized apartments, according to insiders.