Transport firms in distress as revenue drops
The transport, hospitality and service sectors in Da Nang are experiencing tough days because of the Covid-19 crisis as many businesses have left the market because they no longer have clients and revenue.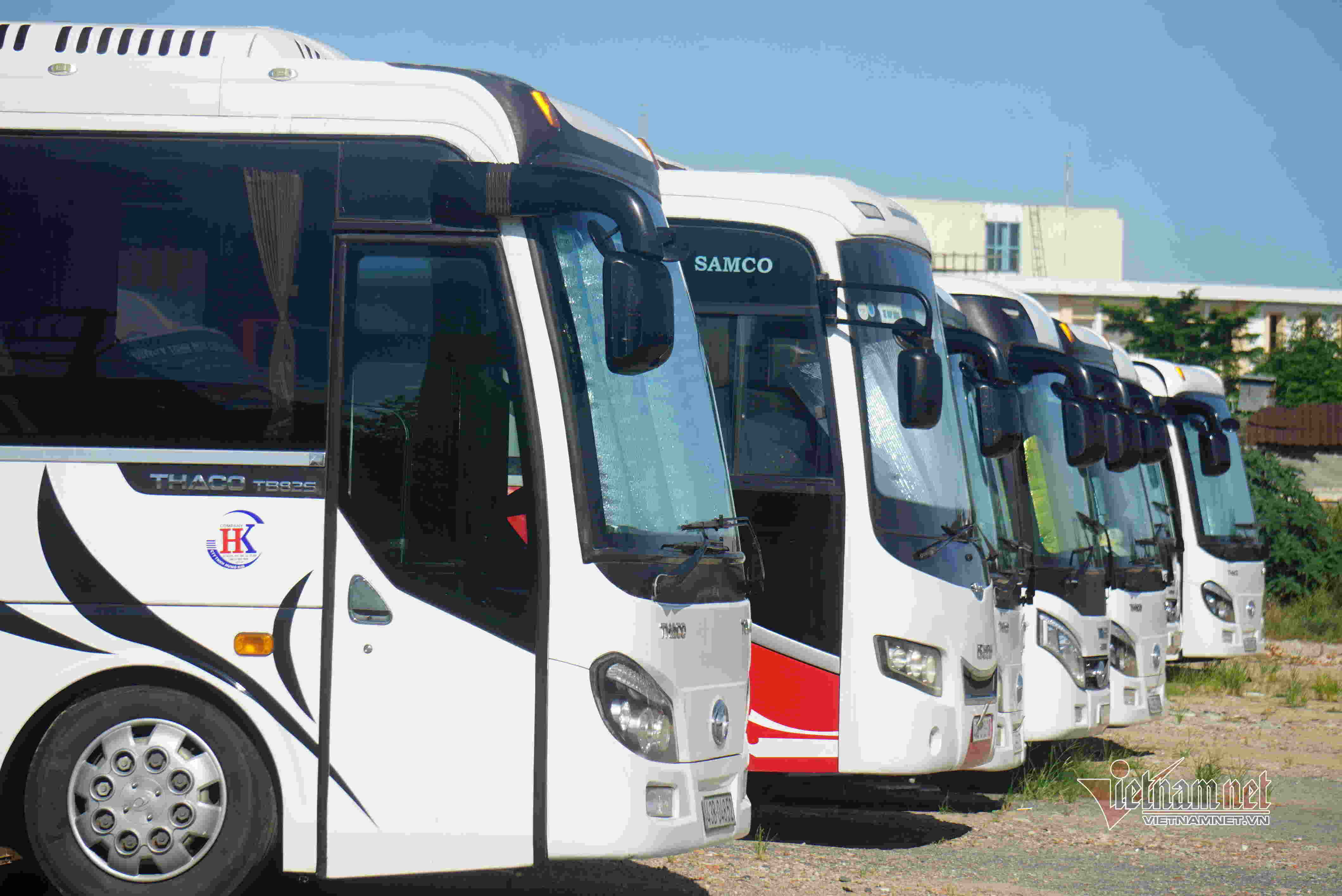 The Da Nang Statistics Office reported that in the first half of the year, the number of businesses suspending operation reached a record high of 1,806, or 40 percent higher than the same period last year. Of these, 441 businesses and independent units were dissolved.
According to Nguyen Thi Kieu Lien of the statistics office, the dissolved businesses were mostly hotels, restaurants and tourism transport firms.
P.K.L, the owner of K.L., a transport service company, said her business has been suspended since February 2020, but she still must pay for bus parking lots and inspection and maintenance services.
In April, she had five cars inspected, took out an insurance policy, and changed the battery at a cost of VND70 million. The cars were going to be used in the high travel season of April holiday and summer. However, the plan failed because of the fourth Covid wave, which broke out in late April.
Having no revenue, she sold four cars to get money for bank debt payment. And now she is selling another eight cars, but has not found buyers.
"The cars are offered at low prices, but no one wants to buy them as Covid has become complicated," she explained.
"In Da Nang, many units and individuals have to barter cars a way. Cars cannot run now and will deteriorate. The Covid developments are unpredictable," she said.
N.S., a big tourism transport service provider, said his company had 60 cars, but only 20 cars have sold. The remaining are at car parks.
"Recently, we went to Phu Yen to provide services there, hoping to get some money. However, as Covid also broke out there, we had to come back to Da Nang," he said.
"Most tourism transport firms are facing difficulties. Large firms are struggling to protect their brands, while smaller ones have to sell cars," he added.
N.V.D. told reporters that he has helped his friends sell 10 buses 'dirt cheap', and the money from car sales was not enough to pay bank debts.
"A 34-seat car in late 2018 priced at VND1.7 billion is now selling at VND800 million only," he said. "But if you do not sell cars to stop losses now, you will sink in crisis."
"There are no passengers nowadays. Selling cars is the only way to ease bank debts," he added.
At this moment in previous years, when Da Nang was in summer travel season, and the existing cars were not enough to serve passengers. But now, transport firms have to sell cars and land to pay debts.
"I think if the pandemic lasts a long time, transport firms won't be able to survive," he said.
Hotels close doors

The transport, hospitality and service sectors in Da Nang are experiencing tough days because of the Covid-19 crisis as many businesses have left the market because they no longer have clients and revenue.
T.V.M., the owner of R.V Hotel on Ngo Quyen Street, expressed concern about the closure of the hotel.
The 21-room hotel was always fully occupied before the outbreak, which could bring revenue of VND100 million a month. But it has closed its doors because of the pandemic.
"We have incurred losses because we have no revenue but still have to pay workers and electricity and water bills," he said.
After Tet, he retained workers and organized rotating shifts. But after the April holiday, he had to lay off workers and close the hotel.
The family-run hotel has been closed for two months. On June 22, it opened again, but had to close again two days later.
He said he has no other choice than waiting for the pandemic to finish. He feels luckier than other businessmen, because his hotel was built by his family, while others have leased hotels and must pay rent.
Unclear future
Tran Thanh Tam, chair of the Da Nang Taxi Association, said taxi transport has fallen into difficulties as the number of passengers is just 2-5 percent of the previous figures.
"Most cars are being left at parking lots. There are no passengers. People are restricting travel," he complained. "The parking fees, maintenance cost, road toll and inspection fee are burdening us."
Ngo Tan Nhi, Deputy Chair of the Da Nang Tourism Transport Association, said there are over 300 tourism transport firms in the city and 95 percent of them have suspended operations.
"Most transport firms have sold cars to stop losses. Long lasting firms still can exist because they have risk prevention funds. Smaller firms, with no funds, won't be able to exist if the pandemic lasts a long time," he said.
The Da Nang Tourism Association Cao Tri Dung noted that accommodation, food and transport service providers are suffering the worst.
"Over 90 percent of restaurants and hotels have to close their doors. Only a few hotels still maintain operation, serving clients registering for long-term accommodation and for quarantine for people returning from the Covid stricken areas," he said. 
N. Hien - H. Giap - C. Sang

When HCM City went into lockdown under Government Directive 16 on July 9, many businesses and manufacturers prepared plans to set up temporary accommodations for their workers to avoid the spread of coronavirus and maintain production.

Bank loan interest rates are becoming a heavy burden on businesses, which have been hit hard by Covid-19 for more than a year.