Cyberattacks: from jokes to crimes
Many young people see attacking a website or a system as a joke. But when they have to be involved in legal procedures, they realize the seriousness of the acts, but it is too late.
According to the United Nations Interregional Crime and Justice Research Institute (UNICRI), up to 61% of hackers performed their first hack before the age of 16. Statistics in 2015 by the National Cyber Crime Unit in the UK also show that 17 is the average age of cybercriminals.
Today, there are many tools available to carry out cyber attacks. Many of the tools are free or the users have to pay very low fees, while the technical expertise required to use them is much simpler than before. Those who commit cyber crimes are getting younger and younger.
Not only becoming more common, simple hacking tools can be found easily on the Internet. There are even videos providing detailed tutorials for these products.
This is why cybercrime is becoming more common and cyber criminals are getting younger than traditional crime types.
Different from the real world, the cyber environment gives users the feeling of being anonymous. This has led to an increasing number of low-level cyberattacks.
Also because of being able to remain anonymous, many people are confused between right and wrong and gradually encroach on the world of cybercriminals.
The way to turn boys into hackers
According to Virarium - a campaign that investigates customers of Lizardstresser - a website specializing in providing DDoS services, the average age of its visitors is 19 years old.
The results of the behavioral analysis of the users of the DDoS service of Lizardstresser show that 60% of them are exposed to this field from playing computer games. Notably, a denial of service (DDoS) attack is also the form that hackers use to disrupt the service of the Voice of Vietnam (VOV) online newspaper recently.
A survey by CREST, an international not-for-profit accreditation and certification body that represents and supports the technical information security market, shows that, from having a passion for games, many people become interested in writing code to create "mods" of computer games. Gradually, they have a need to participate in online hacker forums to learn more in-depth knowledge about this field.

According to research by the UK's National Crime Agency (NCA), organized crime gangs often scour online forums in search of talented young hackers. This is a factor that causes many young people to participate in cybercrime activities.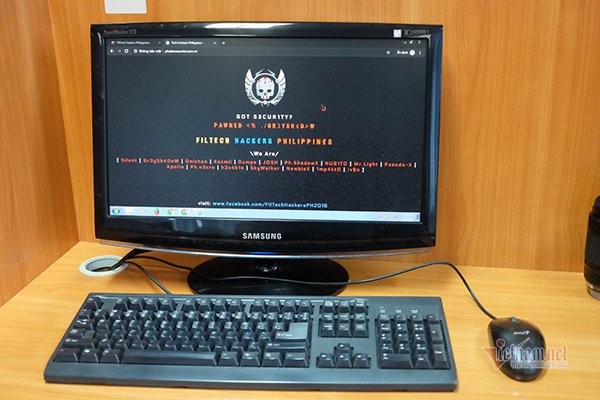 An attack to change the interface by international hackers targeting Vietnamese websites.
People become hackers to assert themselves
There are many reasons for young people to choose to become a hacker. According to CREST's survey, many young people said that participating in illegal activities on the internet was a way to respond to the pressures of life.
Many hackers used to be victims of real-life bullying. Showing off their hacking skills on the internet is a way to make them feel more powerful.
Another reason is that conducting cyberattacks is like a milestone confirming their membership to the online forum they have joined.
In the world of hackers, money is just a secondary motivator. The hackers who make the most money aren't the most admired.
In general, many young people have become hackers because of the desire to prove themselves. They are motivated to conquer a certain IT system in order to improve their own skills.
Gradually, they become addicted because of the fame that comes from this act. That is also the time when hackers are getting deeper into this world and it is harder for them to get out of it.
Why not become a cybersecurity expert?
Most young people and their parents are not aware of what constitutes cybercrime and the consequences of participating in a cybercrime network. However, it must be affirmed with certainty that cybercrime can be criminally handled similar to terrorism and theft.
Before choosing to become a hacker, young people should think about the consequences and answer the question "Why do I follow this path?"
Criminals who used high technology to appropriate assets of organizations and individuals were arrested by Vietnamese police in mid-2019.
Many experts in the field of information security have confessed that, at certain points in their lives, there was a certain impact that made them move from being a hacker to a network security expert. This impact made them understand that becoming a hacker is not the only way to assert themselves in the digital environment.
Instead of proving themselves at hacker forums, young people who love IT can try their hand at security and cyber security competitions.
It is a fact that with the rapid development of the Internet and IT, most parents often do not know what their children are actually doing online.
Without the right educational environment, the children who are interested in learning about IT can easily fall into online attacks or be lured into becoming cybercriminals.
With those talents, they need a good educational environment and positive influencers to guide them to better understand their choices.
This is also the reason that in many countries, including Vietnam, the organization of hackathon contests has gradually become an annual activity.
Such competitions are an opportunity for young people to express themselves. Furthermore, it will lay the foundation for them to follow the path of becoming a white hat hacker instead of a cyber-criminal.
Trong Dat

Many hackers conduct cyberattacks just to show their abilities and do not think that the cyberattacks will put them behind bars.  

A cybersecurity powerhouse is like a military power in the real world. Vietnam must be a power in cybersecurity.