Covid-19 rapid-test kit prices in turmoil
A rapid testing kit sourced from China is being sold at three different price levels.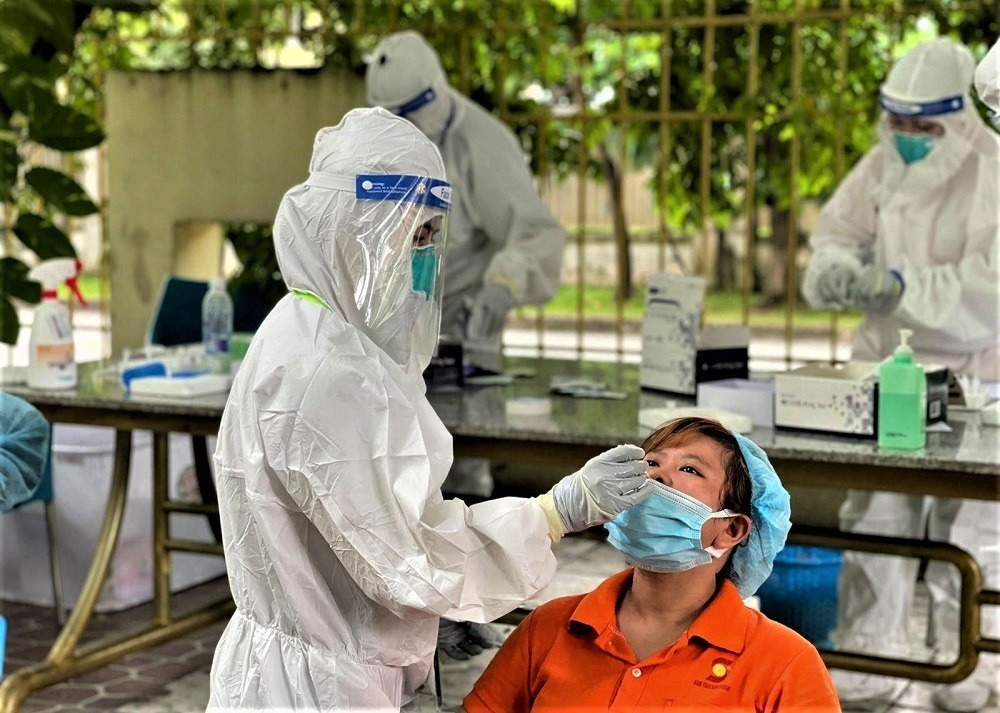 As of August 23, 2021, the Department of Medical Equipment and Construction under the Ministry of Health (MOH) had seven times updated the list of biological products/medical equipment for SARS-CoV-2 in vitro diagnostics and testing which have been granted registration codes and licensed for import.
The list has information about the supply capability and selling prices announced by suppliers.
The updates show a downward trend in rapid test kit prices.
The selling price of South Korean "Humasis Covid-19 Ag Test" quoted by Humasis Vina on July 13 was VND198,000 per test, while it fell to VND128,000 on August 23. The company imported the products in accordance with the Import License No 5045 dated June 23.
The selling prices of South Korean "Standard Q Covid-19 Ag Test" offered by Duc Minh Medicine JSC dropped from VND198,000 on July 13 to VND178,080 on August 23. The company imported products in accordance with the Import License No 4304 dated May 26.
Chinese "Flowflex SARS-CoV-2 Antigen Rapid Test" quoted by A Chau JSC was VND109,200 on July 28 and VND79,800 on August 23.
Meanwhile, Diep Hung Phat Trade and Service sold "Covid-19 (SARS-CoV-2) Antigen Test Kit (Colloidal Gold)" made in China at VND185,000 on July 28 and VND168,000 on August 23.
Analysts noted big differences in the selling prices of rapid test kits quoted by different import companies.
With the same Import License No 5787 dated July 20 and the "Flowflex SARS-CoV-2 Antigen Rapid Test" (China), A Chau JSC announced the selling price of VND109,200 on July 28, while My Solutions offered it at VND185,000. Later, the company lowered the selling price to VND109,200 on August 23.
After that, A Chau once again obtained the Import License No 5895 dated July 22. At that moment, the price of the same product dropped to VND79,800 only (the price announced on August 23).
As such, for the same test kit product sourced from China, there were three different reference price levels released within one month.
On August 23, the highest price level announced for one import test kit was VND4,452,000 per box of 25 tests, or VND178,080 per test (sourced from South Korea). Meanwhile, the lowest price was VND79,800 (China), which meant a price gap of VND100,000 per test.
A Chau JSC is the company with the best supply capability in the market which can supply 60 million tests a month. Duc Minh Medicine, the smallest supplier, can provide 1 million tests a month.
With the price decrease of VND20,000 per test, the revenue of Duc Minh will decrease by VND20 billion. The price adjustment will also affect the revenue of other companies, especially big suppliers.
On July 2, the department announced that there were only two rapid test kit importers. Meanwhile, the figure had risen to eight by August 23, including six in the north and two in the south.
The number of test kit importers increases proportionally with the increase in infection cases.
On July 2, there were 419 cases reported in HCM City. On August 23, the figure was 4,251. The figures were 13 and 3,183, respectively, in Binh Duong province.
Regarding the testing cost, a representative of a foreign invested enterprise in HCM City, which is following 'three on-the-site' production with 500 workers, said each worker needs to test once a week at a cost of VND260,000 at minimum. As such, the enterprise has to pay VND520 million a month on testing alone. He called on state management agencies to control the testing fees.
Pham Van Viet, Deputy Chair of the HCM City Association of Garment Textile Embroidery-Knitting, thinks the State needs to intervene in the market to stabilize prices to prevent enterprises from seeking illegitimate profits during the pandemic.
Dang Hong Anh, Chair of the Vietnam Young Entrepreneur Association, said at the conference between the Prime Minister and local business communities on September 26 that Ministry of Health and local authorities should negotiate directly with manufacturers to buy test kits in large quantity of up to 100 million kits at the original price of $1.5, or VND34,500. This would save trillions of dong.
Deputy Minister of Health Tran Van Thuan said MOH doesn't purchase rapid antigen test kits. Instead, companies and localities make the procurement and bidding in accordance with current laws.
"As far as I know, the tests used are mostly sponsored ones. HCM City, for example, has received 10 million sponsored tests," he said.
MOH now controls the testing service fee, but doesn't control the test. The selling prices of medical equipment are determined by market supply and demand. 
Tran Chung 

A Vietnam Airlines flight carrying 180,000 rapid COVID-19 test kits worth 615,000 EUR (730,290 USD) donated by Germany to Vietnam left Frankfurt airport on September 3 

The second locally-produced Covid-19 test kit is waiting for a license, the Ministry of Science and Technology said at a recent press conference.