Covid-19 pandemic and the golden season of digital transformation
On September 5, when the Covid-19 outbreak was still rampant, the new school year started online for millions of students.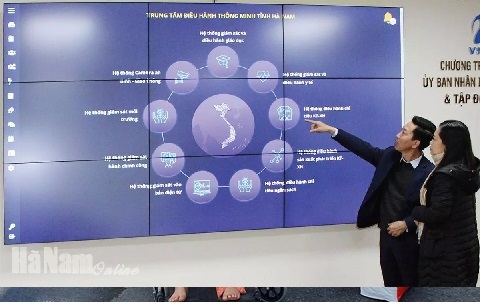 The legal corridor for the development of 4.0 technologies in Vietnam is still primitive.
Difficulties appeared, and immediately, Prime Minister Pham Minh Chinh assigned the Ministry of Information and Communications to implement a program to promptly support online learning and promote development of the digital society.
According to Viettel, during the time of social distancing, Viettel Study software had nearly 50 million visits within one month and was used in thousands of schools, with 30,000 lessons at different levels. As for VNPT E-learning software of VNPT, the number of visits increased by four times, peaking at 100,000 visits in one hour.
That's the education sector. In socio-economic life, many activities from the real world have been transferred to the digital world under the pressure of the Covid-19 pandemic.
When it broke out, online meetings and online conferences became an indispensable part from small levels like businesses, to national and international levels.
On August 8, remote medical examination and treatment support platform (Telehealth) was officially launched and connected to 100% of district across the country. Online medical examinations have become an important solution in taking care of people's health in Vietnam.
According to medical experts, this is the breakthrough they have long wanted to effectively support in timely diagnosis and treatment, to deal with overloading in upper-level hospitals and reduce contact between patients and doctor. This system also helps doctors and nurses in remote areas feel more secure and confident in treating seriously ill patients.
In mid-June 2021, farmers in Luc Ngan district, Bac Giang province made the first-ever livestream to sell their lychee. A 40-minute livestream of a farmer in Bac Giang on an e-commerce platform attracted tens of thousands of viewers. Only 12 hours after offering their products online, Bac Giang farmers sold 30 tons of lychee.
In Vietnam, digital transformation and digital economy have been mentioned for a long time, but for many people it is still far away and very difficult to implement. But during the Covid pandemic, digital transformation and the digital economy have become closer and easier to understand.
Video conferences have been around for a long time and many agencies had already equipped this system, but most of the meetings used to be face-to-face. People used to have the habit of meeting each other, shaking hands, talking directly to come to a conclusion. But when the Covid-19 pandemic broke out, online meetings became an indispensable part from small levels like businesses to national and international levels.
The implementation of remote medical examination and treatment had been discussed for a long time but when the pandemic occurred, in just 2.5 days, Viettel and VNPT completed the installation of Telehealth systems for 328 district-level health facilities in 47 provinces and cities.
During the time of social distancing, most production and business activities and events have taken place online, saving a lot of money and human resources.
The pandemic has caused the disruption of many traditional economic activities, forcing businesses and organizations to be bolder in researching and applying digital platforms in management, production, and business activities. That has helped businesses realize more clearly that digital transformation is no longer a risky experiment or a situational solution but a strategy to change fate.
After pandemic is the golden season for digital economics
According to experts, with digital transformation, 70% is the vision and determination of people while technology accounts for only 30%. The epidemic has created pressure to bring great strides. What we have done in the past year is equal to the whole things we did in many previous years. Without the pandemic, such rapid and long-term progress would not have been possible. In just a short time, many activities from the real world have been transferred to the digital world in a very natural and effective way.
Nguyen Quang Vinh, General Secretary of the Vietnam Chamber of Commerce and Industry (VCCI), says that the transition from the traditional economic model to the digital economy has changed the operating methods, leadership, working processes, and management culture at agencies and organizations. The fact shows that in the world, economies that deploy digital transformation early have better resilience.
According to Nguyen Trung Kien, Strategy Director of VNPT Information Technology Company (VNPT-IT), in Vietnam, over 80% of business leaders think digital transformation is becoming more urgent, and about 65% of business leaders plan to increase investment in digital transformation. Priority solutions are large-scale telework, cybersecurity, e-commerce and e-marketing, and process automation.
Bui Tuan Minh, Deputy General Director of Deloitte Vietnam, says that there are many similarities between the way that business leaders in the world and in Vietnam are redefining priorities and goals, and action during this period. In particular, digital transformation is a top priority and will no longer be an option if you want to grow.
According to economic expert Le Dang Doanh, recent studies show that, for developing countries, the Covid pandemic will create about 30% of new customers using digital services. After the pandemic is over, 95% of these will continue to use the digital services they are familiar with. Thus, the market of digital transformation has high potential and growing.
Vietnam is striving to become a high-income country by 2045. With the current per capita income of about $3,000 per year, Vietnam must achieve annual GDP growth rate of 7.5-8% for the next 25 years. To achieve this goal, the inevitable path will be science and technology, innovation, the 4th industrial revolution and digital transformation.
The digital economy currently accounts for 15% of global GDP. It is 21% for the US, 30% for China and about 10% for Vietnam. If we maintain the current growth rate of the digital economy, it can account for 25% of GDP by 2025. Developing the digital economy and digital society requires a modern digital infrastructure. The Ministry of Information and Communication aims to develop Vietnam's digital infrastructure to reach the world top 30 by 2025.
However, the digital economy in Vietnam is facing some major barriers. Infrastructure for the digital economy is not synchronized, and the digital connection capacity is still low. In addition, the institutional system has not really facilitated the development of the digital economy. The legal system still lacks appropriate regulations and legal corridors for some digital-based economic models.
Vietnam also lacks proper attention to the development of some core technologies of the 4.0 industrial revolution such as artificial intelligence (AI), blockchain, machine learning, etc. Legal corridor for the development of 4.0 technologies is still primitive. For the field of artificial intelligence, there is no law and legal framework governing social relations related to AI, intellectual property rights, etc.
According to the report "Southeast Asia's Digital Economy", Vietnam's digital economy in 2019 was worth 12 billion USD (5% of GDP), four times higher than that of 2015 and is predicted to reach 43 billion USD by 2025, with the fields of: e-commerce, online travel, online communication and ride-hailing. Vietnam's digital economy, along with Indonesia, lead for growth in Southeast Asia (38% per year compared to 33% for the whole region since 2015). Hanoi and Ho Chi Minh City are two of the seven major cities developing the digital economy of the ASEAN region
Realizing the importance of digital economy, on September 27, 2019, the Politburo issued Resolution No. 52-NQ/TW on a number of guidelines and policies to actively participate in the Fourth Industrial Revolution. Accordingly, the set target is that by 2025, Vietnam's digital economy will reach 20% of GDP, developing a community of digital technology businesses in the country.
Tran Thuy
The COVID-19 pandemic does not slow down technological transformation or digitisation, but in fact speeds them up, companies said.