VN enterprises can't produce because of lack of materials, parts
A fish sauce plant using millions of tons of fish has had to close because it cannot buy stopples to bottle products.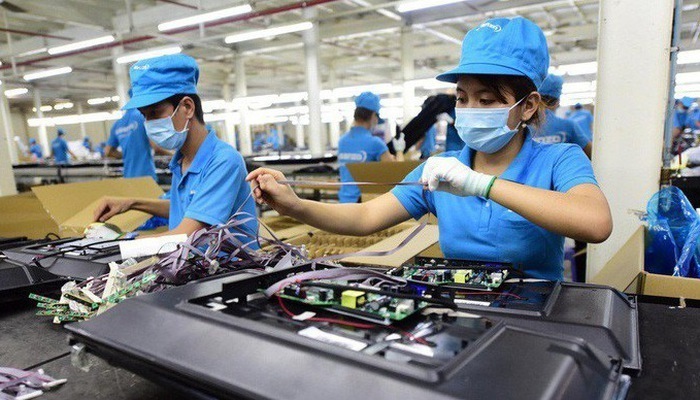 Many enterprises will not be able to regain previous production capacity If Vietnam doesn't have a comprehensive economic promotion program.
Seven textile and garment companies in Tien Giang province, with 13,300 workers, have sent a petition to Prime Minister Pham Minh Chinh, provincial authorities and the Vietnam Textile and Apparel Association (Vitas) , asking for help to resume production before they lose clients.
The companies said they had suspended operation since mid-July. Some of them had organized production under the 'three on-site' mode (employees have to eat, sleep and work onsite to maintain production), but stopped on August 5.
"We are facing a risk of bankruptcy as most clients have announced cancellation of orders, or asked to send products by air instead of marine shipping," the petition said.
"Textiles and garments sales depend on the season. Partners cannot keep waiting for us."
It's now the time for models for next-year fashion season. "In order to obtain one order, we have to develop models six months in advance at least and compete with a lot of rivals. If we fail to do this, we will lose customers and markets," they said.
Some foreign partners have warned that if Vietnamese companies cannot reopen by September 20, they will place orders with other countries. If this happens, textile and garment companies will lose clients and have no more orders for the 2021 year-end season and 2022.
Vitas Chair Vu Duc Giang confirmed that most textile and garment companies in the south have stopped production and some big brands have canceled orders.
In previous years, Vietnam's textile and garment companies mostly did outsourcing for foreign partners. But many them now design and create products to obtain higher added value. However, this also means risks due to seasonality.
Some foreign partners said they will only make decisions on whether to place orders if Vietnam's enterprises can regain normal operation. Meanwhile, enterprises are not sure when they can.
The same situation is occurring with the footwear industry. According to the Vietnam Leather, Footwear and Handbag Association (Lefaso), the long period of social distancing has caused 80 percent of factories in the industry in HCM City, Dong Nai, Binh Duong, An Giang and Kien Giang to stop production.
In northern and central regions, footwear companies are running at 50-70 percent of capacity because of social distancing and a lack of workers. Many companies have reported losses because they have had to scale down production.
Businesses are struggling hard to recruit new employees due to a labor shortage. To be employed, workers must meet the requirements for 'green cards', which includes being vaccinated against Covid-19.
As for the seafood industry, Nguyen Hoang Anh, General Director of Nam Mien Trung Seafood Investment, said shrimp cannot be harvested and sold.
"We now can farm shrimp on only 20 percent of total area because of the lack of feed, breeders and materials for cultivation," he said.
Many other seafood companies are in the same situation and experts have warned of a material shortage crisis in the next months.
Uncertain future
The statistics in August clearly show losses to Vietnam's economy.
The worrying issue now is the ability of the manufacturing sector to sustain the long period of social distancing. The PMI (purchasing managers' index) dropped to 40.2 in August, a 16-month low.
Meanwhile, industrial production in August fell by 11 percent compared with the same period last year, a sharp fall after the solid growth of 12 percent in the first six months.
This was the first time in a year that exports decreased significantly. Supply chain interruption and production disruption have occurred in some industries.
The Ministry of Industry and Trade (MOIT), in its report to the Government, stressed that the situation of enterprises has become much worse compared with a few months ago. A lot of factories and production bases which are important links in supply chains have suspended operation or reduced capacity.
A number of foreign associations have urged the Government to take action promptly to help enterprises preserve their competitiveness and not lag behind others during economic recovery. 
Tran Thuy

Businesses are in serious difficulty due to the impact of the Covid-19 pandemic. They need timely and substantive support measures from the Government.

Enterprises say they need a standard anti-pandemic process for specific cases to organize production and ensure uninterrupted supply chains.