Community projects help spread knowledge

Since August last year, an old house in Hanoi's Hai Ba Trung District has been a familiar destination for students, children and even retirees living near and far.
From a personal bookcase with dozens of titles, D Free Book has offered some 1,000 books of all genres including literature, economics, science, computer and foreign languages.
The 'D' stands for 'diamond'.
Anyone can visit and borrow up to two books for two weeks then return them.
"They don't need to leave anything but their phone number," said Hoang Quy Binh, initiator of the library project. "At present, trust is as precious as diamond. And we believe in people, who are hungry for knowledge."
A 'triple-zero" library by a young student
Youth project helps to spread reading culture in community
Banks keen on green projects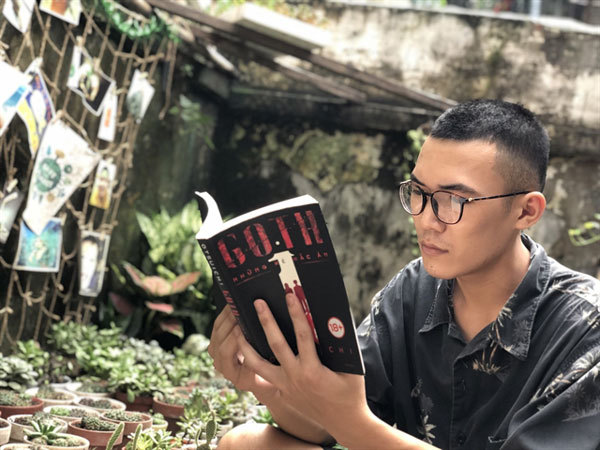 PAGE TURNER: Bình likes reading books and wanted to share his bookcase with the whole community, especially needy students. VNS Photo Le Huong
The books have been bought by Binh and his friends for the project. They also share the expense of renting the house, electricity, water and other costs of running the library, which opens from 8am to 9pm every day.
Binh's group has opened another library in Cau Giay District.
"I think if knowledge stored in books is not shared, it's wasted," he said. "I want to help share the knowledge with everyone, especially needy students."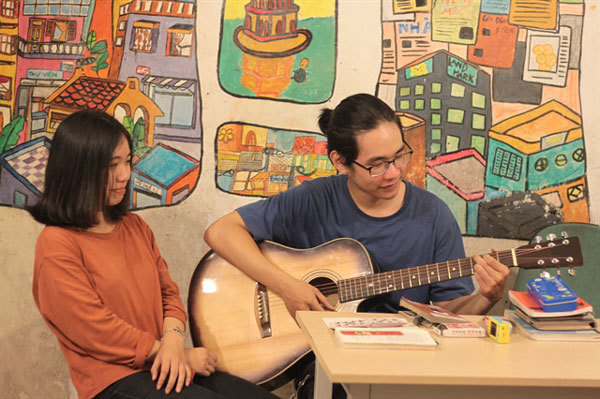 MUSIC TIME: Students gather at the library for recreational activities. Photo courtesy of Hoang Quy Binh
Giap Thi Thanh Chi, who just graduated from Commerce University, said she liked the library model.
"I can find science books that I don't have," she said. "This kind of library should be multiplied in the city so that people can share books while saving money."
Nguyen Minh Trang, another student, said she was willing to share her books here as well.
Tran Le Quang, a third grade pupil, who lives nearby, likes to play at the library.
"Here I can read when I like and ask senior students what I don't know," he said. "Older students, who come here to study and read books, also love me. They explain lots of things to me."
Bình's group has also collected old books to distribute to remote schools in mountainous areas.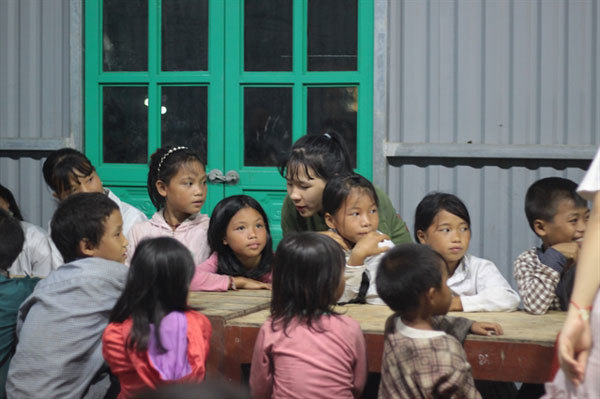 FREE LESSONS: Children in the northern province of Lao Cai during a lesson hosted by Binh's volunteer group. Photo courtesy of Hoang Quy Binh
Binh also taught children at SOS Village in Hanoi.
When he was a sixth grade pupil, Binh found out about the village during a lesson at school. At that time, he hoped to do something to support needy children there.
After he started at Ha Noi University of Technology and Sciences, he worked as a teacher for children there free of charge.
"The first days teaching there, I felt very happy," Binh said. "The children were eager to learn and got better in their studies very quickly."
Yet there were so many needy children Binh could not handle the job alone.
He set up a board and gathered other students for a club called "Bright Tomorrow".
Since the beginning, the club's 32 volunteers have offered 16 classes to 150 children living in the SOS Village.
"To students between grade 9 and 12, who need more profound knowledge to sit exams, we offer three classes per week," he said.
Bình said the best thing for the volunteers was watching pupils grow. Some pass the entrance exam to enter high school while others enter universities.
"Binh is an enthusiastic student," noted Nguyen Kim Thìn, chairman of SOS Village's Trade Union. "He has connected other young people to support children at SOS Village in learning, which offers them a better future."
Green Life project
Binh and his group have just started a project named 'Green Life', which encourages people to exchange waste for recycling and take back decorative plants.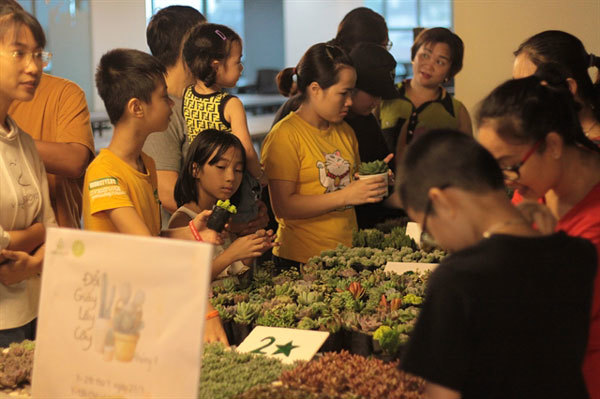 GREEN FINGERS: People exchange waste for plants, an initiative by Binh's group. Photo courtesy of Hoang Quy Binh
People who give three kilos of waste for recycling (like paper, plastic, old batteries, broken electrical items) will be offered a star, which is worth a plant. The more stars they have, the more plants they can take back, Binh explained.
The project has been running for six months and the group gathers 5 tonnes of waste each month.
"I send the waste to proper facilities for recycling," Bình said.
"I swear to devote my whole youth to the community. I just want to do good for the environment and society." VNS
Le Huong