Choosing '5 star' life until the end
Many elderly people said that by choosing a quality nursing home, they feel completely assured and are happy to spend the rest of their life there.
When it was sunny, Mr. Hao and Mrs. Ha walk together under the green trees of the nursing home where they moved after they sold their property.
Many years ago, when the couple was still healthy, they lived in District 5 in Ho Chi Minh City. But as they got older, especially after a traffic accident, Mr. Hao became a burden on his children.
The children hired a maid to take care of him. However, Mr. Hao did not like the maid because of her bad attitude and frequent requests for money. The family decided to send Mr. Hao to a nursing home.
After a period of consideration and research, Mr. Hao chose Binh My Nursing Home (Cu Chi District, Ho Chi Minh City). He said the nursing home was airy with more than 10,000m2 of garden, suitable for the elderly for convalescence and rest.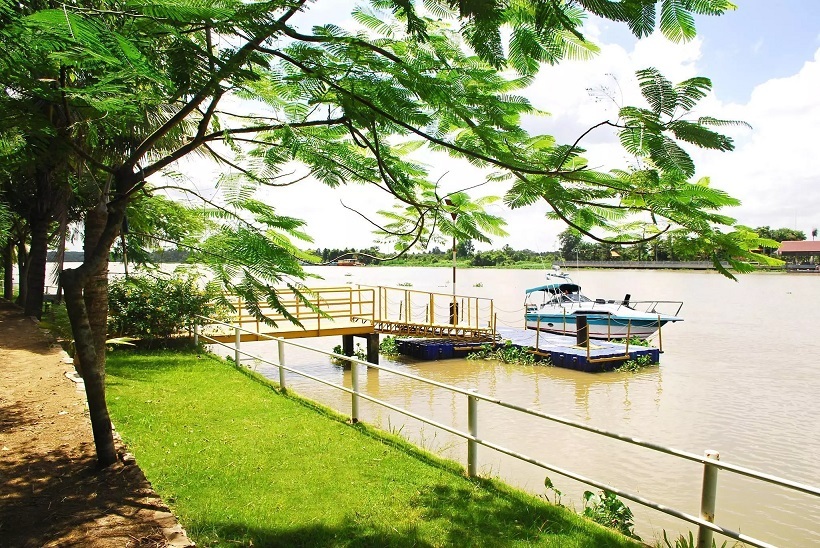 The luxury services of Binh My nursing home are offered in villas on the bank of the Saigon River.
Seeing Mr. Hao's satisfaction with the new place, Mrs. Ha insisted on moving to the nursing house with her husband. The couple said that at first, they did not really adapt and integrate into life there. They planned to stay there for convalescence only. Every day, Mr. Hao was examined by a doctor, and he practiced rehabilitation and participated in collective activities.
After a period of time, they felt very comfortable and loved the living environment at the nursing home. After Mr. Hao recovered from his injury, his children came to take their parents' home, but both of them refused. They decided to sell their property to live in the nursing home for the rest of their lives.
According to the couple, one of the most popular services for the elderly at the nursing home is brain training. Elderly people with dementia practice exercises that require brain activity, and they also exercise on body reflexes and sports movements.
The monthly charge at this nursing home is VND15 million ($700)/person.

The nursing home has an intensive care room for the elderly who need a ventilator and 100% support from staff.
Mr. Hao and Mrs. Ha use the second high-class service package at the nursing home with monthly charges of VND15 million per person. With this service, they can use a private room for two people.
They have a regimen of care, eating, rehabilitation exercises, and cultural and spiritual activities at the hospital. In addition, depending on the actual situation, they can also participate in a number of extracurricular programs outside.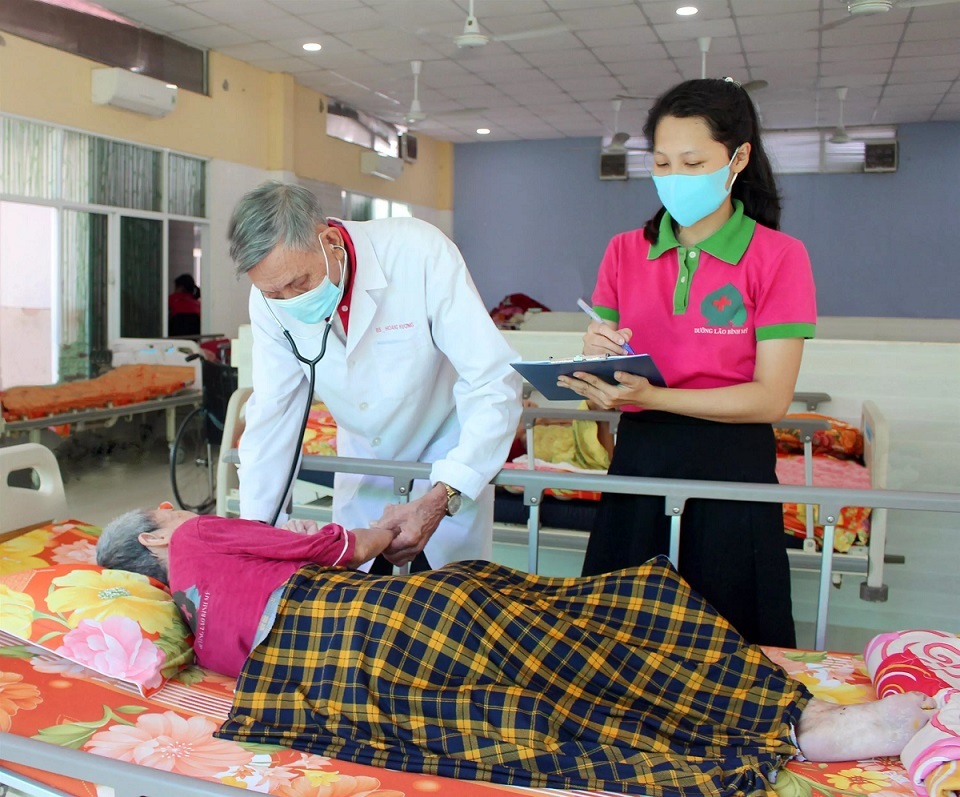 Elderly people are cared for by many different types of services at this nursing home.
The highest services at this nursing home are offered for those living in Saigon riverside villas. The service user will pay VND18 million per month, excluding other costs such as medicine, milk, diapers...
Mrs. Phuong, a Vietnamese scientist in the US, returned home to enjoy her old age. She has lived for 12 years at Bach Nien Thien Duc Elderly Care Center in Bac Tu Liem district in Hanoi.
Ms. Phuong has no family. She worked and lived in foreign countries in her youth, so choosing a nursing home was suitable for her. This nursing home has short-term, long-term and post-stroke care services.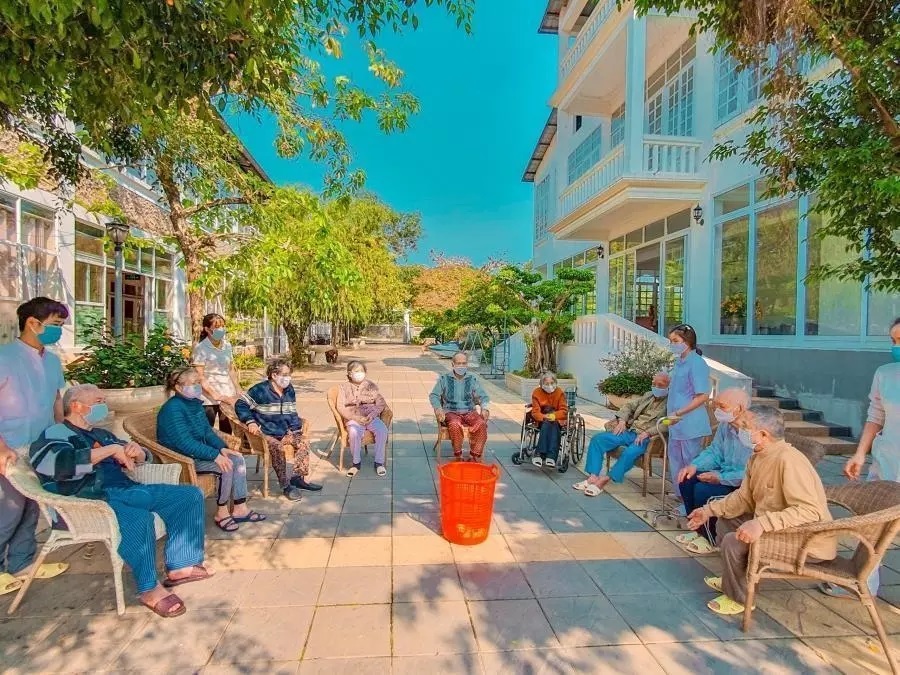 Elderly people participate in a leisure activity at Bach Nien Thien Duc elderly care center.
Depending on age and physical condition, the elderly people are cared for according to a separate regimen, using modern equipment made for the elderly.
The monthly charges at this center range from VND13-18 million per person. The elderly can stay in a private room, have a personal diet, massage, acupressure, and rehabilitation for 3 sessions per week.
They can also listen to news about social life and health. Every week, they participate in collective activities such as the art and culture club and the happy life club.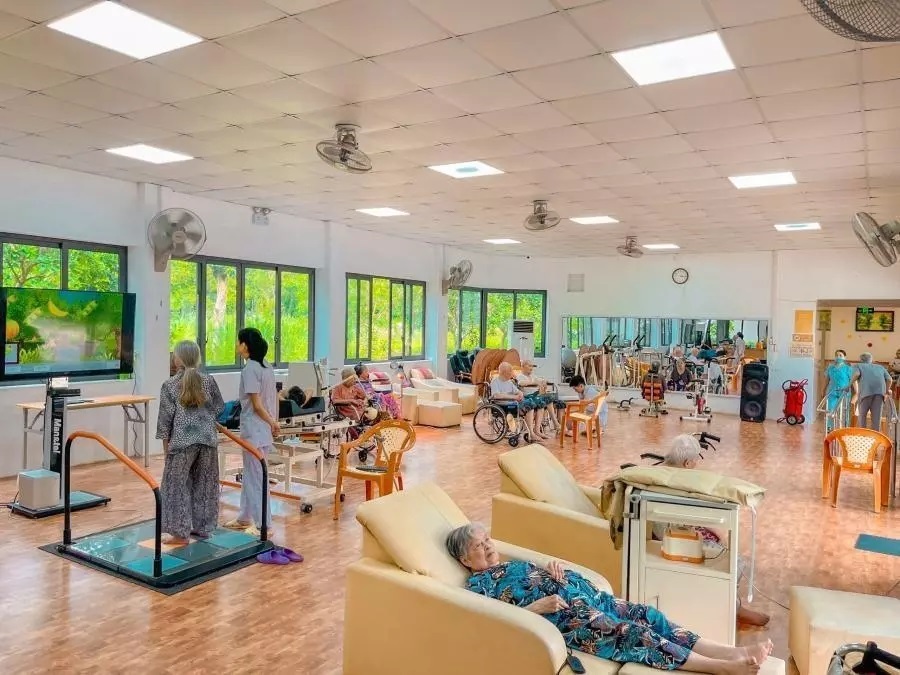 A health care area for the elderly at Bach Nien Thien Duc Center.
Every month, depending on the weather and health conditions, the center organizes trips to pagodas on the full moon day, or the 1st day of lunar months.
Binh My in HCM City and Bach Nien Thien Duc in Hanoi are highly appreciated for their services, especially the funeral rites for the elderly.
Binh My offers life-long care service, allowing the elderly to pay a one-time fee from VND800 million to VND1.5 billion per person. When they die, the nursing home will perform burial services for them.
Bach Nien Thien Duc also takes care of the elderly for the rest of their lives. If they don't have children or grandchildren, they can write a power of attorney to authorize the center to perform burial services for them.
Many elderly people said that by choosing a quality nursing home, they feel completely assured and are happy to spend the rest of their life there.
Nguyen Son

"Young children depend on their father, but when they get old, who will they rely on? This is a matter of controversy in Vietnam.