CEOs of hard-hit travel firms shift to selling and delivering vegetables to clients
As the tourism market has been in the doldrums during Covid-19, travel firm CEOs have had to take other jobs to earn a living. But in many cases, these choices ended up opening up great opportunities for them.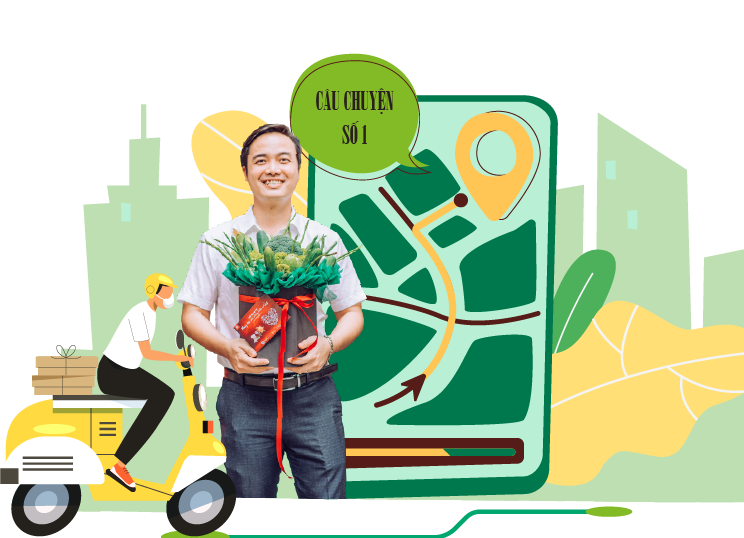 Tran Sy Son, CEO of PYS Travel
Director sells meat, vegetables
One day, when Tran Sy Son, CEO of PYS Travel, came to the office, he saw his workers in a whirl, looking for deliverymen to ship vegetables ordered by clients. Social distancing had led to a sharp fall in the number of shippers, and the number of orders increased sharply.
He told his workers to put vegetables into his car so that he would deliver the products in person.
"Clients were surprised when seeing a deliveryman driving a car. One of them gave me a tip of VND50,000," Son recalled.
Son's travel firm was established in 2011. After 10 years of operation, the firm had 130 full-time workers, served 80,000 travelers a year, and had turnover of VND250-270 billion a year.
But Covid-19 broke out, just a short time before the company's 10th anniversary. The young CEO admitted that he felt anxious and the company's leadership sat together to discuss the way out for the company.
They came to an agreement that the simplest way for the company was to shift to selling local speacialty food, because as a travel firm, it had many partners in local farm produce and had deep knowledge about local cuisine.
They began running advertising campaigns, introducing local specialties, including Moc Chau vegetables Sa Pa salmon, Ha Giang banh chung (Vietnamese Square Sticky Rice Cake) and Ca Mau crabs. And the company became a 'supermarket', serving clients' demands during the pandemic.
The first three Covid waves lasted a short time and the company quickly resumed its operation in its major business field, while maintaining food sales on a small scale.
However, the fourth Covid wave, lasting four months, caused difficulties. The sale of food also went slowly because of social distancing.
When receiving the food that some partners from provinces had sent to the company, he decided to put the food into small boxes and give them to the staff. And when sharing the information about his support to his staff with loyal clients, he unexpectedly got an order: a client wanted 500 boxes of vegetables to give to his workers. From that moment on, the company began selling food boxes.
The food boxes with vegetables, meat, fish and fruit were in very high demand, because people could not go to the market regularly during lockdown. And the boxes helped the company during the pandemic.
Son plans to continue selling food and farm produce as a business division to exist with tourism. About 20-30 shops selling food, farm produce and tours will be opened in 2022.
Director visits fields, craft villages, brings farm produce to Europe

As the tourism market has been in the doldrums during Covid-19, travel firm CEOs have had to take other jobs to earn a living. But in many cases, these choices ended up opening up great opportunities for them.
"I was a director who only sat in air conditioned office. But now I have to get up very early, drive cars to material growing areas and craft villages, and go to fields and visit production workshops," said Thai Thanh Lan, CEO of Vietindo Travel.
"I had to change my way of doing business, and attend training courses on farm produce export and food trade. Everything changed," she said.
Her company started in 2014, mostly serving foreign travelers to Vietnam. Before the pandemic, it had 10-12 full-time workers, a representative office in France and served 800-1,200 travelers a year with revenue of VND60 billion.
Lan admitted that she had never experienced so many difficulties, until the pandemic outbreak.
Vietindo had to suspend its operation throughout 2020. She had to cut half of the workforce.
The director, who did not have revenue, decided to shift to another business to survive the pandemic.
She tried to export farm produce, because she believed that tourism and farm produce exports have close relations.
Understanding that Europe is a choosy market, she had to attend short-term training courses about import/export, standards of goods, and look for business households and cooperatives that could provide high-quality products.
She visited sites to explore the production process to be sure that the products met standards. Her advantage was her deep knowledge about European clients and the existing partners in the European market.
In 2020, she helped bring 15 agricultural products such as rice, noodle, vermicelli and tea to France. She is now working with partners in Germany and Czech Republic on exporting products to the markets.
Lan said she had never thought of starting another business, but after a period of entering a new field, she has found many opportunities.
"When the pandemic ends, I'll do business in both farm produce export and tourism. For example, I will design tours to craft villages that make specialty food," she said.
Linh Trang

A series of famtrips have been organized by travel firms in cooperation with local authorities as a part of a plan to 'break the ice' in the tourism market.

The fourth wave of COVID-19 infections in Vietnam has caused disruptions to most sectors once again as the country was preparing for the tourism season.