Celebrities and charity: scandals and legal 'gaps'
The news about celebrities doing charity has heated up in recent days with doubts and questions about the transparency of donations.
In 2008, the Government issued Decree No. 64/2008/ND-CP on encouraging, gathering, distributing and utilizing voluntary contributions to support people to overcome difficulties caused by natural disasters, fires, serious incidents, patients with serious diseases.
However, the Decree only regulates charity organizations and does not have any regulations for individuals participating in these activities to directly support people facing difficulties due to natural disasters, epidemics, and epidemics, illness and accidents.
However, in recent years, individuals have been actively promoting charity work and receiving donations for charitable activities, especially celebrities. After the flood in central Vietnam back in 2020, a female singer gathered a record number of hundreds of billions VND to help people overcome the disaster.
The amount of money raised for each charity has been huge, especially for celebrities. However, it was also at that time that fierce controversies arose about how the charity money was handled by the philanthropists. A feeling of skepticism and division prevails when conflicting opinions appeared.
However, celebrities and other individuals who receive support and donations from other individuals and organizations to do charity work have no regulations to follow. Therefore, based on legal grounds, it is difficult to ask charity workers to make a statement on their accounts. That does not mean that the law cannot handle "disguised charity", or "abusing charity for profit", because the Penal Code has full provisions to handle them if fraud is detected.
For philanthropists, the transparency of contributions and expenditures should be necessary because many people have put in not only their money, but also their trust. The more transparent the charity is, the better the reputation it receives.
Professional charities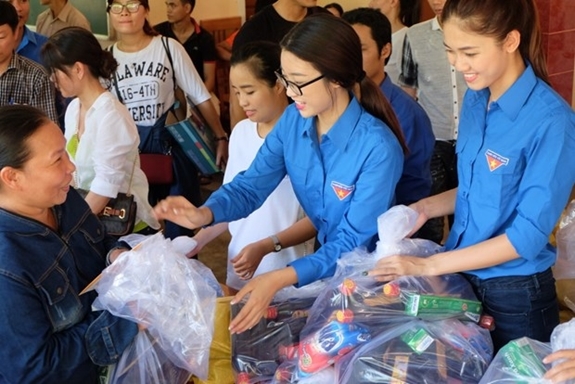 Many celebrities do charity work to polish their image. (Illustrative image)
The aforementioned shortcomings also show that charities need to be more professional, not in doing paperwork and validating licenses, but in how they operate and distribute donations.
The limitations of Decree 64 have also been acknowledged by the Ministry of Finance (MoF). In late 2020, the MoF proposed amending Decree 64 to implement regulations on individuals participating in promoting, gathering, distributing and using voluntary contributions to help people overcome consequences of natural disasters, epidemics and incidents, according to two options.
Option 1: When an individual wishes to participate in or start raising charity, they shall report to the local authorities where they reside about the purpose, scope, method, receiving account and receiving location according to the form to be issued together with the Decree.
Regarding the distribution and use of voluntary donations, individuals need to notify the local government where the support is received about the scope, level and duration of support according to another form that will be issued together with the Decree for instructions about the distribution process as well as ensuring safety and social order.
Regarding the publicity of the charity, the sources of donations must ensure their integrity and transparency. Individuals are responsible for reporting and publicizing activities of promoting, receiving, distributing and using voluntary donations when requested.
Option 2: Only when natural disasters, epidemics, and incidents occur in the country, causing damage to properties or affecting people's well-being, are individuals allowed to participate in charity work. Individuals must comply with any and all relevant laws.
It is not yet clear which option has been chosen, but the recent charity scandals show that philanthropists in general, and celebrities in particular, need to be more professional. If the spending of charity money is not handled well, the wave of criticism from the public and donors will be huge.
From an ethical perspective, all charity activities are highly appreciated. Those who contribute their money and property are really appreciated, and those who make contributions are recognized if they are honest and transparent. The silent volunteers deserve to be honored, and those who do good deeds for everyone are also appreciated.
The Vietnamese have a tradition of lending our helping hands to others in need. Therefore, volunteering activities are very popular in society and recently there have been many scandals and noises on social networks. It's time for us to rethink the issue from a legal perspective so that the inherently good charity work is in order and is transparent to its original nature.
Ha Duy

Vietnamese popular comedian Hoai Linh has been criticised by the public after he called for donations for flood victims last October but failed to transfer the donations.

The Ministry of Culture, Sports and Tourism is finalizing a draft Code of Conduct for Artists.