Businesses struggle with increased costs, impact from Covid-19
According to the Vietnam Association of Beer, Wine and Beverage (VBA), more than 85 percent of drink manufacturers have had difficulties in product distribution.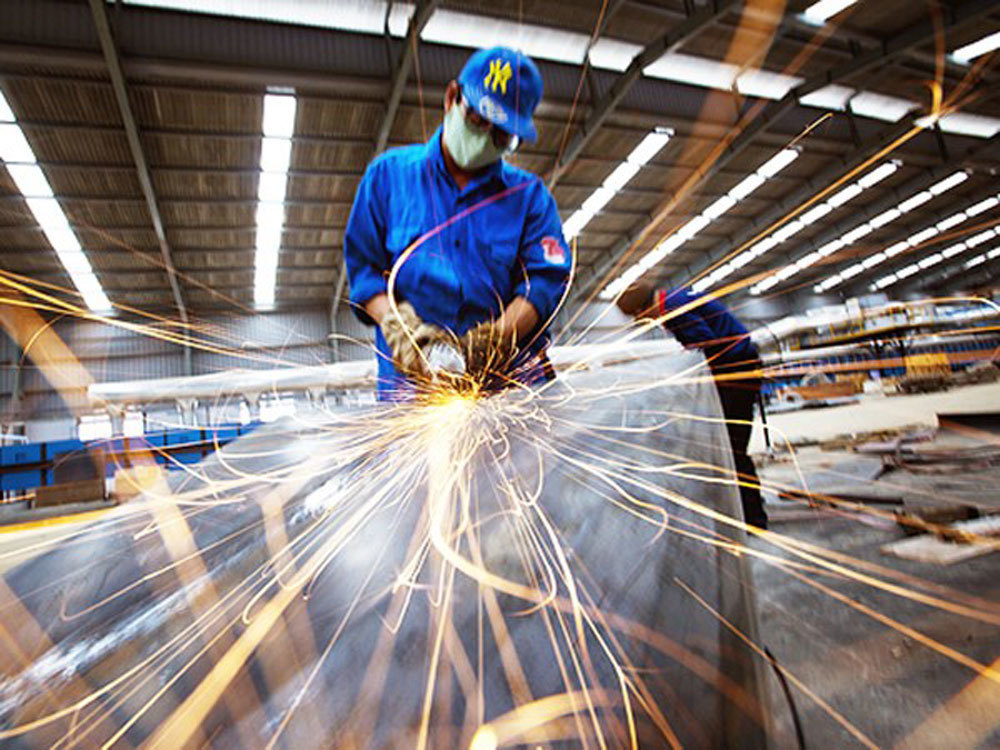 Their inventories are surging, the revenue is decreasing, and hundreds of thousand of workers have been affected.
Drink consumption has dropped dramatically. The large distribution channel of drink manufacturers has shrunk by two thirds.
The difficulty in goods circulation is one reason behind the supply chain disruption. Many enterprises have had to cut production capacity, the workforce, or stop production.
The production cost associated with the 'three on-site' principle is increasing, as well as expenses on pandemic prevention, while enterprises cannot collect debts.
Analysts say that increases in input material prices, inventories and debts are the "three increases" that have sunk businesses.
Having been closed for a long time, restaurants, eateries and tourism sites have become exhausted. Lacking capital and workers, they face difficulties resuming business. This will also have an adverse impact on the beverage industry.
A recent survey by Vietnam Association of Seafood Exporters and Producers (VASEP) found that as of the end of August 2021, only 30-40 percent of seafood companies in southern provinces could operate under the 'three on-site' mode and the enterprises only mobilized 30-50 percent of total workers, while the others took unpaid leave.
It's estimated that the general capacity of the whole region has dropped by 60-70 percent.
According to VASEP, only 30-40 percent of enterprises are capable of recovering production soon after social distancing ends. Production will be seriously affected because of supply chain disruptions or difficulties in transportation.
For mechanical engineering enterprises, Dao Phan Long, Chair of the Vietnam Association of Mechanical Industry (VAMI), said because of social distancing, production of its member enterprises has been stagnant, especially in the south.
Because of strict regulations on goods transport, materials cannot be brought to factories, while finished products remain unsold. Many vendors in supply chains have to stop operation temporarily. There are not enough jobs for workers. Production is running at a moderate level with high cost and low efficiency.
The General Statistics Office (GSO) reported that 70,200 businesses halted their operation for a definite time in H1, stopped operation while following procedures for dissolution, and completed procedures for dissolution.
What worries enterprises the most is that they don't know how long social distancing will last. If some localities have reopened but others have not, their production cannot fully recover.
Rescuing businesses
Economist Le Dang Doanh said the output products of one industry could be the input materials of another industry. Since some enterprises have had to stop production, many other enterprises will suffer.
He warned about only paying attention to essential goods supply chains and neglecting other industries. This will cause serious consequences to the economy.
The policies on resuming production need to be designed in a way to ensure harmonious operation, with no discrimination among business fields.
Doanh quoted the Minister of Transport (MOT) as saying that all goods must be considered essential goods, except prohibited goods. All industries and business fields need to operate at the same time to create a harmonious economy.
In order to heal disrupted supply chains, economists say the Government needs to ensure uninterrupted goods and material transport. The regulations on essential goods should be removed and a list of goods and services that cannot be circulated should be released.
It's also necessary to speed up vaccinations for workers, especially in industrial zones (IZs) and enterprises in supply chains; and allow enterprises to use workers who can meet requirements to participate in production lines.
Local authorities should be required to prepare flexible scenarios to cope with Covid-19 outbreaks, because recovering the economy is an urgent matter. Enterprises are located in different areas but they have close relations and benefits. Reopening in only some localities won't help solve the current problems.
Prime Minister Pham Minh Chinh on September 9 signed Resolution 105 on supporting enterprises, cooperatives and business households, with a focus on restoring and developing production and business activities while ensuring compliance with regulations on pandemic prevention and control.
The resolution says that enterprises need help to settle the bottlenecks that hinder production and business; and the number of enterprises that have to stop operation temporarily or be dissolved should be minimized. 
Tran Thuy
The National Assembly Standing Committee yesterday continued discussions about the best ways to support businesses and people affected by the COVID-19 pandemic.

A week after the State Bank of Vietnam issued Circular 14 on debt rescheduling to alleviate the difficulties faced by businesses due to the COVID-19...