Businesses seek interest rate cuts, banks worry about declining profits
Business associations and industries have repeatedly asked commercial banks to ease lending interest rates to share difficulties with them in the Covid-19 pandemic.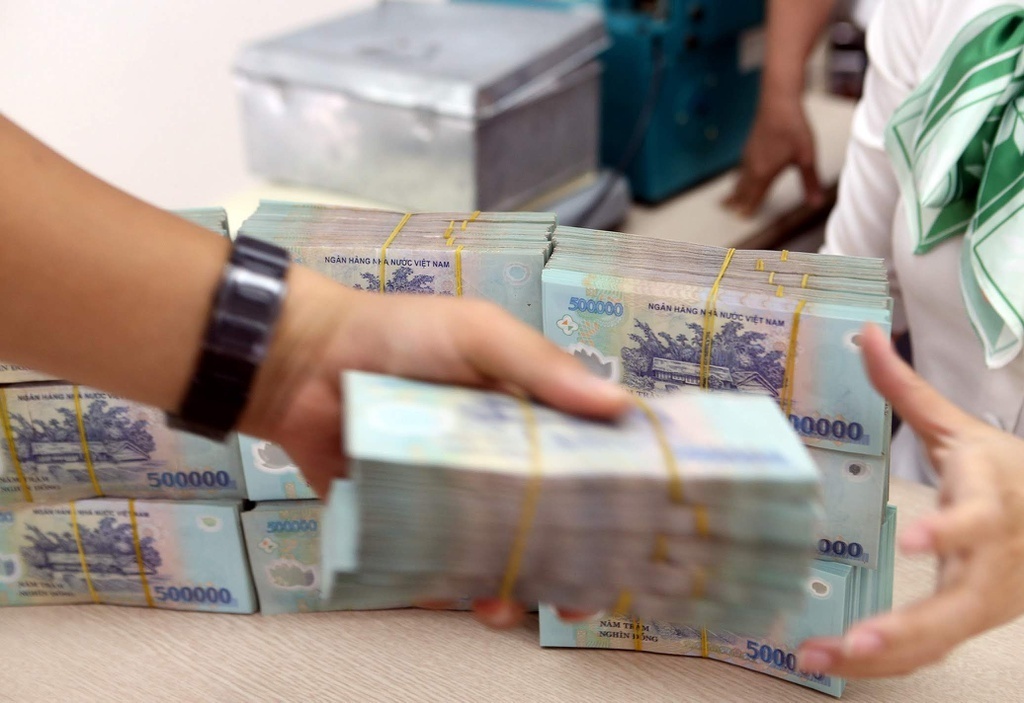 The Vietnam Plastics Association (VPA), for example, has sent a document to Prime Minister asking for urgent help. There are nearly 3,000 enterprises operating in the plastics industry employing 300,000 workers. Seventy percent of them are in HCM City and the southern provinces of Dong Nai, Binh Duong, Long An and Tay Ninh.
VPA said 50 percent of businesses in the industry have shut down or maintained production at a moderate level. There is a risk of unfulfilled orders and late deliveries.
The association has asked commercial banks to ease lending interest rates by another 2-3 percent.
Meanwhile, the HCM City City Real Estate Association said the pandemic has caused problems for nearly all enterprises, investors and clients. The association has also proposed a 2 percent interest rate cut.
The Hanoi Small and Medium Enterprise Association has surveyed nearly 1,500 enterprises in the city in June and found that 57 percent of them are operating at a moderate level.
Mac Quoc Anh from the association has made a 10-point proposal to help enterprises cope with current problems. One of the solutions is easing lending interest rates by 3-5 percent for SMEs.
The Vietnam Young Entrepreneurs' Association has also sent a dispatch to the PM, asking to adopt solutions to help enterprises seriously hit by the pandemic.
The association has asked to cut interest rates by 2 percent on all outstanding loans for at least one year, and continue to cut interest rates by 1.5-2 percent for new loans.
HAPTA, the Hanoi public passenger transport association, has also asked the Prime Minister and ministries to instruct commercial banks to support enterprises by reducing interest rates by 3-5 percent.
The tourism sector wants more than interest rate cuts. Hoang Van Vinh, chair of the Nha Trang Tourism Association, said travel firms in the city are on the verge of bankruptcy. Since the Covid-19 pandemic broke out, Nha Trang has had few tourists. About 95 percent of hotels have closed their doors, while 5 percent are still operating but serving as quarantine facilities.

Business associations and industries have repeatedly asked commercial banks to ease lending interest rates to share difficulties with them in the Covid-19 pandemic.
"We hope that banks ease interest rates by 3-5 percent for existing loans and help pandemic-hit businesses access new loans with no interest rate," Vinh said.
Banks' views
Following the State Bank of Vietnam's instruction and the meeting at the Vietnam Banking Association on July 12, some banks eased interest rates by 0.5-2 percent on existing and new loans.
LienVietPostBank estimated that if it cuts interest rate by 1 percent on average, its profit would decrease by VND600 billion. Meanwhile, Sacombank estimated that its profit would drop by VND1 trillion, or 40 percent of the targeted profit.
Economist Can Van Luc said the total outstanding loans of the economy is VND9.6 quadrillion. If banks cut lending interest rates by 1 percent, the profit of the whole banking system would be VND96 trillion. It is estimated that the banks' profit in the second half of the year may drop by VND40 trillion.
The foreseeable fall in profit may not be accepted by shareholders of the banks. It is not likely that banks will cut interest rates sharply.
According to enterprises, the business fields not listed as priority fields now bear an interest rate of 7.5 percent on average for six months. The interest rates are flexible after the first six months and may reach 8.5-9 percent.
As for long-term loans, the interest rates of 8-8.5 percent is applied for the first year and then 4-4.3 percent more.
They said that commercial banks which are making high profits amid the pandemic need to share difficulties with businesses.
A businessman said banks have cut lending interest rates but only very slightly. He warned that production has been seriously affected and workers have to take unpaid leave, and high interest rates are another burden on enterprises.
Vina CleanFood recently rejected an offered interest rate cut because it was too small, just 0.1-0.2 percent per annum.
Analysts said that most existing loans have interest rates of over 10 percent per annum, and if the interest rate falls by 1 percent only, this won't help businesses much. With VND1 billion of loans, businesses would be able to save only VND10 million in interest rate each year. 
Tran Thuy

After many years of undergoing restructuring, joint stock banks have expanded operation scale and profits.

The State Bank of Vietnam and the Government must offer stronger solutions to resolve the current problems pertaining to debt structuring, interest rate reduction, and support to businesses facing crisis.