Business stories: 'Boss Duc' regrets decision, 'Boss Thuy' sets records
Doan Nguyen Duc, or Boss Duc, Chair of Hoang Anh Gia Lai Group (HAG), said he regrets the decision on giving up real estate. Nguyen Duc Thuy, or Boss Thuy, has wrapped up a lot of new deals.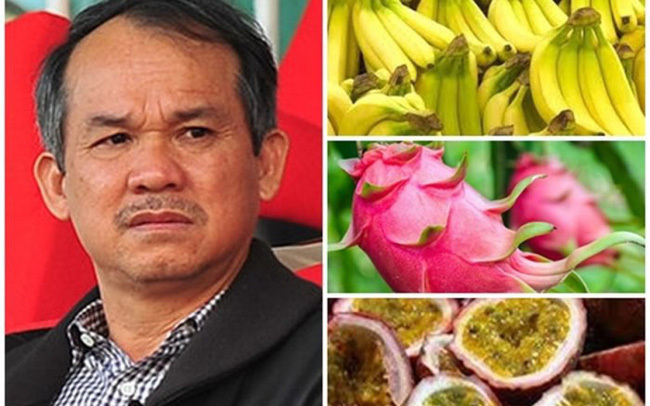 Hoang Anh Gia Lai's President Doan Nguyen Duc
Boss Duc: I made a wrong decision
Asked by shareholders if he would invest in real estate if there were good land plots, Duc said: "Hoang Anh Gia Lai was the No 1 real estate firm in 2008. However, I gave up real estate in 2012 to gather strength on agricultural production. This was the wrong decision."
However, he noted that every cloud has a silver lining. He's not sure if he could have made money if he had not given up real estate, but he is sure that the investments in agriculture brought achievements.
"Hoang Anh Gia Lai will no longer develop real estate. We won't come back because if we do we would hardly be able to compete with other developers," Duc said.
Many business fields were stuck during the pandemic, but agriculture still could 'live well'. If there are good land plots in the future, Hoang Anh Gia Lai may team up with some partners to invest in the land, but just for investment purposes to get money for debt repayment, he said.
Real estate developer arrested
Soon after the news that Nguyen Vu Bao Hoang, 45, CEO of Thu Duc House, was arrested for alleged appropriation of assets on November 25, TDH share prices fell to the floor level.
Before the arrest, in late October, Hoang registered to sell 1.75 million TDH, while Daweon – Thu Duc JSC, a related company, also registered to sell 311,941 TDH.
The November 1 trading session witnessed the put-through transaction with the volume coinciding with the amount of shares sold by Hoang. It is highly possible that Hoang had wrapped up the transaction and collected VND22.8 billion (VND13,000 per share).
Since October 21, TDH has been put under special control as the company continued violating regulations on exposing information after it was given warnings.
Nguyen Duc Huong returns
CMS Vietnam JSC has approved the appointment of Nguyen Duc Huong, former Chair of Lien Viet Post Bank, as member of the board of directors to replace Duong Ngoc Tuong.
Huong was nominated by CMS Chair Pham Minh Duc. Huong will hold the position until the nearest shareholders' meeting, participating in the activities of supervising the board of management.
As such, after three years of leaving the post of Lien Viet Post Bank chair, Huong has unexpectedly made a comeback.
Huong was one of the founders of Lien Viet Post Bank, which is considered the best bank among the three banks set up 10 years ago. In March 2018, he left the post for personal reasons.
Boss Thuy set new record
Thaiholdings registered to sell all the 14.2 million, or 19.52 percent of Ton Dan JSC Hanoi shares that it was holding. The price won't be lower than VND60,000 per share. The transfer would be made in Q4.
Ton Dan is the owner of Thaiholdings Tower located on the golden land plot in Hanoi.
With divestment from Ton Dan, the consolidated profit of Thaiholdings in 2021 would be nearly equal to charter capital, VND3.5 trillion, a record high profit among listed companies.
Thaigroup, a subsidiary of Thaiholdings ecosystem, has also announced the divestment from TonDan. Thaigroup would transfer 58 million shares, or 80.45 percent of Ton Dan's charter capital. If the deal succeeds, Thaiholdings and Thaigroup would collect at least VND4.4 trillion.
Prior to that, Thaiholdings registered to sell 22.4 million LPB shares of LienVietPostBank on November 4-December 3. Nguyen Van Thuyet, the younger brought of Boss Thuy, Deputy President of Lien Viet Post Bank, also registered to sell 330,000 LPB on November 19-December 18.
Thaiholdings is also an institution related to Thuy. He holds no position there, but is the founding shareholder with 24.5 percent of shares.
Next-generation billionaire businessmen
The Economist magazine noted that the Vietnamese stock market is growing strongly.
Pham Nhat Vuong, president of Vingroup, tops the list of billionaires. It is present in tourism, hospital, education, automobile manufacturing and other fields. Vingroup is valued at $15 billion, which is high enough for a US company to be added to S&P indicator.
Vietnam has many other billionaires, including Nguyen Thi Phuong Thao, CEO of Vietjet; Nguyen Dang Quang, the founder of Masan Group; and Ho Hung Anh, President of Techcombank.

According to The Economist, the common thing of the billionaires is that they started up in the former Soviet Union.
Vuong developed Mivina, an instant noodle brand, when he was in Ukraine, which became very popular. Meanwhile, Thao earned her first million dollars when she was at university in Moscow by importing office equipment and consumer goods from East Asia. 
Bao Anh

If assets are calculated according to the value of the stock market, Vietnam will have more USD billionaires.

The share price increases last week helped rich businesspeople become even richer.