Business stories: billionaires get richer
The share price increases last week helped rich businesspeople become even richer.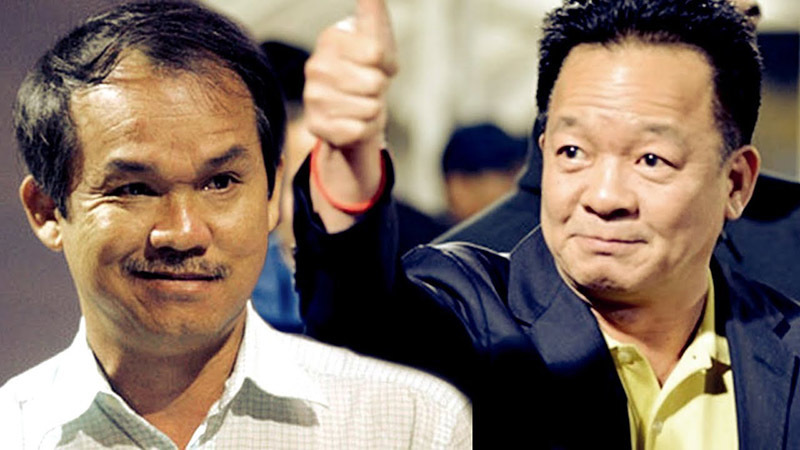 Boss Duc (left) and Boss Hien
Three 'bosses' earn big money
Hoang Anh Gia Lai (HAGL) owned by Doan Nguyen Duc, or Boss Duc, has released its Q3 financial report which showed revenue of VND554 billion in the third quarter of the year, the same as Q2 and a 20 percent reduction compared with the same period last year.
The noteworthy feature of the report is the 58 percent decrease in revenue in Q3 to VND220 billion, as HAGL no longer has revenue from HAGL Agrico.
Meanwhile, pig sales were VND183 billion in Q3 and VND442 billion in the first three quarters of the year. The group is preparing farming facilities to raise 15,000 sows in 2022 and sell 300,000 pigs a year. It also earned revenue from cow sales, VND27 billion, after 10 consecutive quarters of no revenue from this sector.
Soon after releasing its Q3 financial report, HAG shares soared to the ceiling level on November 1 trading session to VND5,510 per share, a 4-month high.
The November 3 trading session witnessed the strong rise of bank shares. LPB of LienViet Post Bank was at the ceiling level of VND22,850 per share, despite the information that Thaiholdings of Boss Thuy (Vice President of the bank) registered to sell all the 22.3 million LPB shares the company is holding, though it had incurred a loss of VND89 billion.
Prior to that, Thaiholdings held LPB when the price was over VND28,000 per share. The newly released Q3 financial report showed that 22.4 million LPB held by Thailholdings have the original price of VND563 billion. Boss Thuy holds 34.2 million LPB, or 2.85 percent.
Meanwhile, Saigon – Hanoi Commercial Bank (SHB) of Boss Hien saw the bank share price rise by 3.3 percent with the closing price at VND31,500 per share. As such, the price of the share increased by 27 percent after 9 consecutive increases since October 26.
SHB led the banking sector in terms of liquidity with 45.4 million units traded. Prior to that, on November 4, SHB also witnessed the sharp increase of 6.46 percent and huge trading volume of 44 million units.
Thao richer than ever
After a long period of struggle, VJC shares of Vietjet Air, whose CEO is Nguyen Thi Phuong Thao, have bounced back since early June.
VJC now is traded at over VND130,000 per share, the 2-year high. Prior to that, the share price tumbled to below VND100,000 because of Covid-19.
Thao has the total assets of $2.7 billion as reported by Forbes and she is the richest businesswoman in Vietnam and Southeast Asia.
Thao's Sovico Group in early November signed an MOU with Linacre College on Sovico's donation of 155 million pounds for education development.
Steelmaker makes a breakthrough
Hoa Sen Group (HSG), owned by billionaire Le Phuoc Vu, continued reporting post-tax profit of trillions of dong. In 2020-2021 (from July 1, 2020 to September 30, 2021), HSG reported consolidated post-tax profit of VND4.3 trillion, or 3.7 times higher than the year before.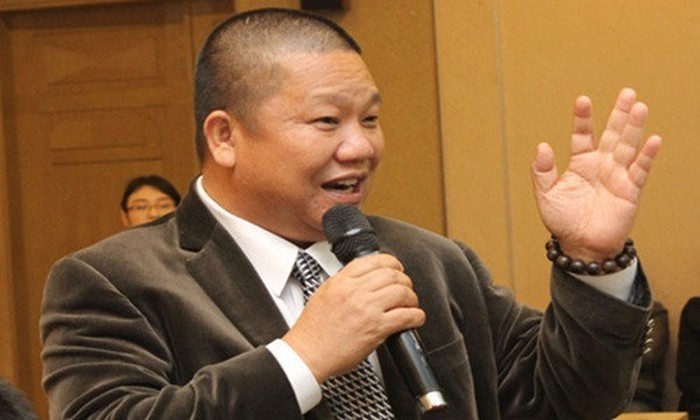 Le Phuoc Vu
The estimated amount of products sold was 2.25 million, an increase of 39 percent over the previous fiscal year which brought turnover of VND48.727 trillion, up by 77 percent. Its post-tax profit was at a record high, at VND4.313 trillion, or 3.74 times higher.
In Q4 (from July 1, 2021 to September 30, 2021) of the fiscal year alone, the consumed output was 600,000 tons, revenue VND15.8 trillion and consolidated post-tax profit VND940 billion, increasing by 9 percent, 89 percent and 109 percent, respectively, over the same period last year.
Mobile World collects $4 billion
The Gioi Di Dong (MWG) owned by Nguyen Duc Tai has approved a resolution on establishing a VND100 billion subsidiary specializing in storage and cargo transportation service.
MWG has approved a plan to increase its charter capital by VND800 billion, and increase Bach Hoa Xanh Trading JSC by VND3.2 trillion. It is experiencing the restructure of capital at An Khang Retail, and planning to transfer all the shares it holds to Bach Hoa Xanh.
MWG still performed well at the most difficult moment of the pandemic. It reported a positive growth rate in the first 9 months, net revenue of VND86.8 trillion and post-tax profit of VND3.338 trillion, up by 7 percent and 12 percent, respectively. The sales via online channel increased significantly with VND9.3 trillion worth of revenue.
Quoc Cuong Gia Lai reports small profit
The company reported that the net revenue in Q3 dropped by 57 percent over the same period last year to VND223 billion, while revenue from real estate dropped by 64 percent to VND174 billion.
While revenue decreased, the gross profit margin of the real estate firm improved significantly, reaching 21.5 percent, higher than the 16.9 percent in Q3 2020.
The company of Nguyen Thi Nhu Loan reported a post-tax profit of VND10 billion in Q3, down by 50 percent. 
Bao Anh
Vingroup, the company of Vietnam's richest man, billionaire Pham Nhat Vuong, has expanded investment in major projects in the fields of electric cars and technology but has not neglected its traditional businesses.

Two foreign banks have invested VND7 trillion in Vingroup, owned by the dollar billionaire Pham Nhat Vuong, amid the enterprise's daring moves and new records made in the Vietnam's stock market.