Business stories: The bosses with the most leisure time
Company presidents Tran Dinh Long and Dang Thi Hoang Yen have time to go to cafés and don't attend shareholder meetings.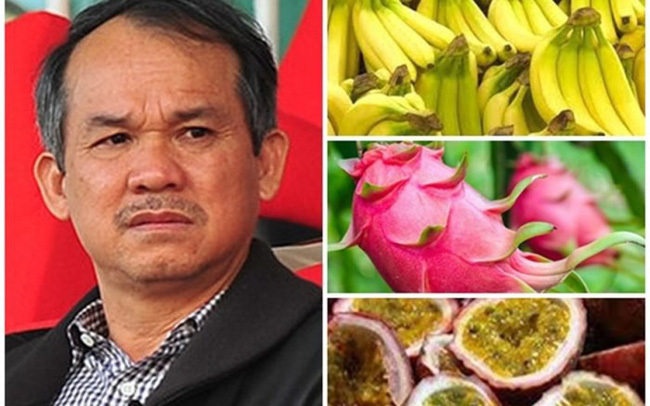 Doan Nguyen Duc, or 'Boss Duc'
However, Yen attended an annual shareholder meeting of her Tan Tao Investment and Industry Corporation (ITA) in the US. Yen was introduced as Maya Dangelas and the new name appeared in documents and resolutions from the board of management.
Yen, the founder of the company, considered as its 'soul', has been absent at her company's shareholders' meetings since 2013.
The meetings in recent years have been presided over by the members of the board of management and her younger brother Dang Thanh Tam.
In a message to shareholders, Yen said the company plans to divest from some subsidiaries in 2021 and will gather strength on Industrial Zone development.
The company reported pure revenue of VND649 billion in 2020, a 50 percent decrease from the year before, and post-tax profit of VND179 billion, a 13 percent decrease.
Its accumulated profit had reached VND1.034 trillion as of the end of 2020, while charter capital was VND9.384 trillion. ITA did not mention the dividend payment for 2020. The latest dividend payment was 2013 (payment in shares, 5 percent).
Tran Dinh Long: the one with the most leisure?
According to Long, President of Hoa Phat Group, his friends think he has the most leisure time of any president in the world as he has time for breakfast and coffee in the morning, lunch and coffee with friends at noon and dinner with family members in the evening. He also plays golf twice a week.
Long said he can spend time on his hobbies because the next generation of managers of Hoa Phat have been well trained and are experienced.
At the 2021 shareholders' meeting, Long expressed his wish to buy HPG shares without having to follow the procedures for a public tender offer. Long committed not to sell HPG shares.

Sacombank has reported total assets of VND492.637 trillion for 2020, an increase of 8.6 percent over the year before. Its NPL ratio decreased from 1.94 percent to 1.7 percent, while its pre-tax profit was VND3.339 trillion, or 30 percent higher than planned.
He hopes shareholders will support his plan to buy more HPG shares this way, because the procedures are too complicated.
Duong Cong Minh: LBP is my 'daughter'
Minh recently stressed that Sacombank (STB) and LienVietPost Bank (LPB) have no relations and they are two independent banks.
"LPB is my daughter and I gave her in marriage. Meanwhile, STB is daughter in law. I love both of them, but STB brings the highest benefits to me. Now I spend all my time on STB," he said.
Sacombank has reported total assets of VND492.637 trillion for 2020, an increase of 8.6 percent over the year before. Its NPL ratio decreased from 1.94 percent to 1.7 percent, while its pre-tax profit was VND3.339 trillion, or 30 percent higher than planned.
The bank plans to increase the total assets by 8 percent this year to VND533.3 trillion and pre-tax profit by 20 percent to VND4 trillion.
Boss Duc's company faces difficulties
HOSE (Ho Chi Minh City Stock Exchange) has released an announcement about putting Hoang Anh Gia Lai shares (HAGL, HAG) under supervision instead of on the warning list, commencing from April 28, 2021. HAG is facing restriction in trading time, and is only traded in afternoon sessions.
The decision was released after the company incurred a net loss of VND1.256 trillion in 2020 and accumulated loss of VND6.302 trillion as of December 31, 2020.
Wooden furniture manufacturer incurs overdue debt of VND123 billion
As of December 31, 2020, TTF owed VND123 billion to DongA Bank Binh Duong Branch, mortgaged with 12,859 square meters of wood materials of different kinds.
Regarding the debt, the TTF shareholder meeting in 2020 approved a plan to make a private offering of VND58 million shares at the price of VND2.128 per share and the conversion ratio of 0.2218:1 (VND2,218 worth of debt for 1 additionally issued share).
"TTF has not borrowed more money from banks since I took over the company because the old debt to DongA Bank is a bad debt. There have been dozens of working sessions between TTF and the bank on the debt," Mai Huu Tin, president of TTF, said at the meeting.
TTF plans to issue shares to third parties who would buy back the debt. However, the company has not found buyers.
Technology firm sees high profits
FPT has reported revenue of VND7.586 trillion for the first quarter in 2021 and pre-tax profit of VND1.397 trillion, up by 14.4 percent and 22.3 percent, respectively.
The technology division of FPT saw the highest growth rate among the corporation's division, making up 55 percent of total revenue and 40 percent of pre-tax profit.
FPT is pursuing a so-called "hunting for whales" strategy, i.e. targeting large businesses and contracts that have high value.
The corporation signed four large contracts with revenue of over $5 million per contract in the first quarter. Meanwhile, the revenue of new contracts signed in overseas markets increased by 43 percent to VND4.489 trillion.
FPT's telecom division reported revenue of VND2.925 trillion, up by 9.6 percent and VND576 billion in pre-tax profit, up by 29 percent compared with the same period last year. 
Bao Han

Nguyen Duc Thuy, or Boss Thuy, has stock assets worth VND17.3 trillion. However, his real assets are believed to be higher.

Despite being born handicapped, a man in Thai Binh Province has managed to open his own business and provide gainful employment for many others with disabilities.