Brother-sister pair wins Asian championship in skating
Falling passionately in love with ice dancing in childhood, the skating siblings Minh and Chi could not imagine that the sport would ever bring such honors to them.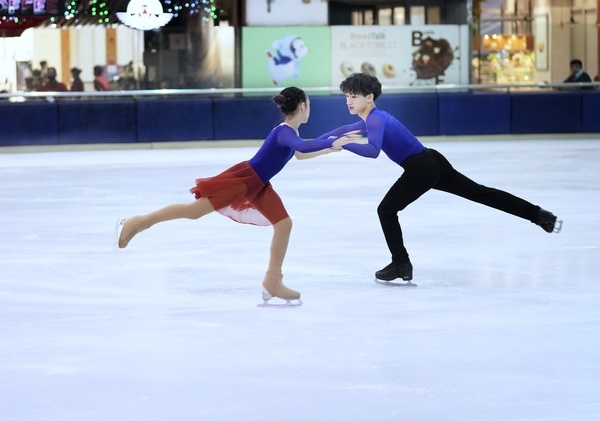 Nguyen Quang Minh, 16, and Nguyen Linh Chi, 13, have been partners at national and international tournaments for five years.
They have won three gold medals at the Vietnam Figure Staking Championship and gold medals at the Asian Figure Skating Championship twice.
Minh learned about skating when he was in the fifth grade, when his younger sister was in the second grade. One day, when passing a shopping mall, they asked for their mother's permission to try staking.
"I still remember I felt so cool when standing on the ice, and curious: how can people stand firmly and glide so gently on the ice. I really wanted to be like them. Fortunately, we got support from our parents," he recalled.
After a period of practicing skating, coaches recognized the talents of both Minh and Chi and persuaded the parents to allow their children to become professional athletes.
"We started with the simplest movements like walking steadily, then moving forward and backward. Once we were able to move on the ice, we had to practice balancing by sliding on one leg or spinning," Minh said, adding that it took them several months to become proficient.
Later, they moved on to single and double performances with more difficult movements. They began feeling more joy when practicing and they wanted to test their ability in large tournaments.
However, over one year, they had not won any awards at competitions.
"I felt quite jealous of other trainees, who had better achievements though they began practicing later than me. Chi also cried a lot during this year," Minh told reporters.
To help their children who had great passion for ice dancing, the parents decided to hire foreign coaches for Minh and Chi. They also went to Australia for practicing campaigns several times a year.
When Covid-19 pandemic broke out, Minh and Chi had to learn online in Vietnam as they could not fly to Australia. The gold medalists said they feel lucky as their parents always support their decisions in their career path.
"When we study online with the coach, my father holds the phones for hours to film my movements and then sends the videos to the coach," Minh said.

Falling passionately in love with ice dancing in childhood, the skating siblings Minh and Chi could not imagine that the sport would ever bring such honors to them.
"My father even knows more than we do about which national squads are strong and which strategies they follow, though skating is not his expertise," he said.
No breaks
If Minh and Chi don't have to prepare for tournaments, they have 5-6 practicing sessions a week with the coach. Each session lasts one or two hours.
They also practice ballet and contemporary dance which complements the skating performance.
"The practicing takes us a lot of time, and we still have to go to school. Sometimes we have to go straight to the airport right after school lessons to fly abroad to attend tournaments," Chi said.
The 10X generation kids have to do school work anytime they can, during break time or at airports.
Injuries are one of the biggest problems for Chi and Minh, and for any athlete. At first, they mostly suffered trauma when they practiced balancing. Later, as they learned more difficult movements, they faced higher risks. Quang Minh had many serious injuries related to his back and ankles.
"Feeling pain, I dare not stop practicing, because the interruption will affect the feeling of my legs," Minh explained.
The longest holiday that Minh ever had was a tour he spent with his family. At that time, Minh felt something strange with his legs. Since then, Minh has never given up practicing.
When ice rinks were closed because of Covid-19, Minh and Chi had to continue their practice and exercises outside.
Fluent English
Minh and Chi also do very well in school. Chi, with a GPA of 9.7/10, has become the top student in her grade at Marie Curie School. Minh got 895/900 on the TOELF Junior test when he was at secondary school. Both of them speak English fluently.
They can also play piano and dan tranh (16-chord zither), and can draw. They are good at hip hop dance, contemporary dance, art gymnastics, ballet, ice skating, and martial arts.
Both Chi and Minh have won many prizes in dance and have had paintings displayed at the Vietnam Fine Arts Museum, National Center for News and Phu Yen Provincial Museum. Minh and his friends have been visiting schools for autistic children to teach them how to dance and paint.
Dieu Linh, their mother, said her children practice skating because they have passion for the sport, and they are not under pressure to earn money from skating.
Having gained high achievements in skating, both Minh and Chi plan to say goodbye to ice dancing when they turn 18. 
Thuy Nga

Vietnamese athletes have been forced to cancel their flight to Poland in order to compete in the World Athletics Relays as a way of qualifying for the upcoming Tokyo Olympics due to the impact of the COVID-19 pandemic.

Eight Vietnamese students won gold medals at the international Olympiads in 2020.