'Black-credit' lenders pose serious threat to borrowers
Experts have repeatedly rung the alarm bell over black credit, which is causing serious consequences to families and society.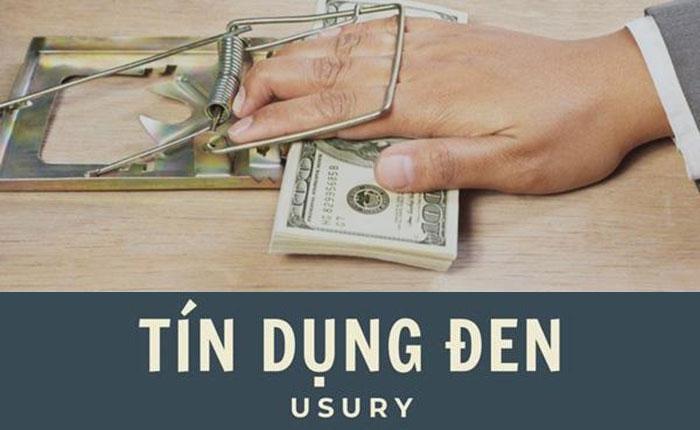 In August 2017, Nguyen Thi Be in HCMC borrowed VND7 million from Vu Duc Thinh, for which she had to pay VND310,000 a day in both principal and interest. Be, who was then in difficulties, made payments for 10 days and then fell into insolvency. Thinh told Be to pay VND13.5 million in total, but she couldn't.
This started a succession of terrible days for her family. Thinh used all possible threats to demand debt payment. Shrimp paste, rotten frog heads and paint were thrown into Be's house. The family felt worn down and depressed.
Under the threat, Be's son, Nguyen Van Binh, 33, had to make a commitment to pay the debt of her mother within one week.
When Thinh did not receive the money, he went to Be's house with his friend, Huynh Ba Thien An, on January 22, 2018 to throw shrimp paste into the house.
Binh, who was then sleeping, heard a loud noise on the roof and realized that Thinh had once again come to harass the family. This time Binh used a knife and slashed Thinh to death. After that, he cut An with the knife, causing 73 percent trauma.
When Binh was brought to trial, he admitted the murder, but said he was under unbearable coercion.
Other families have suffered as well.
In May 2020, in Chau Thanh District in Can Tho, family members discovered that N.M.K, born in 1993, was taking drugs to commit suicide.
They found out that the lecturer at a college in the locality had decided to commit suicide because he borrowed money at exorbitant interest rates via an app and could not pay the debt.
At first, K borrowed VND5 million, but since he could not pay the debt after seven days, the amount of debt increased day by day.
To 'help' K pay the debt, the app advised K to continue borrowing money via other apps. As a result, the total amount of money rose to VND200 million.
As the apps chased K to ask to pay debts, while strangers called to threaten and terrorize him, K quickly panicked and did not have the mind at work. Finally, the young man decided to see suicide as a way to free himself.
The Ministry of Public Security discovered 1,152 cases and 2,423 individuals or groups related to black credit from April 15, 2019 to April 15, 2020. It prosecuted 602 cases with 1,427 defendants, and imposed administration fines on 382 cases and 911 subjects.
Seeking ways to stop usury
Commercial banks have begun using Big Data and AI to assess clients' reliability.

The Ministry of Public Security discovered 1,152 cases and 2,423 individuals or groups related to black credit from April 15, 2019 to April 15, 2020. It prosecuted 602 cases with 1,427 defendants, and imposed administration fines on 382 cases and 911 subjects.
TPBank, for example, uses technology to assess clients' solvency, which allows it to shorten the time needed to consider clients' applications for online loans without collateral from one week to 10 minutes, thus satisfying business demand for quick loans.
However, banks provide loans online without requiring mortgaged assets to businesses, and still don't dare to provide loans to small business households and individuals, the clients with very high demand for day loans.
The high demand is attributed to the young population of working age accounting for more than half of the population. They have high financial demand, but face barriers when accessing official finance sources, especially people in rural areas.
This is the 'fertile land' for black credit. Meanwhile, the market remains unexploited by commercial banks, because banks' high tech application is not strong enough.
While banks remain reluctant to exploit the market, some fintechs have moved one step ahead, entering the market and providing access to individuals and small business households.
Tima's CEO Tran The Vinh said there are a lot of apps which provide online loans under the disguise of P2P lending. The lending activity is illegal and listed as black credit.
Analysts say that in order to settle the problem of black credit to the root, it is necessary to provide access to official financial sources. To do this, the Government needs to apply a sandbox, or a pilot legal framework, for fintechs to provide loans.
Fintechs in Vietnam are using technologies to analyze clients' reliability before deciding to provide loans without requirements on collateral. They set credit limits suited to each client based on their solvency.
If borrowers can access official financial sources, black credit will have no more reason to exist.
Fiin CEO Tran Viet Vinh said state management agencies need to set a pilot legal framework for this type of lending to make the market transparent. The transparency will help keep borrowers away form black credit, and Vietnam's fintechs will have more opportunities to develop in the home market.
The Government has instructed the State Bank of Vietnam to join forces with relevant ministries and branches to draft and propose a pilot mechanism to manage P2P and other payment modes which have not been legalized yet. 
T. Nhung - T. Khang

The poor, who lack financial information and knowledge, are often hurt by black credit. But many businesspeople have also become victims.

The Ministry of Planning and Investment (MPI) has warned about the increasing use of foreign peer-to-peer (P2P) lending in Vietnam with potential risks of black credit.