Ben Tre's new revolution: awakening it's multi-billion dollar treasure
Ben Tre is the homeland of coconuts. It also has shrimp production and the largest seedling gardens in the country. With such treasures, the province could develop these into multi-billion dollar products.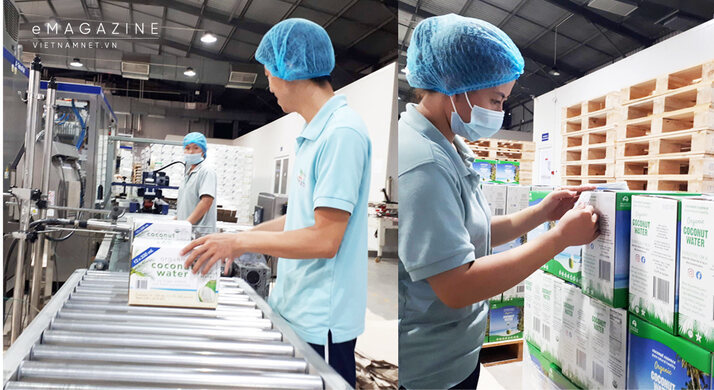 Coconut-made products
Truong Thi Cam Hong, 60, the owner of a coconut processing workshop and a large coconut supermarket in Ben Tre, has developed a lot of coconut-made products over the years.
Hong considers the development of coconut products as her 'flesh-and-blood passion'. When entering her supermarket, visitors may have a new feeling about Ben Tre's coconut: not only traditional coconut-made products such as coconut candy and dried coconut, but cosmetics and functional food made of coconut are also available there.
In 2012, she created nourishing masks from coconut milk. The products have been available in the market since 2013. In 2018, she created blotting paper for women and food lining paper.
In 2019, she researched and developed coconut milk-made straws, friendly to the environment. About 100,000 products are exported to Canada, the US and Australia each month. She gets orders fir 300,000 products a month, but production still cannot satisfy demand.
On supermarket shelves, one can see lipsticks, skin care oil and cleansing paper made of coconut.

Ben Tre is the homeland of coconuts. It also has shrimp production and the largest seedling gardens in the country. With such treasures, the province could develop these into multi-billion dollar products.
According to Ben Tre provincial People's Committee member Tran Ngoc Tam, there are 150 product items made of coconut and exported to many markets in the world, including Europe, the US, Australia and Japan.
Ben Tre province has 73,000 hectares of coconut growing area. In the past, coconut was mostly used to make coconut oil, coconut candy and activated carbon. Nowadays, more and more products are made of coconut, from skin care masks to lip balms.
Coconut-made products now can bring turnover of $300 million a year. Ben Tre is striving for $1 billion in the near future.
In order to obtain $1 billion in turnover, Ben Tre needs to renew the products and improve their quality. Hong and other producers understand that in order to compete with rivals in the world market, they need to make high-quality products right from the beginning.
Pham Van Tu, Director of Thuan Phong Farm and Seafood Product Processing Company, who has a factory in Tien Giang province specializing in banh trang (girdle cake), banh hoi (steamed rolls made of rice flour) and banh pho (rice noodle) for export, has come to Ben Tre to set up a VND1 trillion factory to process coconut and farm produce.
The first products of the factory have been introduced. Tu said that his products don't use any kind of chemicals and preservative. Canned products taste as good as fresh coconut milk.
On Tu's desk at the company, one can see his coconut-made products next to the products of the same kind from Thailand and Sri Lanka. He has vowed to create Ben Tre products that will be the most delicious in the world.
"Our goal now is creating products which are competitive with the two leading producers in the world," he said.
Hi-tech shrimp, naturally bred cows
Ben Tre now can put out 230,000 tons of shrimp. If one kilogram of shrimp is sold at VND100,000, Ben Tre would have VND23 trillion, or $1 billion from shrimp.
However, the figure could be even higher if Ben Tre can sell processed shrimp products.
"The current value from shrimp is quite good now, but it is necessary to increase the value by half or twofold," said Ben Tre provincial Party Committee's Secretary Phan Van Mai, adding that in order to do that, it is necessary to apply high technologies in aquaculture and processing instead of traditional methods.
Mentioning the provincial Party Congress for the 2020-2025 term, which sets the goal of developing 4,000 hi-tech shrimp farming area and obtaining production value of $1 billion by 2025, Tam said he has been to An Dien commune of Thanh Phu district to survey the hi-tech farming model there.
One local household reported the revenue of VND30 billion for one shrimp crop, much higher than the productivity of traditional methods.
With traditional method, shrimp size is small, about 100 shrimp per kilogram. But when applying the technology transferred by a Thai company, the shrimp could be much bigger.
The province is considering developing a seafood processing chain for export by setting up processing factories in the shrimp material area of Binh Dai.
In the areas suffering from saline intrusion, where rice cultation is impossible, people have shifted to grow grass to feed cows. And cow breeding has become a new career there.
The cows there are called 'bo thuan thien', or cows bred in natural conditions.
Ben Tre has 230,000 cows. If noting that each cow is worth VND50 million, Ben Tre now has VND10 trillion from cows. Mai estimates that if the cow farming chain can be organized well, the added value from products made of beef could be up to $1 billion.
According to Mai, Ben Tre plans to develop concentrated production chains for eight key products of the province. However, it will focus on the most valuable billion dollar products first.
Cho Lach district, for example, can churn out 40-50 million ornamental flower seedlings a year, and a billion dollar production chain can be built there, according to Mai.
Mai also said that Ben Tre still cannot take full advantage of free trade agreements (FTAs) to boost exports, especially fresh fruits. However, the situation will change as the province is gathering strength to approach the European market in the next five years. 
Luong Bang

"What should we do – continue to complain about difficulties to get subsidies from the state budget, or become self-reliant to rise up," said Ben Tre Provincial Party Committee Secretary Phan Van Mai.

With nimble hands, Do Quang from Ben Tre province can turn long threads of wool into beautiful peach and apricot flowers. His handicrafts are very popular, even though the prices are as high as tens of millions of dong.