Artists take extra jobs to earn a living during pandemic
Since the Covid-19 outbreak has caused entertainment activities to be suspended, artists have had to take many different jobs.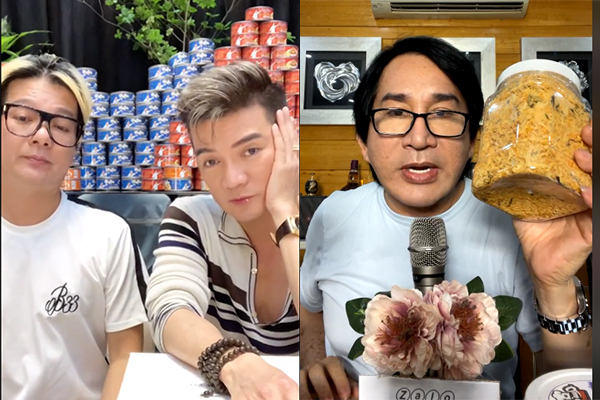 Artists organize livestreams on social networks to sell goods
A lot shows and entertainment activities have been cancelled following the instructions on tighter Covid-19 prevention regulations.
Dam Vinh Hung, a famous pop star, said that the arts community has never before had such a long holiday. The pandemic has had a great impact in all fields and all aspects of the society, including show business.
Hung revealed that his income from singing has dropped by 70-80 percent.
"All my plans and preparations for new products have been delayed. My show initially slated for June 2020 has been delayed five times. Ad contracts have also been suspended," Hung said.
Kim Tu Long, a famous cai luong (reformed theatre) artist, said that his income has decreased by 80 percent. Since he doesn't have shows and has to temporarily close restaurants, he assists his wife to sell goods online.
Quoc Truong, a famous actor, who owns a chain of spicy noodle shops, also complained that his business has been seriously hit. Food chains are the third hardest hit business field in the Covid-19 crisis, just after hotels and airlines.
He said he is under pressure as he has to pay wages to a high number of workers and rental.
Dieu Nhi, an actress, said the events to advertise movies and filming plans all have been suspended until new notices. She hopes that the landlord will reduce her rent when her nail shop temporarily closes.
Actress Le Giang has also asked for rental cut. She now has to pay VND80 million a month in rent, while the shop has to close in social distancing.
Former model and actress Phan Nhu Thao said her two spas have suspended operation since May 15. Currently, she pays 50 percent of salaries to her workers and full rent.
Thao said she still can hold out thanks to the profits gained previously. She now has to take 3-4 jobs at the same time.
"Some friends of mine have to give up rent and shut down their shops. If the situation cannot improve after two months, I may have to shut down the spas to stop losses," she said.
MC Le Nguyen Bao confirmed that the pandemic has seriously affected his business. The fashion shop run by Bao and singer Nam Cuong opened just one day before the social distancing was imposed.
Nguyen Phi Hung, a singer, said he is trading nutritious powder made of nuts. The business has become worse since the outbreak. He has stopped singing.
Taking extra jobs

Since the Covid-19 outbreak has caused entertainment activities to be suspended, artists have had to take many different jobs.
As music, movie and event activities have been postponed or delayed, artists have had to take other jobs to maintain their major business. They organize livestreams on social networks to sell goods, and deliver goods themselves.
Hung said he has been trading frozen seafood. The business in the last two years has brought relatively good income, which allows him to do some small charity projects. He now also introduces products at livestreams, sells goods and closes deals.
Kim Tu Long said if he did not sell goods online, he would have nothing to do during the pandemic. He and his wife have introduced popular items to satisfy the demand of common consumers.
Phi Phung also said she drives a motorbike to deliver meals sold by her son to earn extra money. She also delivers yogurt, an extra job she has had for many years.
While selling products via livestreams, Kim Tu Long and his wife often sing vong co (traditional tune), and Dam Vinh Hung sings live to both serve audiences and instill optimism.
Meanwhile, MC Le Nguyen Bao and Anh Nam Cuong are trying to attract more customers by running sale promotion programs, offering price discounts, giving gifts, and delivering goods for free within inner districts of HCM City. Both of them are present at livestreams to introduce products.
"Fortunately, we have stable customers at the moment," Bao said.
Nhu Thao said besides the two spas, she also trades food, herbal products, and T-shirts. The products are sold online, and she doesn't have to pay rent. The demand is still high and even increased on Children's Day June 1, so she had to hire two more part-time workers. The last two months were the best sales time so far this year.
Hung feels lucky that his retail chain has not been affected too much because he mostly sells products online. Meanwhile, singer Thu Thuy said her cosmetics trading online is still going well.
Truong said that his staff and co-workers have been side by side to overcome difficulties. No worker has been laid off because of the pandemic.
All of the artists are maintaining positive energy. Dieu Nhi spends her time at home reading scripts more carefully. Thu Thuy said she has learned cooking from YouTube to prepare meals for her family. 
Diep Toan - Nguyen Dat

With gyms closed to prevent the spread of the COVID-19 pandemic, many people are exercising at home to stay in shape.

Vietnamese singers are being featured in a YouTube show which reminds people of beautiful memories of their youth.