Apartment prices keep escalating despite pandemic
Contrary to all predictions, the real estate market has been hot during the pandemic. People are rushing to buy apartments for fear that prices will escalate after the pandemic ends.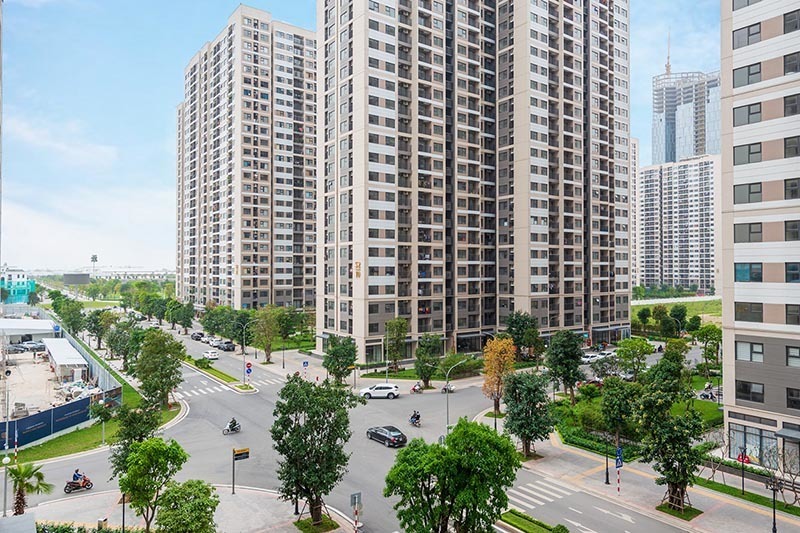 In early 2021, Do Xuan Thang in Hanoi and his fiancé began looking for an apartment to buy in Thanh Xuan district. With total income of VND30 million a month, the couple planned to buy an apartment priced at VND3 billion with payment by installments. At that moment, they had VND1 billion and they planned to borrow money from banks.
However, even with this amount of money, Thang still could not find a satisfactory apartment. Brokers told him that very few projects at that price have been on sale in Hanoi over the last 1-2 years.
"Good products are running out. The prices will go up," brokers told him.
According to Ministry of Construction, housing demand will continue to increase in 2021-2030, especially in large cities like Hanoi. This is attributed to the rapid population increase and urbanization.
The urban population of the country is expected to increase to 45 percent by 2030 from 40 percent currently, which means that 70 more million square meters of urban floor area will be needed each year. Also, the decrease in household size brings a new source of demand in the market.
More and more young people want to own accommodations of their own. Apartments fit their pockets and they can easily access home loans provided by banks.
While demand is high, the supply in the market has decreased since 2019. Nguyen Van Dinh, Deputy Chair of the Vietnam Association of Realtors, said the recent actions of checking, inspecting and tightening control over legal procedures of all real estate projects nationwide have led to a sharp fall in supply.
The short supply is the major reason behind the price increases. In Hanoi, the average price of mid-end apartments has risen from VND30 million per square meter to VND40 million, mostly in projects located in the districts of Ha Dong, Thanh Xuan, Cau Giay and Gia Lam.
Analysts have noticed a high increase in demand for high-end apartments, as people now tend to choose urban areas with good facilities and services.
When Covid-19 broke out in early 2020, many analysts believed that the real estate market would slow to a crawl as people tightened their purse strings and cancelled home purchase plans.
Vo Huynh Tuan Kiet from CBRE Vietnam said despite the economic growth slowdown, housing demand is high as people now are staying home more.
Meanwhile, professional investors and those who have high incomes tend to pour money into real estate, which is considered a safe long-term investment, because during the pandemic, capital flow to production and business has gone more slowly.
The high-end market segment has the most potential, because only developers with powerful financial capability can ensure the high quality of products and delivery time. CBRE estimated that the absorption rate of high-end and luxury apartments is 80 percent. 
Survey found that Vietnamese consider houses as valuable long-term properties. Therefore, when living standards improve, people tend to be choosier about their accommodations. High-end products are the choice of many clients.
Moreover, real estate developers now join forces with banks to run programs to fund home purchases. Clients can borrow up to 80 percent of value of apartments up to 35 years. This makes it easier for people to own high-end real estate products.
These factors explain why real estate products have stable prices or have even increased, despite the pandemic.
Matthew Powell from Savills said that short supply, improved infrastructure conditions, higher development standards and higher steel prices all have led to apartment price hikes.
He said the apartment price hike is the inevitable result of a supply-demand imbalance in the market, not 'artificial fever' as many people think.
Do Thu Hang from Savills Vietnam noted that there are hot spots for investment in the capital city in the suburbs, with developed infrastructure, large projects and prestigious developers. There are investors who even seek opportunities to keep pace with development in the next five or 10 years.
Bui Quang Anh Vu from Phat Dat Real Estate said opportunities exist despite the current crisis. If Vietnam succeeds in developing vaccines, purchasing power to buy houses will increase. 
Duy Anh

The long fourth Covid-19 outbreak and social distancing regulations have posed great challenges to the office leasing market.

Despite the pandemic impacting the resort, hotel and rental market, the housing and apartment segment still has projects for sale at record prices.