Agriculture Minister: smaller companies play big role in economy
Minister of Agriculture and Rural Development Le Minh Hoan believes that Vietnam needs to attract both "eagles", or big investors, and "sparrows", or small investors, because both are important to the country's development.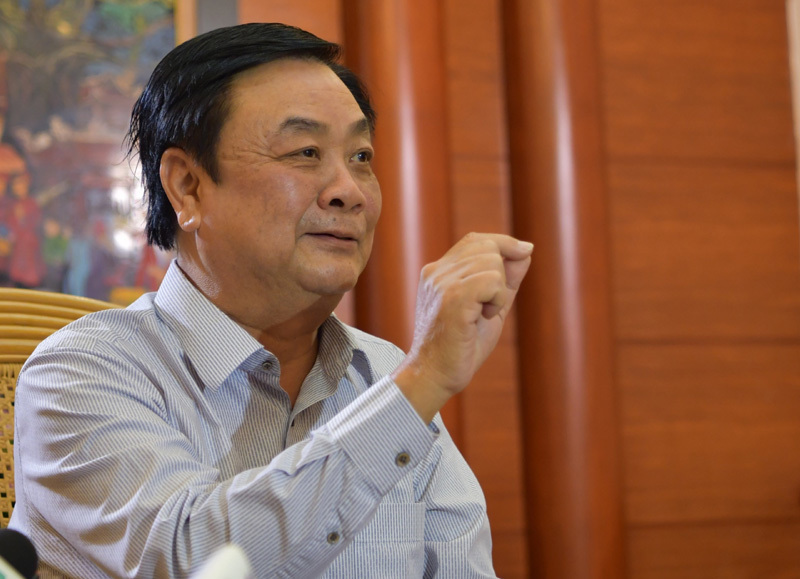 Minister of Agriculture and Rural Development Le Minh Hoan
Local authorities only target eagles
The 13th Party Congress's Resolution mentions the orientation for rural economy development in association with new-style rural areas. How will this affect the economic life of farmers and rural areas?
We have been for a long time trying to attract large investors as we think they can lead the agricultural restructuring. However, after a certain time, we have found that the number of agricultural enterprises is not big enough to fully cover the picture of Vietnam's agriculture. This is because we only have nearly 20,000 agricultural enterprises, while there are tens of million of farming households.
We really need to attract large investors into agriculture to lead the market, but small and medium enterprises and cooperatives also play a very important role.
These farming households both do agricultural production and participate in various types of collective economy such as cooperatives, cooperative groups, startups, and small and medium enterprises. The combination of factors is the rural economy.
The rural economy is like an ecosystem which serves as a stimulant to create a foundation for large enterprises to invest in agriculture, a foundation to create links among production, preliminary treatment and processing. This shifts thinking from agricultural production to an agricultural economy.
Could you please elaborate on the roadmap for the agriculture sector to develop the rural economy?
First of all, it is necessary to find out what is hindering rural economy development and then suggest policies to overcome the obstacles.

Vietnam needs to attract both "eagles", or big investors, and "sparrows", or small investors, because both are important to the country's development.
The first thing that I would like to emphasize is the thinking about rural economy development. For a long time, we have just been trying to attract big enterprises and big investors. It is a necessity, because only large corporations can lead market trends. We paid less attention to small and micro enterprises.
In the ecosystem, there are ancient big trees. But the trees cannot stand alone amid stormy billows. They need to exist in an ecosystem which comprises smaller trees, mistletoes and vegetation as well. That is a complete ecosystem. So, in this ecosystem, nothing is considered absolutely important.
The principle is also true in economic development. In the past, we underestimated the role of cooperatives and farming households. Local authorities only tried to hunt for 'big eagles' to change the images of their agriculture development.
So, we often say 'preparing nests to receive eagles', and we don't think we should also prepare nests for sparrows. But we need to change our mind. Both small sparrows and big eagles have the same importance.
Striving for value instead of quantity
You have said that we need to prepare nests for sparrows. So how will we work with them during their maturation process?
We need to show our thinking. When farmers are persuaded to make changes, they will question what benefits they will get from the changes.
For example, we tell farmers to make fruit juice, jam and dried mango instead of fresh mango, to get higher profits. They will ask where they should start from, who will help them, which technologies should be used and where can they seek capital to set up production lines and build storage houses.
So, we need to be their 'fellow travelers' to give answers to the questions. We need to show them what benefits they would get for every change.
Will leaders, not only farmers, also need to change their way of thinking when shifting from agricultural production to agricultural economy development?
It's true. Once leaders set targets, they will gather strength to obtain the targets.
In the past, our target was production. We strived for higher productivity and higher output. Meanwhile, reports did not mention the production costs farmers had to pay. This was not 'doing business'.
When we 'do business', we need to calculate economic efficiency. If we sell products at 10 dong and we have to pay 9 dong, we will get a modest profit of 1 dong. If we sell products at 8 dong only, and pay 6 dong, we get a higher profit of 2 dong, though the revenue is lower.
Nowadays, we have to calculate carefully so as to both sell products at the highest possible prices and organize production at the lowest possible costs.
Your imprint can be seen in the big achievements of Dong Thap's agriculture, especially the 'Hoi quan nong dan' (farmers' assembly). Do you think the model can be applied across the country?
Five years ago, when carrying out agricultural restructuring, I thought we would not redraw the pictures of yield, crops or animals, but we needed to change the mindset of the movement and develop based on three words – cooperation, association, and market.
I mean farmers should cooperate with each other to cut costs, improve quality, change cultivation process and apply technologies.
So, the Dong Thap Hoi quan nong dan model can be applied throughout the country, not only in a specific locality.
Digital transformation is expected to change Vietnam's agriculture. How is your digital transformation plan?
The Minister of Information and Communications told me that agriculture is one of the fields which can be easily digitized and which needs to digitize the most. With digital transformation, farmers can find the optimal way to improve farm produce quality and connect with the market.
We can start digital transformation from the simplest form – connecting farmers and the market.
It is necessary to organize training courses and launch vocational training projects to teach digital technology to farmers. However, we need to teach them with the 'ancestors' language', not the 'experts' language'. I mean it is necessary to use everyday language to talk about digital transformation and digital technology instead of complicated terminology.
If we can do this, we will produce a contingent of intellectual farmers. And when we have tens of millions of intelligent farmers, we will have a modern agriculture. 
Tam An

Party Central Committee member Le Minh Hoan was elected as Minister of Agriculture and Rural Development at the 11th session of the 14th National Assembly on April 8, 2021.

Presenting policies to effectively support agricultural businesses is one of central tasks set in the 13th Party Congress Resolution.