After 30-year boom, motorbike market sees decline in sales
The sales of motorbikes decreased sharply in 2020. After 30 years of continued growth, the motorbike market has become saturated.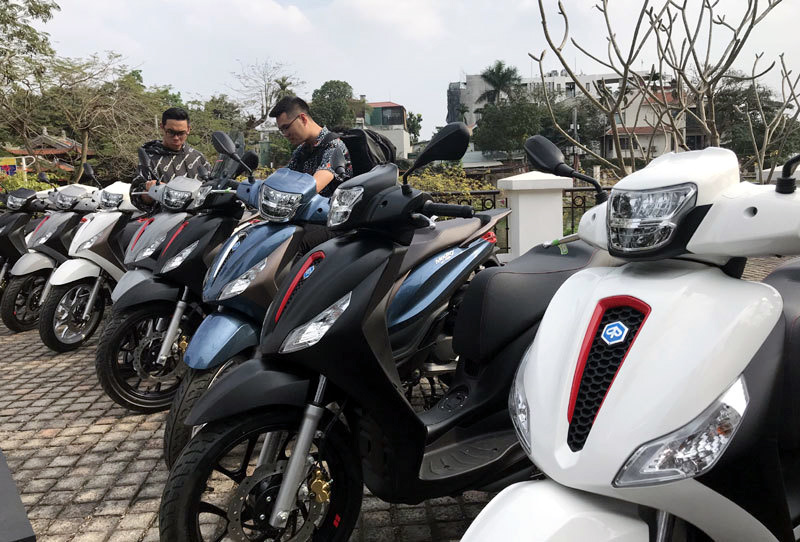 According to the Vietnam Association of Motorbike Manufacturers (VAMM), the sales of five member companies, namely Honda, Piaggio Vietnam, Suzuki, SYM and Yamaha, totalled 2.7 million products, a decrease of 17 percent compared with 2019.
Though manufacturers launched many new models and eased prices, the measures could not stop the decline in sales.
The market has seen sales drop for the last two years. Manufacturers sold 3.3 million motorbikes in 2018, 3.2 million in 2019 and 2.7 million in 2020.
Honda Vietnam led the market with 2,142,564 products sold in 2020, but this figure was still 16.7 percent lower than 2019.
Yamaha Vietnam reported a decrease of 16 percent in sales, SYM 20 percent, and Piaggio Vietnam a slight decrease. Meanwhile, Suzuki saw an unexpected growth rate of 12 percent compared with 2019.
A representative of Honda Vietnam said the Vietnamese motorbike market is saturated. Customers are shifting to electric motorbikes and cars. Besides, the Covid-19 pandemic has also caused demand to fall.
In an effort to stimulate demand, manufacturers in 2020 launched new models in the market, including Honda Vision, SH Mode, SH 125, SH 150, Air Blade 150, and Piaggio Medley. Motorbike dealers slashed selling prices by VND1-5 million. However, sales still decreased.
In Q4 2020, when the demand increased, 784,878 products were sold by five manufacturers, an increase of 100,000 products compared with Q3. But this still represented a 14.6 percent decrease compared with the same period last year.
With 2.1 million products sold in 2020, Honda Vietnam's agents still could make modest profits, but Yamaha's agents faced difficulties. About 400,000 products were sold in 2020, and there were 500 agents nationwide.
As for SYM, there were not many sales agents, but the drop in sales affected sale agents. Piaggio was not affected much because its market share is small and the agent network is moderate. Meanwhile, Suzuki Vietnam's agents were the most prosperous thanks to the high growth rate.
Analysts predict that motorbike demand in 2021 may be higher than in 2020, but the increase will not be higher than 5 percent. Meanwhile, the downward trend has been anticipated for the long term. The motorbike market size is expected to be 2.5 million products a year by 2024.
Smart motorbikes

The sales of motorbikes decreased sharply in 2020. After 30 years of continued growth, the motorbike market has become saturated.
However, the motorbike market can offer opportunities to manufacturers. People's incomes are on the increase, while consumers are shifting more to use luxury products.
Therefore, analysts believe that high-end scooters will still see a 5 percent growth rate.
Mickael Orain, CEO of Piaggio Vietnam, said the Vietnamese market is facing difficulties, but motorbikes remain the major means of transport, which means demand is still high.
For manufacturers, this will pose a pchallenge. Modern technologies, original designs, diverse colors, strong engines and fuel savings will be the factors to attract customers, especially younger ones.
Products using high technology which can 'communicate' with humans have begun appearing in Vietnam. Honda Vietnam's SH 2020, for example, can connect with people via smartphones. With 'My Honda+' software equipped on two SH 150 models, drivers can easily check information about maintenance and seek Heads via their smartphones.
Piaggio Vietnam's next-generation Medley can also connect with people via smartphones thanks to Piaggio MIA app. By using the MODE button, drivers can manage callsand listen to music from smartphones. On the LCD dashboard, they can read information about messages, calls and the battery situation while driving.
In related news, Prime Minister Nguyen Xuan Phuc has asked the Ministry of Transport (MOT) to work with local authorities to take old motor vehicles that do not meet standards off the roads. 
Tran Thuy

Smuggled electric bikes and motorbikes are often not displayed for sale openly, but are sold in many different ways.

Owners of motorbikes more than 18 years old and failing to meet emission standards in Hanoi may receive a subsidy to purchase a new bike under a programme proposed by the city's Department of Natural Resources and Environment.