A midnight call from a pregnant woman, and return trips to hometowns
On the evening of August 15, Pham Thi Minh Hien, deputy director of the Phu Yen Department of Labor, War Invalids and Social Affairs, received a call for help from a young couple.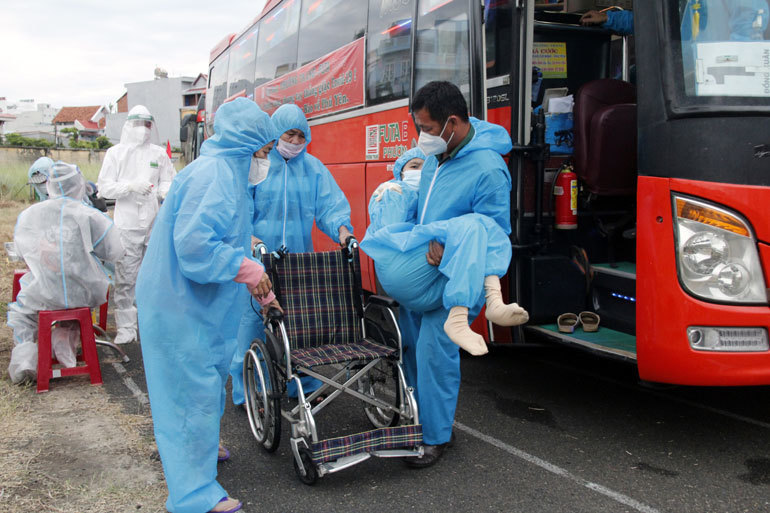 The call was from Tran Thi Thanh Tu, born in 1997, forwarded by officers on duty on the provincial hotline.
Tu is a factory worker in Binh Duong, eight months pregnant. Because of the pandemic, Tu and her husband lost their jobs. They had been staying in a rented room in Binh Duong, and were planning to leave Binh Duong for hometown where she would give birth.
However, a number of southern provinces, including Binh Duong, on August 15 announced the extension of social distancing campaign for 14 more days.
Tu and her husband feared they would not be able to return to their hometown, so they packed up their things, gave back the rented room, and drove a motorbike to Phu Yen that night.
However, they could not go through the checkpoint, but realized that they would have big problems if staying in Binh Duong.
Remembering the hotline of the home province of Phu Yen, Tu called the hotline, asking for help while crying.
Fortunately, they contacted Hien, who then added Tu and her husband to the list of Phu Yen people who could return to their hometown in the next trip. She also helped the couple follow the procedures to go through the checkpoints on the way from Binh Duong to Mien Dong Bus Station in HCM City.
On August 17, Hien once again received a call from the young couple. But this was a happy call. Tu said she has got on the bus. They arrived in Phu Yen the next morning and are now under quarantine as required.
Returning home with urn of ashes
Y Lanh, born in 1984, an ethnic minority man in Phu Yen, together with his wife and three children, went to Binh Duong province to earn a living some years ago. Unfortunately, he contracted Covid-19 and was taken to a quarantine zone on July 18. At that time, his wife was put under quarantine in another place, while the three children stayed in a rented room.
At 3 am on July 30, Y Lanh passed away, while none of his relatives knew about his death. Later, provincial agencies found Y Lanh's younger brother and informed about the death.
At that moment, the policy on supporting cremation fees for Covid-19 patients had not been issued. She his family was asked by the hospital to pay VND12.5 million to receive Y Lanh ashes.
Hien then decided to call for donations to help Y Lanh's family receive his ashes and hire a bus to transport his relatives to their hometown.
On August 1, his wife and three children arrived in their home village.
Trips of love
Other people in tragic circumstances have received support from Phu Yen provincial agencies to return to their hometowns. Some people, when hearing about the trips to Phu Yen from Mien Dong Bus Station, walked more than 10 kilometers from Binh Duong to the station to be able to get on the bus.
"I received a lot of calls shouting for help. Some people said they had spent their last money. They told me in tears 'I want to return to my hometown'. Please help me," Hien said.
Phu Yen provincial authorities set up a sub-committee in charge of receiving repatriated workers. The sub-committee worked with HCM City authorities and the Phu Yen council of compatriots to organize trips carrying Phu Yen people to their homeland.
When the people arrive in Phu Yen, they have to have a PCR test. Those with positive results will be taken to field hospitals for treatment. Those with negative tests will be carried to quarantine zones, where they will stay for seven days before leaving home and spending a 14-day home quarantine. During that time, they will have a test two more times. 
Thu Hang
"My kid is going to be discharged from hospital today, but I don't know how we can go to our hometown. We are running out of money and cannot lease a car, while Hanoi is in social distancing. Please help us."

Since HCM City started the first vaccination campaign on June 19 till August 18, 5,064,448 people have been vaccinated against Covid-19 and all are safe, reported the HCMC Department of Health this morning, August 19.