90,000 businesses get stuck, others need VND100 trillion
Businesses need loans without collateral and a simple procedure which allows them to access bank loans soon or they will die before they get the money.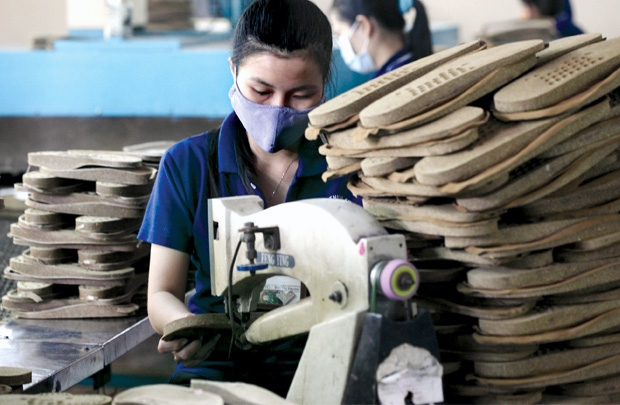 In a petition to the Prime Minister asking to apply policies to support enterprises in the current period, the small and medium enterprise (SME) community proposed that the Prime Minister instruct Ministry of Finance (MOF) set up a loan guarantee fund with VND100 trillion which would allow SMEs to get bank loans without mortgaged assets.
To get the guarantee from the fund, businesses need to prove that they had good business performance before the pandemic, and now have export contracts or have orders for the next six months.
SMEs account for 98 percent of total enterprises in Vietnam. Because of Covid-19, they have been facing difficulties in the last two years, especially the lack of cash flow to restore operation after the long lockdowns.
According to General Statistics Office (GSO), in the first nine months of 2021, more than 90,000 businesses suspended operation or were dissolved and most of them were SMEs.
A survey by the Private Economic Development Research Board (Board IV) conducted in mid-August on 21,517 enterprises and business households, found that 69 percent (14,890 enterprises) had to suspend their business because of the pandemic, most of which were small and micro size.
Of these, 40 percent of businesses had enough money to maintain operation for less than one month and 46 percent for 1-3 months.
The figures show that if businesses cannot get support from the Government, they are likely to be dissolved.
Le Xuan Nghia, a respected economist, said some countries have launched unprecedented bailouts to save the economy. The US has launched the bailout worth $6 trillion, and Japan $2.5 trillion. The Governments give money directly to businesses and workers.
Can Van Luc from the Bank for Investment and Development of Vietnam (BIDV) said the bailouts launched by countries are equal to 16 percent of their GDP on average. Meanwhile, the figure is 7 percent for developing countries. The disbursement goes rapidly and the countries accept public debt and budget deficit increases.
In Vietnam, credit packages have been launched to support businesses, providing loans, restructuring debt payment schedule, and offering interest rate remissions through commercial banks.

According to General Statistics Office (GSO), in the first nine months of 2021, more than 90,000 businesses suspended operation or were dissolved and most of them were SMEs.
However, businesses complain that the disbursement is very slow because of strict requirements on procedures. Only a small proportion can access the credit packages.
Rescuing businesses
At the third session of the Standing Committee, National Assembly Chair Vuong Dinh Hue asked the Government to submit to the National Assembly solutions for subsidizing interest rates so that commercial banks can ease lending interest rates to help improve enterprises' cash flow. The solutions will be considered and decided in the October session.
The interest rate subsidy package is expected to have value of VND3 trillion, which means a credit package of VND100 trillion. The loans with interest rates of 3-4 percent per annum will be pumped into the economy.
However, the matter of concern is how businesses can access the package. Under the Law on Credit Institutions, to borrow money from banks, businesses must have revenue, profits, and assets to mortgage for loans and have no bad debts.
If referring to the regulations, the enterprises that have to suspend operation cannot satisfy the requirements to access loans. Banks cannot arbitrarily lower the requirements. They need a special mechanism allowing them to do this.
There should be clear regulations on how banks would have to deal with bad debts and risks once they lower the standards and don't require collateral for loans.
For example, a bank lends VND100 million to a business for one year at the interest rate of 7 percent per annum. As 3 percent is paid by the State, the business would bear the interest rate of 4 percent only. After one year, it would have to pay VND104 million in total for both principal and interest, while the State would pay VND3 million in interest.
If the business falls into insolvency, the bank would fail to collect the VND104 million and it could only collect VND3 million from the State. Who will have to take responsibility for the lost VND104 million? How to settle the bad debt?
Analysts said it'll take time to build up such a mechanism because it has relations with a lot of issues. Meanwhile, businesses have been in distress for a long time and they cannot wait any longer.
Economists believe that it's necessary set up a loan guarantee fund operating under a new mechanism, not the existing fund. If banks still require collaterals, no enterprise will be able to access the loans. And if businesses have to spend time to follow complicated procedures, they may die before getting money.
According to Nghia, MOF has issued bonds or borrow from the central bank. Other countries also do the same thing.
A VCCI (Vietnam Chamber of Commerce and Industry) survey in 2019, before the pandemic broke out, found 86 percent of SMEs could not access bank loans if they didn't have collateral, while 63 percent said banks set requirements that are very difficult to satisfy. It's even more difficult to access bank loans during Covid.
Tran Thuy

More than 85,500 businesses, mostly small and medium enterprises (SMEs), have suspended operations or were dissolved in the first eight months of the year because of Covid-19, according to the General Statistics Office.

A survey conducted by Vietnam Chamber of Commerce and Industry (VCCI) in September of nearly 3,000 businesses found that 93.9 percent have been affected by the pandemic at a 'completely negative' or 'mostly negative' level.