71-year-old woman with Covid-19 willing to give up her life to save her husband
In a state of severe respiratory failure, Mrs. Hanh still tried to get up and whisper to the doctor, asking to give up her ventilator to her husband...
She was only put at ease when told that the hospital had no shortage of ventilators, and thus, they would be able to save them both.
Dr Le Van Thieu, Emergency Department, Central Hospital for Tropical Diseases, recounted on his personal page the touching story of a couple with severe Covid-19 who are currently being treated by him and his colleagues.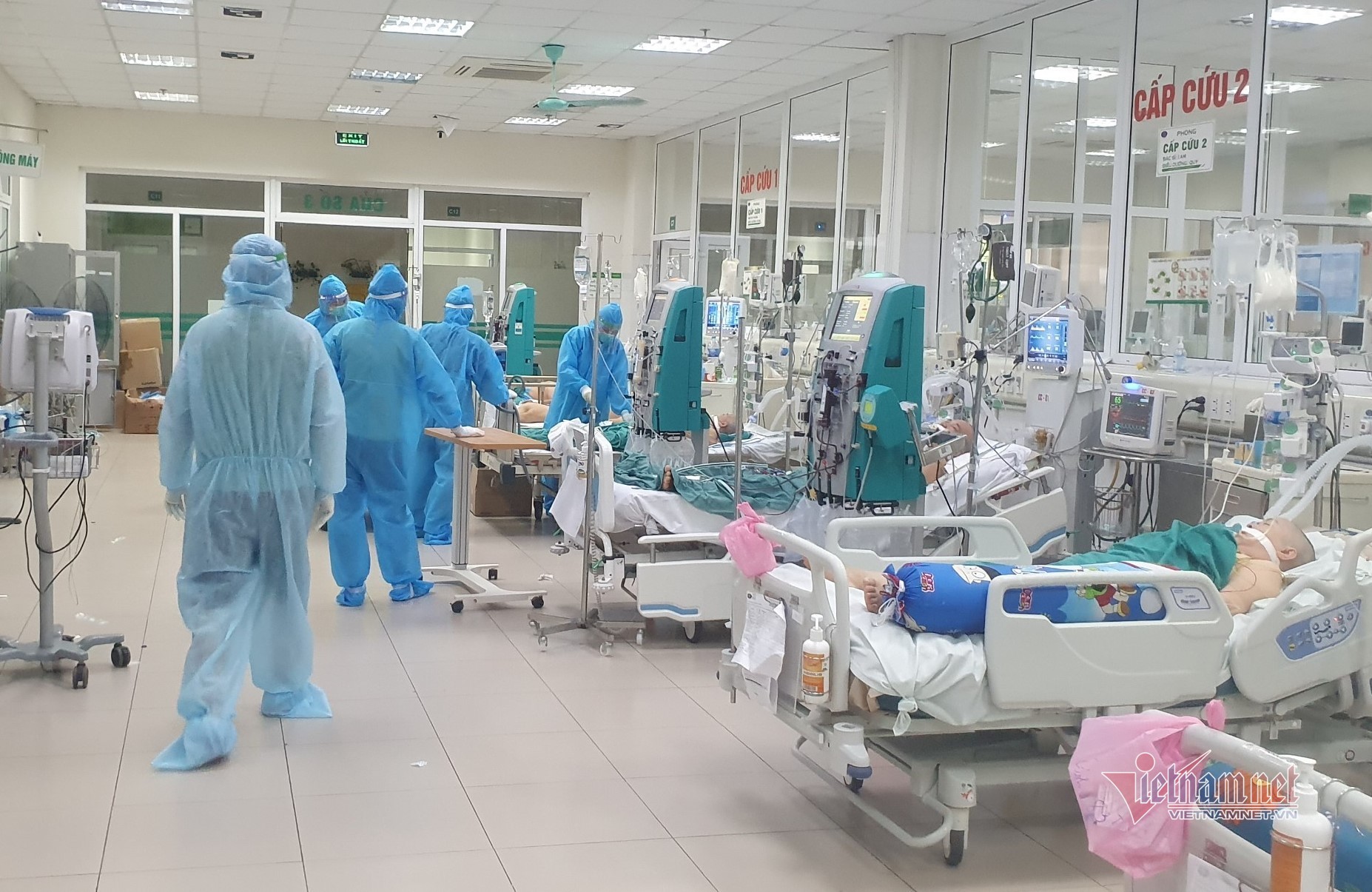 The Emergency Ward, Central Hospital for Tropical Diseases.
In the end, even if she is lacked oxygen or had respiratory problems, the woman still chose to sacrifice for her family.
Covid-19 is highly contagious within a family. The couple wa no exception and were hospitalized in very serious condition. Over the days of non-invasive ventilation support, their condition deteriorated and she was indicated for interventional ventilation.
Upon being explained that the intervention helps ensure oxygen levels, she immediately thought of giving it up to her husband, despite the explanation that every patient needs a different approach to treatment and oxygen provision, as medication needs the right dose at the proper time. She wasn't convinced by that, and only after they showed her the corner of the engine room saying "Don't worry! We're not missing you. We'll save both of you" did she have peace of mind.
In an interview with VietNamNet, Dr. Thieu said that the loving woman is Mrs. Tran Thi Hanh (71 years old), and her husband is Mr. Tran Ngoc Linh (72 years old), residing in Lien Ninh commune, Thanh district. Tri, Hanoi. The two tested positive for SARS-CoV-2 on July 26, and are being treated at Ha Dong General Hospital.
On August 2, Mrs. Hanh became seriously ill and had to be transferred to the Emergency Department, Central Hospital for Tropical Diseases. It worsened in the following days when there was low oxygen response and the image of her lung showed much damage.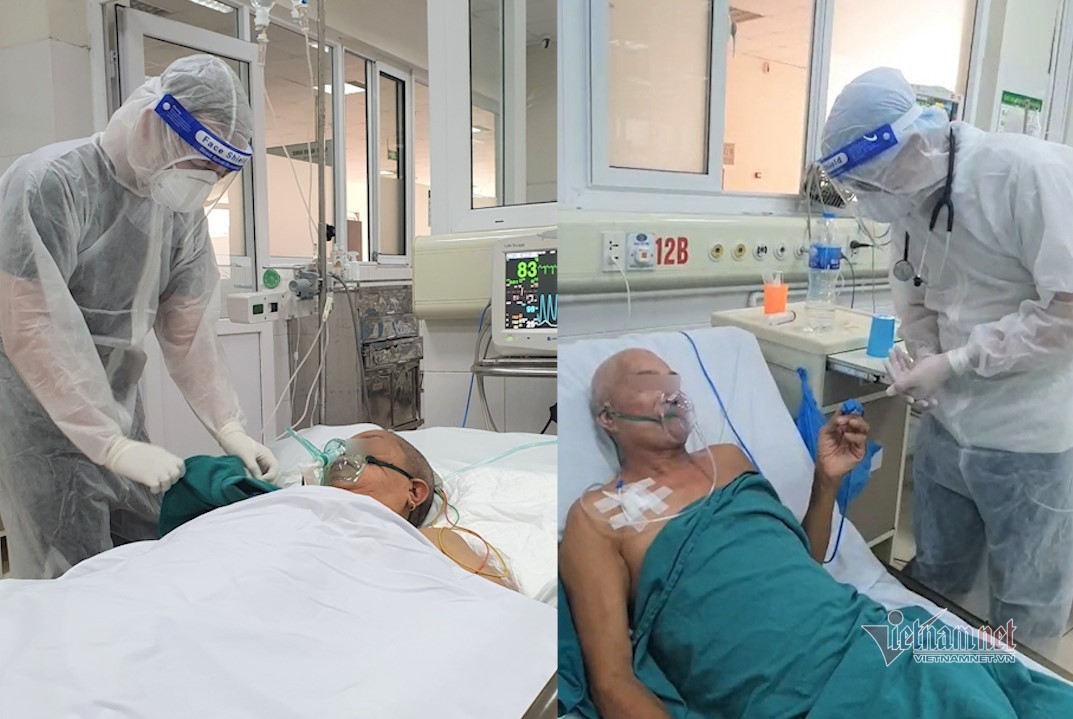 Mrs. Hanh (left) and her husband are examined and cared for by doctors from the Emergency Ward.
On the evening of August 6, doctors gave an indication for endotracheal intubation and mechanical ventilation for the patient. Ms. Hanh was still awake at that time, and the reason for intervention and possible situations were also elaborated.
She swiftly turned her eyes to her husband lying in the same treatment room. A few hours earlier, Mr. Linh was also transferred from the local health care center to the Central Hospital for Tropical Diseases due to his worsening shortness of breath.
"Please, doctor, let my husband breathe on the ventilator. I feel healthy enough, so I don't need it," said Mrs. Hanh, surprising Dr. Thieu.
"Maybe because she saw some patients getting worse or better and being transferred to another ward, so she thought that someone had to stop using it before it was her turn. When we explained that there is no shortage of ventilators and that this indication is necessary for her, and not yet for him, she felt more secure to begin the intervention," said Dr. Thieu.
Two days later, Mr. Linh suffered more severe lung damage, necessitating an endotracheal intubation. Fortunately, both of them responded to the ventilator and made good progress. On August 12, they were extubated and transferred to oxygen. Due to the long use of sedatives, Ms. Hanh is still in a state of sedation, and not fully awake. Mr. Linh regained consciousness shortly after ceasing the ventilator for a few hours.
On the evening of August 12, while taking care of him, the nurse asked: "Do you have anything to say to her, so that I can help?" Mr. Linh mumbled a few words. His throat was affected after the laryngeal intervention. The nurse quickly handed him a piece of paper and a pen.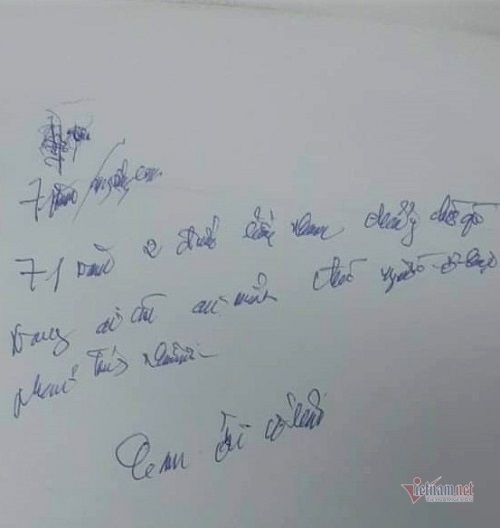 The husband's letter to his beloved wife.
With trembling hands, Mr. Linh slowly wrote: "71 years into our marriage hasn't been enough for us. Honey, let's try harder."
"Tears streamed down his cheeks the moment he looked over to her bed. Maybe, because she still hasn't woken up, he thought she wouldn't make it." The letter was then brought to the bedside by the nurse and read to Mrs. Hanh. "She was still in a coma, but when the nurse finished reading, she burst into tears, which made us all deeply emotional," recalled Dr. Thieu.
Currently, both Mr. Linh and Mrs. Hanh have passed the critical stage and are gradually recovering. The two hospital beds are a few meters apart, and sometimes he tries to get up to see how she is looked after.
"Despite the eagerness he feels to take care of her, his current health condition has yet to make it possible," Thieu continued.
Working in a unit to treat severe Covid-19 patients, Mr. Thieu and his colleagues have repeatedly witnessed families having to say goodbye to one other. There was even a family of three that was hospitalized, but only one of them returned healthy. The fact that both Mr. Linh and Mrs. Hanh have passed the "door of death", and have the opportunity to reunite is great happiness for the doctors and nurses.
"Our moods change according to each patient's progress, and even a little improvement can make our day. Especially when we see the patient get on the ambulance and return home. It is, for us, the greatest encouragement." said Dr. Thieu.
* Character names in the post have been altered.
Nguyen Lien

At field hospitals, medical staff are not only constantly busy treating Covid-19 patients but are also overwhelmed with administrative papers.

On August 17, when hearing from a volunteer that two members of a family with four Covid patients were getting worse, Nguyen Van Chanh of the 'Thay thuoc dong hanh' network (Companion Physicians) immediately picked up the phone.