7 solutions proposed to fight pandemic in HCM City after September 15
The HCM City Healthcare Department has proposed seven anti-pandemic solutions after September 15, 2021, including social distancing associated with a Covid-19 green card.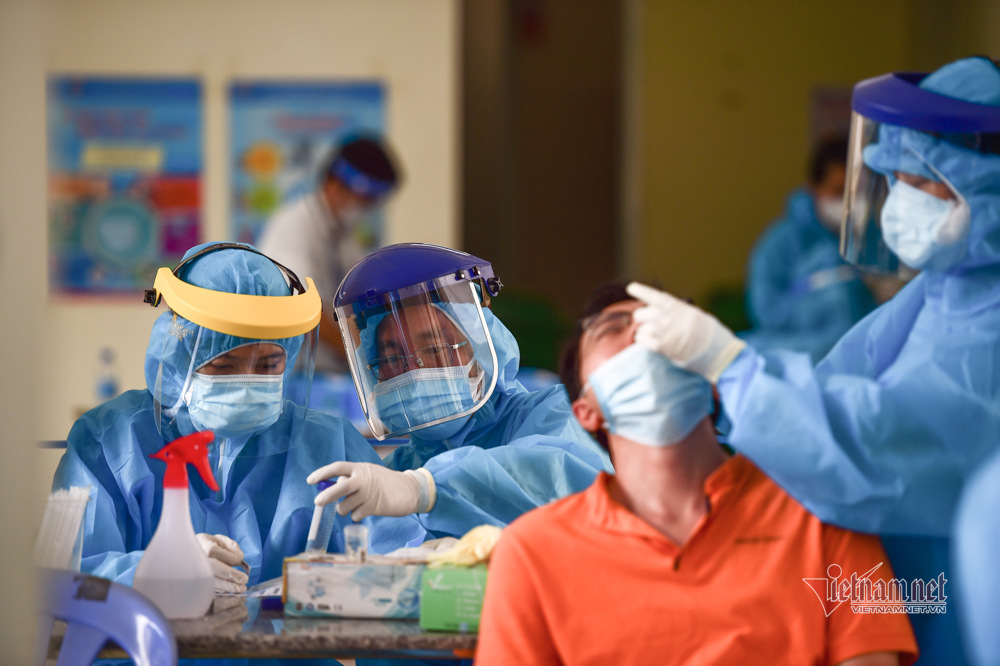 The city has applied comprehensive measures, including a 3-level treatment regime, home quarantine, drug bag for Covid patients at home, the use of new drugs in treatment, and increased vaccination coverage.
The department predicts that the number of severe cases and deaths will decrease after September 15. It will possibly shift from 'high' to 'medium level' and HCM City will be able to control the outbreak in accordance with criteria set by the Ministry of Health (MOH).
The department has proposed seven solutions for the period:
Vaccination coverage
The city is striving to fully vaccinate 100 percent of people aged 18 and higher, with priority given to forefront officers and people with high risks (with underlying health conditions, aged over 50 and pregnant women).
The city also plans to vaccinate children with high risks (underlying health conditions, obesity) when there is supply.
HCM City started the 6th round of vaccination on August 3. This is a special vaccination campaign for all people from 18 years old (the city has about 7 million people aged 18 and over).
Social distancing, Covid-19 green card
The city will step by step loosen social distancing measures based on the assessment of risks and epidemiological reports, and the capability of the healthcare sector, so as to recover the production and supply of goods.
It will be necessary to classify business fields and enterprises based on safety criteria to allow them to gradually resume their operation.
It's expected that 'Covid-19 green cards' will be issued to allow people to participate in production and social activities, depending on the pandemic control level.
'Live well with pandemic' message
People will be given more information about Covid-19, prevention measures, and vaccinations. They will also be shown how to test themselves when they have suspected symptoms, how to take care of themselves if they get infected, and how to contact medical workers when they need support.
People need to pay attention to their physical and spiritual health, have reasonable diets and psychological therapies, or non-drug measures like traditional medicine. Information dissemination will improve people's awareness.
Case management
The Covid-19 prevention and control committees in wards and communes must control the list of Covid patients in localities and ensure they meet requirements for home quarantine. All Covid patients at home must be managed by local medical units and given enough drugs.
Medical units have to give advice every day to patients staying at home, organize remote health examinations, keep watch over patients with high risks or symptoms, and give first aid to those who turn severe and hospitalize them in a timely manner.
Managing patients should be done with the support of community and from resources in the community, including private healthcare to take care of patients at home.
Improving treatment
The treatment quality of medical units needs to be improved with enough medical workers who have sufficient medical knowledge. Resuscitation equipment depending on the kind of treatment must be sufficient. Training and remote consultations are also needed.
Hospitals will need to return to initial conditions to receive and treat non-Covid-19 diseases. At the same time, the city will need to maintain some field hospitals to receive patients if an outbreak recurs.
Isolation zones for Covid-19 patients with 20-40 beds and medical oxygen must be maintained at all hospitals.
Epidemiological surveillance
HCM City will test all cases with suspected symptoms; discover new clusters of infections in the community as soon as possible; trace contacts, and control and prevent new clusters of infections.
Periodic supervision of enterprises and production facilities, and high-risk groups of people, such as medical workers, deliverymen, drivers and policemen, and high-risk areas, are needed at least once every seven days.
Rehabilitating healthcare
HCM City also needs to consolidate the workforce of the healthcare system at the grassroots level, and continue to maintain mobile medical units.
Restructuring the apparatus and facilities ready to treat non-Covid and Covid diseases are necessary.
A policy to encourage private healthcare system to participate in pandemic prevention and control is also needed. 
Tu Anh

All 33.1 million doses of COVID-19 vaccines shipped to Vietnam so far have been distributed to localities nationwhile, meeting 20 percent of the demand for the national vaccination plan, said the Ministry of Health.

HCM City People's Committee late Wednesday issued a new decision on COVID-19 prevention and control measures as the city continues to stay under the restrictive Directive 16 with outbreaks still not properly controlled yet.