2021 Black Friday is truly 'black' for shop owners
Many retailers say that consumers ate indifferent to sale promotion programs for Black Friday 2021, the biggest sale campaign of the year.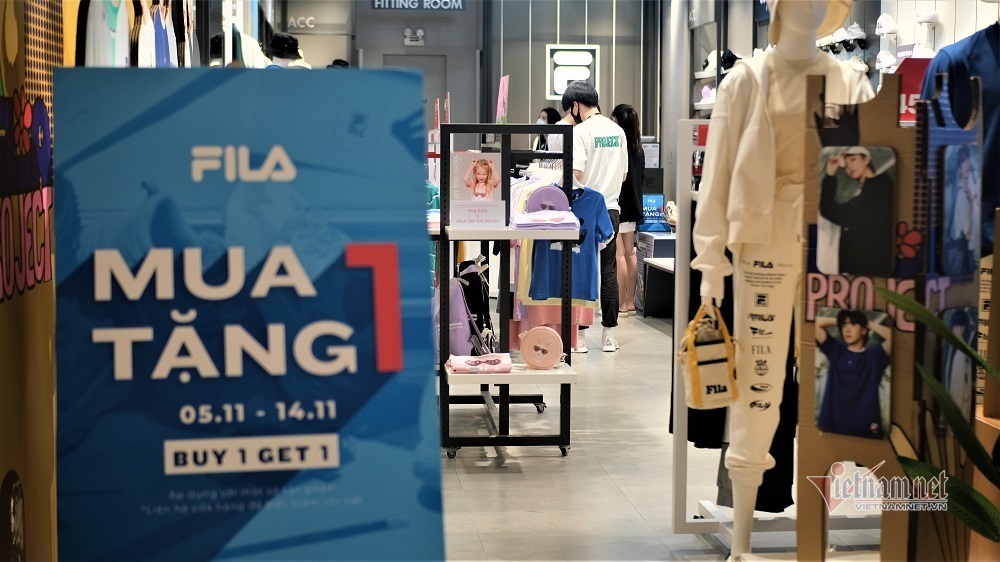 For some, there are 100 messages asking about products and prices, but only 5-6 customers closing a sale. Shoppers are curious about clothes and other products quoted at very reasonable prices, but don't intend to buy the products.
Manh Thinh, the owner of V.W clothes shop in HCM City, said he has for the first time in the last six years offered a discount rate of 70 percent. He is selling some products at a loss in order to attract customers. The principle of not returning and not changing sale products also no longer exists: customers can reject products if they feel unsatisfied.
Black Friday is a much-awaited event this year as people have entered the "new normal" period. This is a great opportunity for retailers to boost sales.
But for Thinh, Black Friday 2021 is really a 'black day' as there have been only a few orders. He hoped that the demand for clothes would increase in the post-lockdown period, especially with the year-end sale season. He has prepared many products and online ads. However, the market is still quiet.
"In previous years, Black Friday lasted three days at the end of a week. My workers were busy all day selling products. The offline sale amount at trade fairs was around VND200 million, while online was VND300 million," he recalled.
"But everything is frozen now. Customers hesitate to spend money. Revenue is just 40 percent of the previous years," Thinh said.
Nguyen Dang Hien, CEO of Tan Quang Minh - Bidrico, also noted that there are clear changes in the spending culture. Customers are becoming choosier and more economical.
Tran Viet Anh, CEO of Nam Thai Son Import-Export, said people experienced a 3-month long lockdown, so they don't have money to shop. Mekong Delta's customers, usually generous, now also are tightening their belt.
According to the HCM City Statistics Department, the retail turnover of goods in October was VND30.007 trillion, a 40.5 percent decrease compared with the same period last year. The food and foodstuff revenue fell by 18 percent, and household use tools by 44 percent.
Shop owners in dilemma
According to Thinh, the demand is low not only because of customers' limited financial capability, but also because the number of Covid cases is rising in many localities. Goods transport has had difficulties, causing orders to be pending and customers to cancel orders. A trade fair to stimulate demand could not be organized because of the pandemic.
Thinh said the only solution is running more online ads to boost sales instead of spending money to lease retail premises.
"I still hope that I can make money this year-end sale season, so that I can maintain my shop," he said, adding that he cannot let his achievements of many years go down the drain.
Hien of Tan Quang Minh - Bidrico said retailers have had to scramble for every customer and grab every small opportunity. If businesses cannot find solutions to attract customers to their products, they will fall into serious difficulties.
The drink manufacturer has launched a promotion, offering a 25 percent price discount, which is unprecedented in the company's history, on the occasion of Vietnamese Teachers' Day on November 20.
According to Huba (HCM City Union of Business Associations) Deputy Chair Luu Huu Nghia, Black Friday is near (November 26) and enterprises are running a lot of attractive sale promotion programs, but the market is not bustling as was expected. Retailers are witnessing indifference from customers.
Nghia said businesses want the State to apply solutions to stimulate demand. Reducing the VAT, for example, would help reduce production costs.
He said there should be a significant demand stimulus package and the package should be announced soon so that businesses can draw up their production plans and people can arrange their shopping plans.
Once businesses recover, workers will receive higher pay from employers and will feel more secure to shop.
HCM City is running the "Concentrated Promotion 2021" programme from November 15 to December 15. Nearly 600 businesses have registered to participate in the program with price discounts of 30-70 percent.
The city is also planning a conference this year that will help connect goods demand and supply in cities and provinces, and a trade fair gathering prestigious brands. 
Tran Chung

The shopping festival Black Friday was kicked off on November 19 in Ho Chi Minh City.

E-commerce platforms have launched sale promotion programs for Single's Day November 11, the biggest shopping event of the year, promising big sales on millions of items.