13th National Party Congress: Hanoi, HCM City aim for digital government
Hanoi and Ho Chi Minh City both plan to develop synchronous, inter-connected digital, IT, and data infrastructure, creating a foundation for digital economic and social development.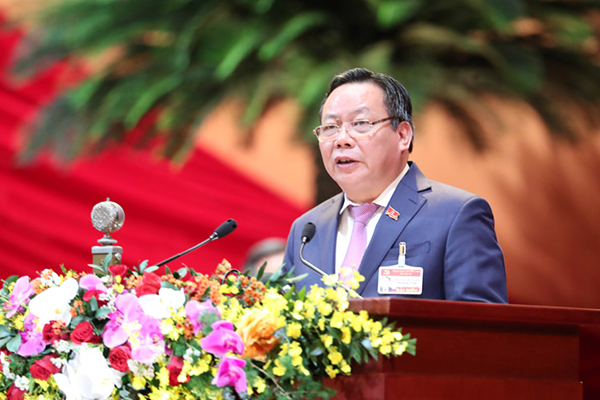 Deputy Secretary of the Hanoi Party Committee Nguyen Van Phong
Speaking at the 13th National Party Congress on January 27 morning, Deputy Secretary of the Hanoi Party Committee Nguyen Van Phong mentioned results achieved by the city in recent years.
Specifically, the city's economy has continued to grow well, with gross regional domestic product (GRDP) increasing by 7.39%, and per capita income estimated at $5,420, 1.5 times more than that of 2015, higher than the national average. Hanoi's economic structure has been shifting towards reducing the proportion of agriculture (only 2.05%) and increasing the proportion of services, industry and construction.
With the desire for innovation and development, the city has set development targets to 2025: To quickly and sustainably develop Hanoi into a green, smart, modern city with high competitiveness within the country and the region; to basically complete industrialization, to reach per capita GRDP of $8,300 - $8,500; and the digital economy to account for 30% of the economy, higher than the country's target (20%).
By 2030, Hanoi will become a "Green - Smart - Modern" city, with high competitiveness in the region and the world. By 2045, Hanoi will have high quality of life, comprehensive and sustainable development in economic, social, cultural areas, and become a globally connected city, with per capita GRDP of over $36,000.
Mr. Phong emphasized that based on the new perspectives of the Party, Hanoi's practical situation, to comprehensively and synchronously implement tasks and solutions, the city is determined to rely on science. technology, culture, and intellectual resources to formulate the city's development strategies. In the coming time, the city will focus on implementing well five major directions and three breakthrough stages.
Priority will be given to modernization, rapid and synchronous development of the socio-economic infrastructure system, constructing a number of typical works, with unique landscape, architectural space of the capital city; strongly develop inter-connected, synchronous and unified digital, IT, data infrastructure, creating a foundation for the development of digital economy and society. Science-technology, innovation and creation along with culture and people are the most important factors for the rapid and sustainable development of the capital city.
In addition, promote perfecting institutions, mechanisms and policies; strengthen the organization of law enforcement, improve the efficiency of social governance and urban management; strengthen decentralization and authorization; and basically complete the building of e-government, moving towards the digital government.
Develop human resources, especially high-quality human resources, strongly promote science, technology and innovation in the whole society. Strongly stir up the spirit of patriotism, national pride, self-reliance, and aspiration to build Hanoi a place worth living, making Hanoi's culture and people truly typify spiritual values, an important driving force for the city's development.
HCM City to develop knowledge-based economy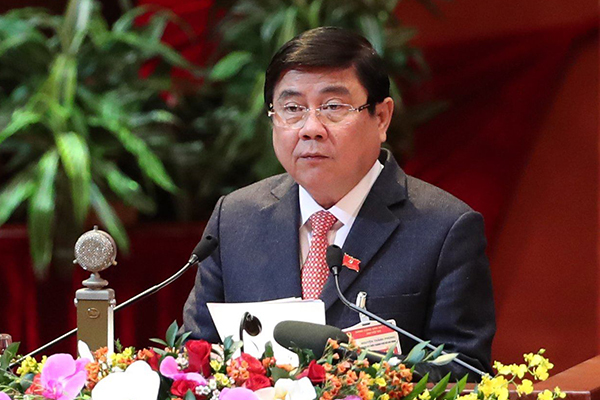 Chairman of the People's Committee of Ho Chi Minh City Nguyen Thanh Phong
Chairman of the People's Committee of Ho Chi Minh City Nguyen Thanh Phong said the city has acknowledged the importance of developing a knowledge-based economy in its development orientation and strategy.
Accordingly, HCM City will effectively exploit the advantages of a special metropolitan area, a large economic, cultural, educational, and scientific center in the development of knowledge-based economy, forming foundations of a knowledge-based economy, including a large contingent of intellectuals, smart cities, high-tech parks, start-up centers, large tech-corporations, research and development centers, and information technology infrastructure on a 5G network platform.
On that basis, it will gradually shift the economic structure towards increasing knowledge content, and developing high-tech industries, participating in the global value chain.
Ho Chi Minh City is also the first locality to issue a digital transformation program to promote the development of the digital economy, digital government and digital society. The city has issued a program to turn itself into a smart city with four pillars: shared database and open data ecosystem; smart urban operating center; center for simulation of socio-economic development, and municipal information security and security center.
In particular, the city is working on a plan to build a highly-integrated creative urban area in the East associated with the establishment of Thu Duc City. This area is expected to contribute to the establishment of a value-added chain based on high technology, and modern technical and social infrastructure according to international standards, providing effective financial support for businesses, acting as a leverage and contributing to improving the quality of life for the local people.
It is expected that Thu Duc city will contribute 30% -35% of the city's GRDP, accounting for about 7% of the country's GDP.
HCM City Chairman has proposed seven key solutions to develop the knowledge-based economy, including strong development of information technology infrastructure, and application and development of information technology for industrialization and modernization.
Thu Hang - Tran Thuong - Pham Hai - Huong Quynh

By 2025, digital transformation will contribute 25% of HCM City's gross regional domestic product (GRDP), said Chairman of HCM City People's Committee Nguyen Thanh Phong.