Young Vietnamese singer thrills US audience
Young Vietnamese singer My Anh left a deep impression on viewers in the United States at the 2021 Head In The Clouds Music Festival following a series of her outstanding performances.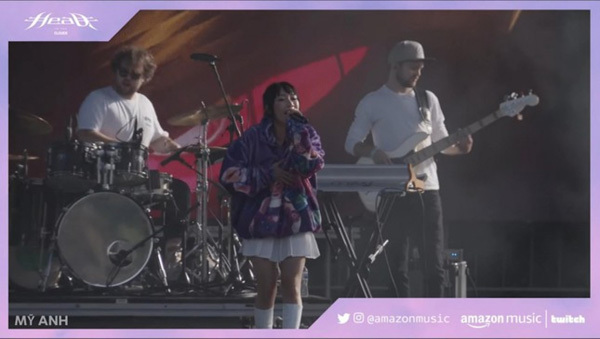 Young Vietnamese singer My Anh thrills US audience at the 2021 Head In The Clouds Music Festival (Photo: Tien Phong (Vanguard) newspaper)
During the event, My Anh performed five songs, including "Yen" that was composed by herself.
The Head In The Clouds Festival was held at Rose Bowl Los Angeles Stadium in the US and witnessed the participation of many international artists such as Umi, Audrey Nuna, Elephante, DPR IAN, and Josh Pan.
This therefore marks the third time that the international festival has been held by 88Rising.com, a famous record label that is hugely popular among hordes of young people in the US.
My Anh, who is the youngest child of Vietnamese diva My Linh and musician Anh Quan, is an indie artist who has a catalogue of talent seen through self-composed, arranged, and produced albums.
Last year saw the artist launch her first single 'Got you'. After participating in the music competition The Hero 2021, My Anh achieved successes such as reaching 4.2 million views on YouTube through the song Real Love.
This is in addition to a collaboration with rapper G.Duck in the tune Cong chua bong bong, known as Bubbles Princess in English, and Co gai Trung Hoa, Chinese Girl in English, both of which were highly appreciated by critics and fans alike.
Source: VOV

My Anh, 19, is the only Vietnamese representative at the 2021 Head In The Clouds Music Festival in the US.