Workshop on making lanterns from Do paper

Zo Paper Art & Craft is holding a workshop on making lanterns from Do paper from 2 p.m. to 4 p.m. every Sunday.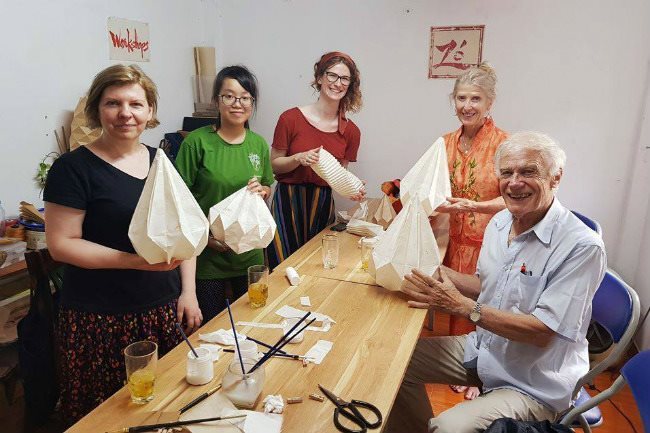 Zo Paper Art & Craft's workshop on making lanterns from Do paper attracts many foreigners - PHOTO: COURTESY OF ORGANIZER
Participants can not only make their own lanterns but also learn more about a respect of the country's history and culture through getting to know handcrafted Do paper, which is handmade by artisans at Suoi Co Village by traditional and environmentally friendly methods.
The workshop is part of the Zo project, which also includes workshops on calligraphy, making jewelry and hand fans, and creating watercolor paintings, with the primary material being Do paper.
Do paper is made from the inner bark of the do tree and was once produced in many villages in Vietnam. It plays an important role in folk art, particularly Dong Ho paintings.
Despite Do paper's high quality and durability, which could last for 700 years according to some records, artists have moved on to work with other materials that are cheaper and easily available.
The project aims to preserve the tradition of making Do paper and make it more sustainable and creative.
The workshop on making lanterns from Do paper takes place at 26 Tho Xuong Street, Hoan Kiem District, Hanoi. SGT

A street in Phuc Tan ward in Hanoi has been decorated by series of art displays that have been made using recycled rubbish.

On the 8th day of the first lunar month each year, Thi Cam village in Hanoi's Nam Tu Liem district holds a rice cooking contest.