Veteran singer's band makes debut

A band of six members led by veteran singer Hoàng Bách has made debut in HCM City this week.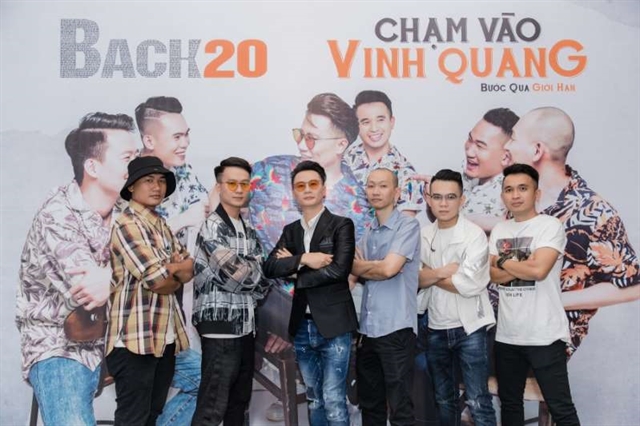 Music producer and singer Hoàng Bách (third from left) and members of theBach20 Bandmade their debut in HCM City this week. They sing Vietnamese and foreign songsand play musical instrumentslive in the studio andon stage ina cappella and pop styles. — CourtesyPhoto ofBach20 Band
The Bach20 Band led by veteran singer Hoàng Bách made its debut in HCM City this week.  
The six-member band includes lead singer Bách, pianist Lê Thanh Tâm, guitarist Nguyễn Khương An, drummers Lương Bỉnh Khôi and Hậu Trần, and bassist Win Bya.
The group, which performs Vietnamese and foreign songs in pop and a cappella styles, records their music live in the studio. 
The band has been working hard to impress fans who admire typical boy bands and girl groups.
"While other pop bands and singers prefer to show off their talent in singing and dance, we sing and also play instruments on stage. We've chosen a difficult path," pianist Tâm, the band's music director, said.
Tâm said the band has maintained a strong belief in its own ability even in the face of challenges. "Our band will give a new taste of music, and we hope to receive support from fans and critics alike."
In its first music video, Chạm Vào Vinh Quang (Touching Glory), the band performs with rapper Hà Lê and a choir of 50 singers from the HCM City Music Conservatory. Its performance is also accompanied by 20 drummers.
The theme song, Chạm Vào Vinh Quang, was composed by the band's leader Bách, a graduate of HCM City Music Conservatory. The artist Bách sends his messages about love and youth through words performed by rapper Hà. 
Bách began his career as a singer in the band AC&M, one of the country's most popular bands in the 1990s.
His band of four members, all students at HCM City Music Conservatory, performed folk songs of Việt Nam and foreign countries a cappella.
Their first outstanding performance took place on the stage of Bodega Restaurant, where they sang the traditional Vietnamese song Cò Lả (Graceful Stork), juxtaposed with the English Christmas carol, Away in a Manger. From the audience's reaction, it was clear that the quarter would make waves.
They later became a phenomenon in the industry. They toured in cities and provinces, including Hà Nội, Hải Phòng and Đà Nẵng. 
Vietnamese folk songs such as Trống Cơm (Small Drum), Lý Cây Đa (Hymn to Banian) and Thằng Bờm (The Stooge), as well as foreign songs like Scarborough Fair, Silent Night and L' Alphabet were key features of the group's repertoire.
Their fans called the band "Brave Knights" because they had to fight to attract the attention of youthful audiences generally more interested in rock and pop.  
In an interview with media before launching his group Bach20 Band in HCM City, Bách said that his band's name includes "20" because he wanted to "remember my youth when I performed in the band AC&M 20 years ago."
"I chose the name because it presents my ambition. I want to introduce fans to an unexplored world of music." 
A music critic of HCM City said that "Bách's band is the only significant group in the region to sing and play musical instruments live. They're different from most bands and singers. That's why I believe they have a future." — VNS   
Thu Anh

Mezzotono, the world-famous band with exciting acapella performances recently known for their video "Mezzotono Around the World", will perform in a concert at the Soul Live Project Complex in District 3, HCMC on November 19.

Care for orphanages should come from love, devotion and enthusiasm, and that's exactly what 60-year-old Bui Cong Hiep from HCM City has in abundance.