UAE referee set to officiate Vietnam vs Japan World Cup qualifier
Referee Mohamed Abdullah Hassan of the United Arab Emirates (UAE) will take charge of the Vietnamese national team's upcoming World Cup qualifier on November 11 against Japan.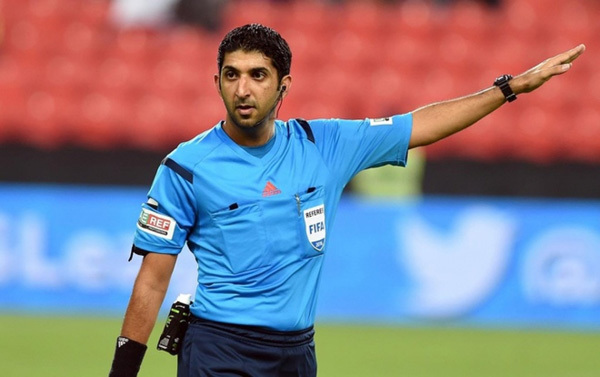 UAE referee Mohamed Abdullah Hassan will officiate Vietnamese fixture against Japan.
Following a recent announcement made by the Asian Football Confederation (AFC), Hassan will be joined by assistant referees Alhammadi Mohamed Ahmed Yousef, Mohammed Al Mahri, and Alnaqbi Adel Ali Ahmed Khamis, all of whom are UAE nationals.
Furthermore, the other referees for the fixture include Ali Abdulla Jumaa of the UAE and his assistant Hattab Hanna of Syria, both of whom will be responsible for the Video Assistant Referee (VAR) technology.
Hassan has experience of taking charge of Vietnamese games, back in 2019 he took charge of the national team's quarter-final clash at the Asian Cup against Japan. Most notably in that game, the team led by head coach Park Hang-seo suffered a 1-0 defeat due to a penalty being given by the UAE referee after using VAR technology.
Most recently, the UAE referee officiated Vietnam's match against China on October 8, with the national team losing 3-2 after conceding two penalty.
The Vietnamese team are now at the bottom of Group B after four losing games in a row against China, Saudi Araba, Australia, and Oman. They are aiming for at least one point from their upcoming World Cup qualifiers.
Vietnam are scheduled to play host to Japan and Saudi Arabia on November 11 and November 16, respectively, in Hanoi as part of the current stage of World Cup qualifiers.
Source: VOV

Tickets for Vietnam-Japan match in the final round of the 2022 FIFA World Cup Asian qualifiers were sold out in less than one hour.

With the return of home supporters, Vietnam national team captain Que Ngoc Hai believes there could be surprises in store for both Japan and Saudi Arabia in the next two World Cup qualifying games.