Reading culture still not flourishing, despite growth in book titles
The increase in the number of published books cannot be equated with the growth of the local reading culture, experts said at a recent meeting held by the Vietnam Publishing Association with several publishers and book companies in Hanoi.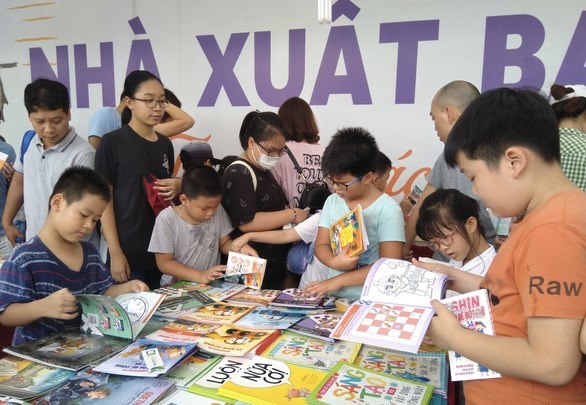 Director of the Department of Publishing, Printing and Distributing Nguyen Nguyen says that much work still needs to be done to promote a reading culture in the country. (Photo tuoitre.vn)
The publishing industry has constantly grown, with Vietnam ranking first in Southeast Asia in the number of titles published in a year. But the reading culture has not flourished, according to a report in Tuoi Tre (Youth) newspaper.
Nguyen Nguyen, Director of the Department of Publishing, Printing and Distributing under the Ministry of Information and Communications, said that three-quarters of former ministers and the deputy ministers of the ministry with whom he recently spoke agreed that the reading culture has gone downhill.
Last year, the publishing industry had 440 million copies of books and 37,100 titles introduced. This figure was equal to 4.6 books per person per year.
Compared to 2014, publishing revenue increased by 36 percent, while the number of copies of books published rose by 16 percent and the number of titles published went up by 30 percent.
However, of 440 million copies of books introduced in 2019, up to 300 million copies, accounting for 84.5 percent, were textbooks and teaching materials.
Only 140 million copies were about "self-education", which was equivalent to 1.4 books per person per year.
This has created a conflict in which the reading culture is neglected, while the number of books in the market continues to increase, according to Nguyen.
"Valuable books are few, while 'useless' books are countless," he added.
"Books with mistakes can be fixed, but useless books cannot be. We are currently chasing after quantity over quality, with 37,000 titles per year, ranking number one in Southeast Asia. Indonesia, with a population of more than 200 million, only has 30,000 titles, while Thailand has 14,000 titles and Malaysia with 19,000."
"Considering that their people earn three to four times more than a Vietnamese worker, they have obviously chosen to 'dig deep' in the content of their book titles, while we are stressing the importance of quantity," Nguyen said.
He noted that even though current reading statistics show positive signs, it does not mean that locals have truly embraced a reading culture.
Much work still needs to be done to develop this culture, he added.
Former Minister of Culture and Information Le Doan Hop has pointed out that the number of "useless books" is not less than 70 percent of the total books in the market. During his five years as a minister, Hop said that he was offered "three tonnes of books", but the number of valuable ones was very limited./.VNS

This year's Book Festival to mark Vietnamese Book Day on April 21 is being held online because of the COVID-19 outbreak.

Over the past 10 years, Nguyen Van Can's bookstore has maintained its policy: those who visit the bookstore can read books freely and rent books without making a deposit or registering their names or time for return of the books.