Painting exhibition and auction raises money for COVID-hit students
To raise funds for students struggling with the impacts of COVID-19, seventy pieces of art have gone on display at an exhibition entitled Chia Sẻ Yêu Thương (Sharing Love) in HCM City.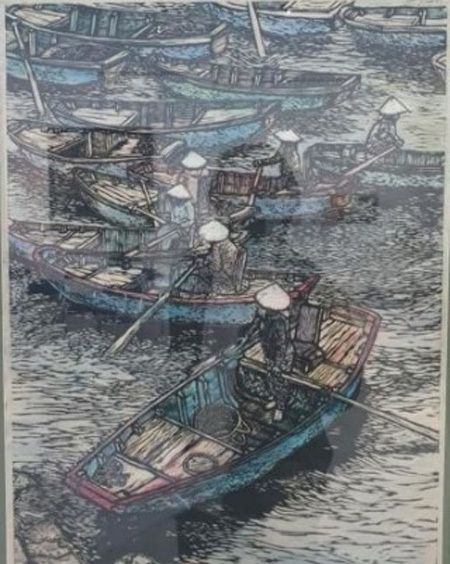 Former HCM City University of Fine Arts student Huynh Tuan Huynh shows his colour-wood engraving Lagi at the exhibition. Photo Van Ha
To raise funds for the affected students, the pieces on display can be bought directly from the exhibition until November 13. An online auction will then be held from November 14 to 16 on the Fanpage Artspace. 
Hosted by the HCM City University of Fine Arts, the exhibition features oil-on-canvas, lacquer, silk, gouache, acrylic and digital styles of painting. 
"We call on lecturers, retired lecturers, students and former students of the university to send their works for display at the exhibition, with the aim of helping students affected by the pandemic," said lecturer Nguyen Ngoc Vinh from the organisation board. 
Forty per cent of the proceeds will be used for charity and the rest will pay for the copyright of the artists. Many of them will donate all the proceeds to charity activities, according to Vinh. 
Former student Huynh Tuan Huynh showed his coloured-wood engraving that he named Lagi. The work depicts the fish trade among women in Lagi Fishing Port in the southern province of Binh Thuan. 
"I am excited to participate in this exhibition," said Huynh. "Hopefully there will be more exhibitions for the community like this with the theme 'Sharing Love'. When I share my love with everyone, I will also receive love from the other."
Another former student, Le Duc Phu Quang, introduced his painting inspired by Da Lat City, in the Central Highlands Province of Lam Dong. 
He painted Hồng (Persimmon) after a field trip to the city to publicise Da Lat's culture and cuisine. 
"I'm proud of being invited to show my painting at this exhibition," said Quang. "I hope the paintings will sell out to raise funds for students affected by COVID-19."
The exhibition is also a chance for university students to learn from veteran artists. 
"I am joyous to come to such a meaningful exhibition," said student Ngo Vo Huyen Vy.
"Here I learn a lot through beautiful paintings. I also find this to be an exhibition with a very human message to give us -- who are studying and pursuing art more motivation."
Four paintings were sold at the exhibition opening ceremony. The organisers hope that the funds will help many students.  
The exhibition runs until November 16 at No 5 Phan Dang Luu, Ward 3, Binh Thanh District.
Source: Vietnam News

An online exhibition featuring 20 paintings by Vietnamese and foreign artists is on display at artspaces.kunstmatrix.com.

The International Watercolour Painting Exhibition "Arts and Peace" has opened at the Ho Chi Minh City-based Vietnam Watercolor Art.