HCM City locals find ways to enjoy life during novel coronavirus outbreak

HCM City residents' fear of the coronavirus has led to a relatively empty HCM City, a normally vibrant city with many interesting entertainment activities.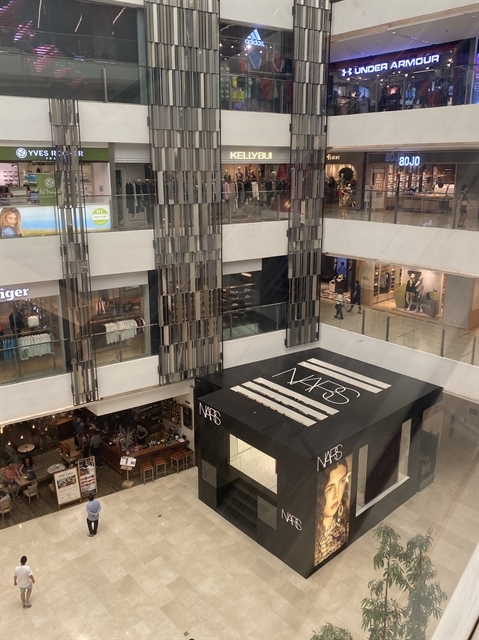 Takashimaya, a popular shopping and dining destination in HCM City's District 1, on a quiet Sunday afternoon.
The time after Tết (Lunar New Year) is usually busy as locals resume their daily work and study activities, while many enjoy the occasion of Valentine's Day and prepare for International Women's Day.
However, with the outbreak of the novel coronavirus, local businesses say that sales have significantly decreased and little pickup is expected for at least in the next two months.
Sales losses
Nhàn Lâm, a fashion shop owner on Nguyễn Thiệp Street in District 1, told Việt Nam News that she was worried about her financial losses.
"Compared to early January when many customers visited my store to try on the Tết collection, the number has dropped by 60 per cent due to the coronavirus outbreak," she said.
"Although my store is sanitised daily and my staff always wear a mask and offer customers hand sanitisers, this has not helped much. That being said, I respect customers' concern about potentially getting infected with the virus in public places," she added.
Many shop owners in districts 3 and 5 have experienced similar circumstances and have decided to boost online sales.
According to Quang Đạt, a shop owner on Lê Văn Sỹ Street in District 3, having an appealing shopping page online has never been more important.
"Shopping and enjoying great food are always at the back of our mind when it comes to relaxing. As customers are hesitant to go to a physical store, letting them know what we have prepared for the occasion of Valentine's Day on our social media is necessary to boost sales," he said.
"I have temporarily reduced the number of staff from six to three in order to cut costs. I hope that everything will get better so that I can help out my staff again," he added.
February is usually a perfect time for local firms to launch Valentine's Day collection or set menus and boost sales from not only female but male customers who would like to impress their loved ones with a perfect gift or dining experiences.
Nhàn Lâm said that the coronavirus outbreak had caused problems getting her fabrics shipped from China. 
"I do not have enough materials to professionally launch my Valentine's Day clothing collection this year. It is already one week into February and I have just started shooting some photos for the collection. I'm not sure whether I could restock a sufficient amount of fabric on time," she said.
"Though my brand sales have not dropped significantly compared to my friends in Hà Nội, the problem with material stock worries me," she added.
In addition to clothing stores, many restaurants and eateries in HCM City have witnessed a drastic drop in the number of customers.
Every Sunday afternoon, HCM City locals tend to gather at malls like Takashimaya, a shopping centre in District 1 to enjoy their lunch and indulge in other activities.
As the shopping centre offers a variety of choices, ranging from bakeries, coffee shops and pizza restaurants to grill bars and fast food chains, it is easy for visitors to choose their "cup of tea" and not worry about finding other places to eat in the hot weather.
Due to heath concerns that the novel coronavirus has brought, many people have been encouraged to cook and dine at home, resulting in empty malls and loss of revenues at many restaurants.
Enjoy life
As many people have decided to stay at home these days, the tendency to book shipping services has increased.
A representative of a beverage chain said the firm has regularly received orders with large quantities being delivered to a home or a company.
Instead of going to a physical store, many people in offices use Now or GrabFood, among other mobile apps, for their food and beverage orders.
To efficiently address other negative effects of the new coronavirus outbreak, many restaurant owners have stocked up on masks and sanitisers at the entrance and offered those to ones in need.
Tuấn Đức, 27, a resident of District 7, said that he usually hangs out at home now. "I used to enjoy café hopping but staying at home, cooking and watching Netflix for entertainment are not that bad!"
"As I am allowed to work from home and I have a little sister to take care of during her long school break, I stay at home almost every day while my parents are away for work," he said.
Meanwhile, Thanh Tùng, 22, a resident of District 2, added that the movie theatre has become a regular destination when he gets bored.
"Though I have been advised to stay home, I guess going to places which are not crowded at the moment such as the cinema should be fine!" he said. "The cinema in Landmark 81, where I stay, used to be very crowded, especially during weekends. I was surprised at how empty it is now."
"That being said, I understand it is important to always wear a mask and avoid physical contact with not only other people but also general surfaces during this sensitive period," he said.
This Valentine's Day, many couples decided to either cook at home or dine at private restaurants with a limited number of guests.
"Though the COVID-19 is detrimental, life must go on with daily activities. I have googled some nice places for my girlfriend to check out and prepared everything on our part. Hope this dating experience goes well!" Tuấn Đức said, adding that he has asked a clothing shop to deliver his gift package. — VNS
An Phuong

Three artists have been fined VND10 million ($435) each for spreading false information about the coronavirus epidemic on Facebook.  

National and international sporting events scheduled in Vietnam this February will be suspended in a bid to prevent the spread of the new strain of coronavirus (nCoV), according to the Vietnam Sports Administration (VSA).