E-sport team expects gold medal at 31st SEA Games
Gold medals are the goal of Việt Nam's e-sport teams at the 31st Southeast Asian (SEA) Games, which will be held on home turf next May.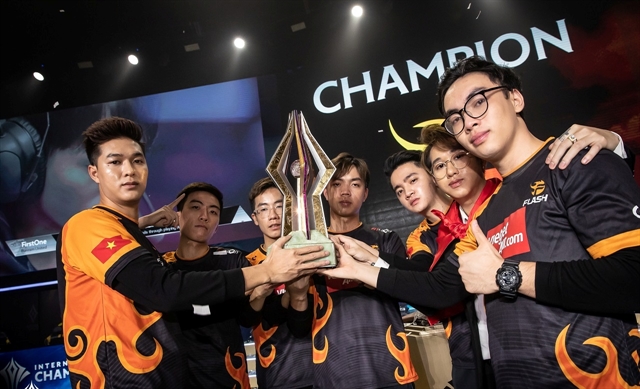 The Viet Nam team with the Arena of Valor World Cup 2019 trophy. They hope to repeat their success at the upcoming SEA Games. Photo lienquan.garena.vn
This will be the second time the SEA Games have been held in Hà Nội, and also the second time that e-sports feature as an event. E-sport athletes will compete in eight games, namely League of Legends: Wild Rift, Arena of Valor, PUBG Mobile, Free Fire, League of Legends, FIFA Online 4, Crossfire and Mobile Legends: Bang Bang.
The hosts expect to take two golds medals and place in the top three overall.
"ASEAN e-sports have been growing strongly. In the 31st Games, at least five teams are competing in each sport event. League of Legends will have the most competitors with 10. The Philippines and Thailand will be our closest competition for gold medals," said Nguyễn Việt Cường, President of Việt Nam Recreational E-sport Association (VIRESA).
"Việt Nam are confident of winning gold at the 31st SEA Games, based on our ability and results from recent international competitions.
"With our strong investment, incredible support from our partners and the effort and determination of players, we will bring home prestigious titles and will be one of three best teams," he said.
Vietnamese competitors are expected to take the top positions in League of Legends: Wild Rift, Arena of Valor and PUBG Mobile. 
Việt Nam is home to a huge number of people who play League of Legends. The Việt Nam Championship Series is in the top six most prestigious events in the world.
Việt Nam has already shown their domination in the event. They were the only ASEAN team to receive a wildcard place at the World Championship 2021 which wrapped up earlier this month in Reykjavík, Iceland. Unfortunately, Việt Nam could not join because of the COVID-19 pandemic.
However, Việt Nam did win the Asian and World Championship Titles in Arena of Valor in 2019.
The team also won silver in Crossfire, bronze in World of Tanks and a set of gold, silver and bronze in FIFA Online 2 in the last two years.
Ahead of the SEA Games, Vietnamese athletes will have a chance to sharpen their skills at several tournaments. 
The SEA E-Sports Championship (SEA EC 2021) will be held in January and feature three events: PUBG Mobile, League of Legends: Wild Rift, and Valorant.
The online tournaments will see 52 teams from ASEAN members vie US$140,000 worth of prizes.  
"Two of the three events in the SEA EC 2021 are official events of SEA Games. So the championship is not only the first key event of the year in the region but also a chance for all SEA Games competitors to sharpen their skills," Đỗ Việt Hùng, VIRESA General Secretary, told Việt Nam News at a recent press briefing in Hà Nội.
"SEA EC 2021 plays a key role in our working plan to focus on the SEA Games. The championship is like a mini version of SEA Games, with same events and same way of organisation," he said.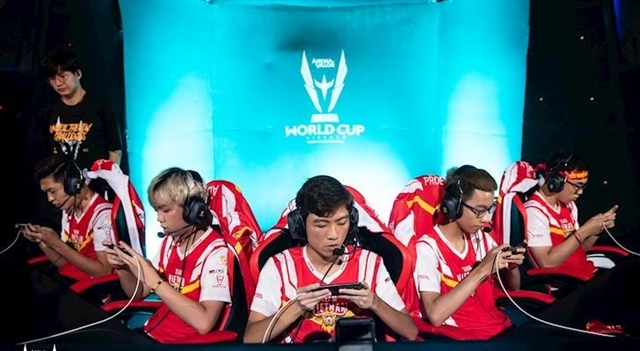 E-sport athletes will aim for gold at the 31st SEA Games. — Photo langgame.net
"SEA Games title is the most important target. Other titles are nothing compared to this title," said Xuân Bách, two-time world championship winner of Arena of Valor.
Bách has won all of the international titles, except for the SEA Games. He added that all of his energy and efforts are going into winning the SEA Games gold this time.
Young talent Lai Bâng, who is one of the best in the world in Arena of Valor, also shares this goal. He said his top priority is a SEA Games title.
"My dream is the SEA Games gold. It is more important than two annual world-level tournaments in Arena of Valor. However, it will be great if we win all," he said.
At the previous Games in the Philippines, Việt Nam secured three bronzes medals in Starcraft 2, Dota 2 and Arena of Valor, and ranked sixth.
The 31st SEA Games will feature 40 sports and will run from May 12-23 in Hà Nội and some surrounding cities and provinces. E-sports will involve about 400 coaches and athletes and will be held at the National Conference Centre. The events are expected to be open to all supporters.
Source: VNS