Capturing changing light through art

From autumn to winter and beyond, the turn of the seasons signals change.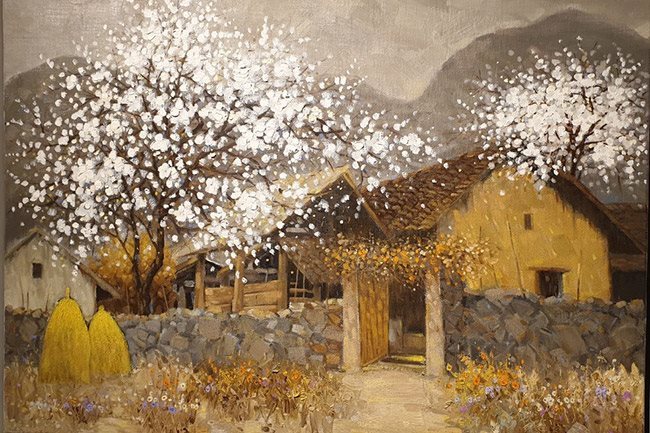 A painting on display at Apricot Gallery on Mac Thi Buoi Street, District 1, HCMC – PHOTO: DENNIS KHNG
It also lends itself to much artistic inspiration as the three young Vietnamese artists from Hanoi revealed in their joint exhibition called "Changing Season" which just opened at Apricot Gallery at 50-52 Mac Thi Buoi Street, District 1, HCMC.
From November 8 to 17, visitors can view a broad selection of their artworks over two floors. Painting in oil on canvas, their works are reminiscent of European Impressionism.
Just as the European Impressionists were fascinated by the way light changed over the day, and in different locations and indeed seasons, these Vietnamese artists wanted to capture the changes in light and thus hues of color in the seasonal North of Vietnam, as well as express their own feelings about the changes.
"In my artworks here, I wanted to paint and capture the reflections of light and scenery and my feelings about them. I also wanted to express my deeper, spiritual reflections of what I observed," discussed Le Tran Hau Anh, one of the featured artists and a lecturer at the Vietnam Fine Arts University in Hanoi.
"In the south of Vietnam, there are two seasons, the rainy and dry seasons, whereas in the north, there is more variety with four seasons and so I wanted to paint these changes in the seasons for example through the different types of flowers that bloom in different seasons," he said.
Anh is the third generation of a family of artists and his father was a strong influence, especially in the artistic style of Impressionism and their focus on the changing nature of light. You can see his ability in this style through his painting "Xom ven Song 02 (Village by the River 2)" where he skillfully captures the reflection of the houses by the riverside. His artworks have been exhibited from Thailand to the U.S. and Sweden.
Light on the sea
Another artist who is also fascinated with light is Nguyen Nhat Dung. He loves the ephemeral nature of light on water and chose to display his artistic studies of this subject through works of fishing boats and fishing villages undertaken with visits from the center to the north of Vietnam.
"The early morning light and the fog on the seawater are particular favorites of mine. I enjoy how the changes in light and colors are seen at that time," he said.
Check out his "Som Dong (Winter Morning)" study where he portrays fishing boats on placid water and perhaps fog sitting on top of it and surrounding the vessels.   
Many times, he was also inspired by unexpected events like quick changes in the weather or new ideas as he continued with his paintings back at his home. Having exhibited in many countries from Tokyo to Bangkok and Singapore, he remains inspired by his travels.
Journeys and mountains
Nguyen Van Duc has also exhibited throughout Asia and Europe, in places like The Hague, Netherlands, Vienna, Austria and Hong Kong, Myanmar and Singapore. Currently a lecturer in the Department of Painting at the National Fine Arts Drawing and Music College in Hanoi, he finds the Northwest of Vietnam an attractive destination for artistic creativity.
"I have drawn much inspiration from my travels, and for this set of paintings, I journeyed to northwestern Vietnam and the mountains of Ha Giang. Springtime in Ha Giang was an especially beautiful and enjoyable time and I found it very inspirational," he shared.
In many of his works, he captures the vivid colors of the blooming flowers in arresting detail, set against small villages and a mountainous backdrop. "Golden Afternoon" where he highlights the strong sunshine in a sea of yellow grass is a case in point while An Tuong Sakura (Sakura Impression)" zooms in on the gorgeous, bright pink hues of the flowers in bloom. SGT
 
Dennis Khng