Artist's talent blooms with lotus flower collection
Nguyen Thuy Huong has been as creative as she has ever been, finishing dozens of paintings, largely of the lotus flowers for which she is famed.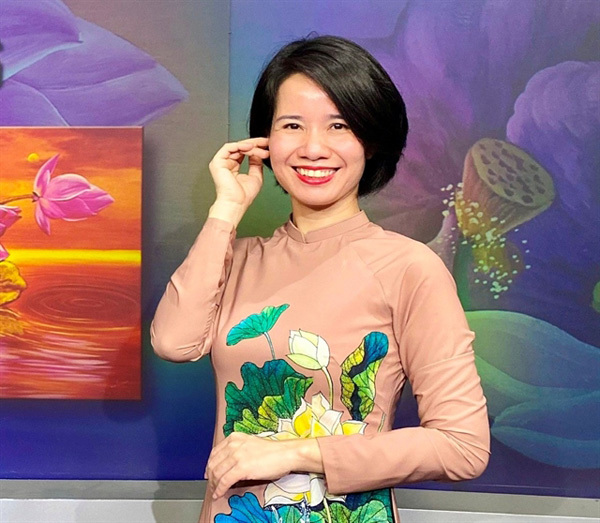 Artist Thuy Huong with her lotus flower paintings. 
The coronavirus pandemic has caused something of a lull in the careers of artists and many others, but it has not slowed painter Nguyen Thuy Huong who has been as creative as she has ever been, finishing dozens of paintings, largely of the lotus flowers for which she is famed.
Huong was born in Canh Town in the northern province of Vinh Phuc, which is home to a renowned century-old pottery village. It was here as a child that she spent her days quietly creating toys, plates, pots and characters from children's tales. Such works were her genesis as an artist.
"Although I had a passion for fine arts, my mother forced me to study pedagogy. Now my main career is teaching, but I love art so much I try to spend most of my free time painting because it helps me express my feelings and relax," she said.
Today, Huong is much-loved and has many supporters both living at home and abroad.
Nga Do, a Vietnamese living in Hamburg, Germany, loves lotus flowers and is a huge fan of Huong's paintings.
"I thank the painter for helping me to express my deep love of my country and the birthplace of my family, through her paintings of lotus flowers," Nga said.
Nga recently bought one of Huong's works titled Thiên Thanh (Sky Blue), and plans to bring the 160cm by 80cm oil painting back to Hamburg so both Vietnamese and German friends can enjoy it.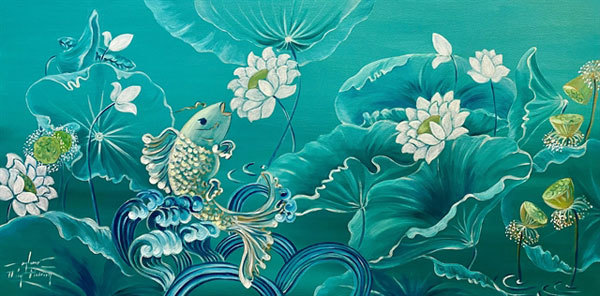 Huong's painting 'Thiên Thanh' was recently purchased by an overseas Vietnamese in Germany. Photo Ha Nguyen 
Nga was also excited to see more of Huong's paintings such as Làng Sen Quê Bác Trong Ban Mai (President Ho's Sen Village Early in the Morning), Sen và Cầu Long Biên (Lotus Flowers and Long Bien Bridge), and Khuê Văn Các Chiều Hoàng Hôn (Constellation of Literature Pavilion at Sunset).
"They remind me to remember of President Ho Chi Minh's native village of Sen in Nghe An Province; the more than a century-old Long Bien Bridge; and other valuable historical sites of Hanoi," Nga said.
Painter Tran Vu Hoang also likes Huong's artworks, particularly for their simplicity and the way they show the inner essence and beauty of the humble lotus flower.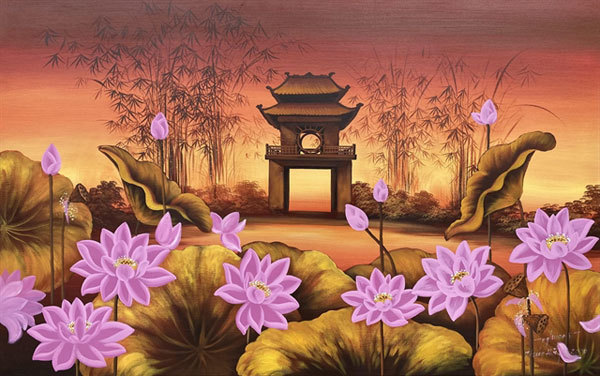 'Khuê Văn Các Chiều Hoàng Hôn' (Constellation of Literature Pavilion at Sunset) is a beautiful painting that won the interest of many art lovers. Photo Ha Nguyen
"She has been working so hard to find her own style. Her efforts have paid off, and she has composed many paintings of lotus flowers with colours that are distinctive and so have won high praise from both the public and art lovers," he said.
Hoang said each of Huong's works tells of a story or image relating to the memory of the Vietnamese. "I like her collection, particularly the work titled President Ho's Sen Village Early in the Morning, which shows the painter's dedicated folk painting style that helps viewers feel relaxed during these exciting times of social networks." 
Meanwhile, painter Truong Linh, a lecturer of the Hanoi College of Fine Arts, also spoke highly of her work: "Huong has always tried her best to create and discover fine arts. Her oils and watercolours are full of creativity, and the gamut of vibrant colours in her works are so bright, as if they are somehow expressing a better future, one of hopefulness."
Though Huong also painted portraits, countryside landscapes, and those that capture the mysterious beauty of Vietnamese women, during the last three years she has been consumed with lotus flowers, investing all of her time and passion, perhaps her very soul, into creating this scintillating works. 
"Well, there are other paintings, but I found that I love flowers, particularly lotuses, so much. They bring a strong inspiration for me to paint," Huong told Việt Nam News.
Lotus flowers are a symbol of nobility and have long had a deep connection with Vietnamese culture. Legend has it that when King Ly Thai Tong (1028-1054) had a dream of lotus flowers, soon after the One-Pillar Pagoda, a grand religious site in the capital, was built surrounded by a lotus pond.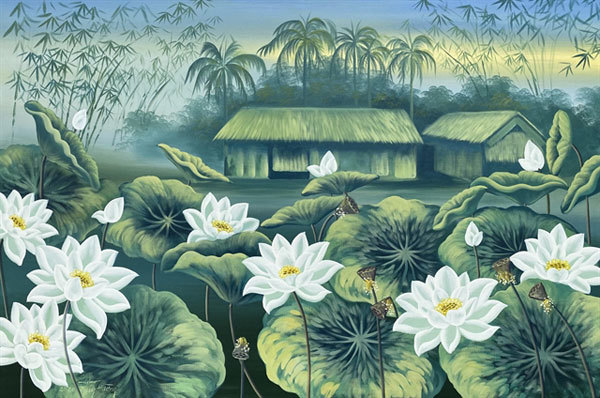 'President Ho's Sen Village Early in the Morning' in the central province of Nghe An is one of Huong's most evocative and meaningful works. Photo Ha Nguyen 
Aside from being the stuff of legend, lotus has significant culinary uses including lotus root salad, sticky rice with lotus seeds and lotus flower-scented tea. Huong is a huge fan of lotus tea, naturally.
She also recalled how her mother used to use lotus flowers for their purported effects on beauty. She is almost obsessed with the elegant flowers, which is clear from her stunning paintings.
Huong uses a more unusual colour palette than her predecessors and contemporaries, employing lots of blue, purple and red in her work to forge a unique style, which has won high praise from both the critics and the public.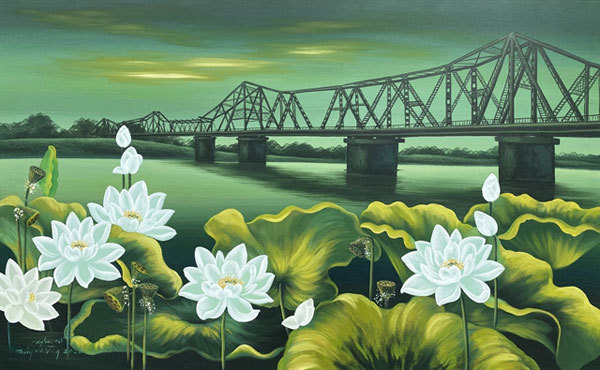 The painting 'Long Biên Bridge and Lotus Flowers' has received widespread praise. Photo Ha Nguyen
Childhood passion
 Huong fell in love with the art when she was very young.
"I was always assigned to be in charge of school papers, in which I painted many illustrations and received a lot of awards as a young talent," she said. 
In 2018, she and her friend painter Tran Vu Hoang opened an exhibition in Hanoi to auction off some of their works, to help women undergoing hemodialysis.
At the opening ceremony, Tran Khanh Chuong, chairman of the Vietnam Fine Arts Association, said visitors could see clearly the contrast between the oil paintings and lacquer paintings of the two artists.
"These two teachers-painters have expressed their own impression and inspiration through their works. Their style of painting will affect and help increase creativity among their students and the younger generation," Chuong said.
In addition, Huong has donated the proceeds from the sale of her paintings to the 'Gieo Mầm Nhân Ái' (Sow Compassionate Seeds) fund, which she set up in 2014. The fund aims to assist disadvantaged pupils and people in need.
During the COVID-19 pandemic, the painter also gave thousands of medical masks and disinfectant gel bottles to schools, locals and soldiers in Vinh Phuc's Binh Xuyen District.
She had planned to hold a large exhibition in May, but due to coronavirus it has been delayed.
 "I hope to open the exhibition titled Sen và Em early next year," she said.
"Through these works, I wish to send a message that we should try our best to carry out a good life, respect the past and have hope for a better future."
Source: Vietnam News

The beauty of the lotus is vividly depicted through more than 50 contemporary paintings which are on display at P.I Gallery in Hanoi from June 15 to 23.  

The lotus plant is very spiritual and loved by Vietnamese people from all walks of life. In order to bring the image of this special flower into daily life,