26 embassies hold cultural events in Hoan Kiem pedestrian zone in 3 years

After three years of launching, the pedestrian zone around Hoan Kiem Lake has been the venue of 410 significant cultural events.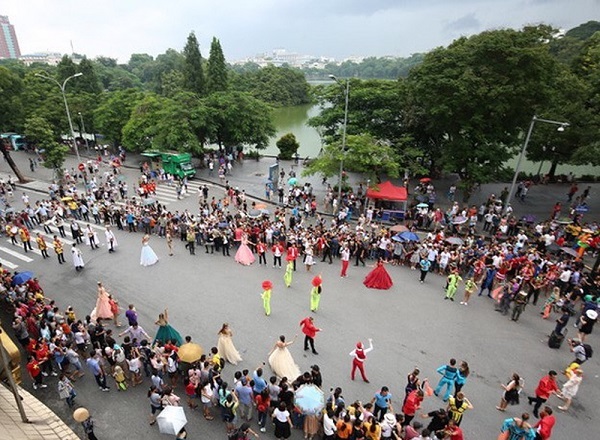 People gather to watch a performance at Hoan Kiem pedestrian zone. Photo: Dai Doan Ket Newspaper. 
The pedestrian zone around Hoan Kiem Lake is also a destination to hold several domestic and international cultural exchange activities.
So far, Hanoi has continuously organized art and cultural performances at seven fixed locations within the pedestrian space with several acts and forms.
Particularly, many foreign embassies to Vietnam have held cultural events in the area, contributing to the expansion and strengthening of cultural exchanges between Hanoi and other countries.
Some programs worth mentioning are Japanese cultural exchange activities and Cherry Blossom Festival in Hanoi; Vietnam - Korea Friendship Music Festival to mark 25th anniversary of diplomatic ties between two countries; ASEAN+ Children's Festival; the "European Village" program, among others.
The pedestrian zone also hosted some cultural promotion programs of France, Belgium, Hungary, Pakistan; London Symphony Orchestra, Russian artist troupes, Acapella orchestra by Big Bang band from Germany and some domestic art programs.
Some communication activities that help enhance the awareness of citizens in Hanoi to keep the environment green, prevent plastic waste, save energy, etc. have also taken place in the area, drawing the participants of thousands of people.
Hoan Kiem district has provided 61 permits for organizations and individuals to hold art and entertainment activities in the area including drawing, exhibiting products, displaying art balloons and holding some folk games, among others.
The Hanoi People's Committee assesses that the pedestrian model has gained success in terms of economy, culture, security, and has become an unmissable entertainment destination for the locals and visitors. Hanoitimes
Ha An

Nearly 200 artists from international and Vietnamese circus troupes have performed many unique circus acts as meaningful gifts on the weekends for locals and visitors.

The People's Committee of Hanoi has assigned Hoan Kiem District to expand the pedestrian zone to the south of the Old Quarter.