Youngster Binh hopes to make Park's final World Cup squad
At 20 years old, Nguyen Thanh Binh is the youngest member of the Vietnamese national squad at the current training camp.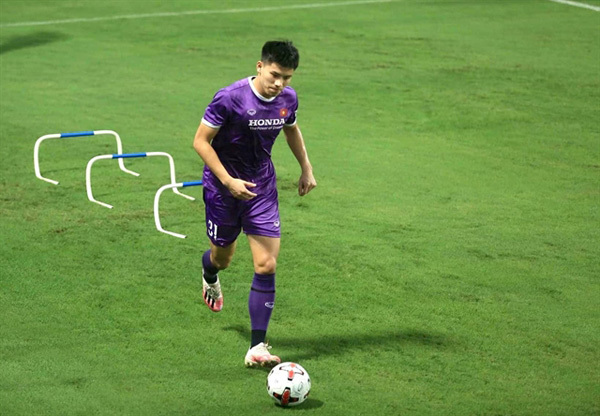 Nguyen Thanh Binh is training with the national senior team for the first time in career. Photo Viettel FC
And now the defender hopes to impress coach Park Hang-seo in training to be part of the South Korean's plans for the World Cup qualifiers against Indonesia, Malaysia and UAE in Dubai.
Born in 2000 from Thai Binh Province, Binh trained at the Viettel football centre. He was not as famous as some of his other teammates such as forwards Nguyen Huu Thang, Nham Manh Dung and Tran Danh Trung but he was still a core member of Viettel's both junior and senior sides.
Binh and teammates won a bronze at the National U19 Football Championship in 2017. Three years later the team triumphed the National U21 Football Championship after beating Song Lam Nghe An 1-0 in the final. It was the first title of the military team at this tournament.
It was at this event Binh began to draw people's attention because of imposing stature as well as skills and technique.
''As you can see, Binh really has a lot of potential as a defender," said coach Thach Bao Khanh of the U21 side.
"His height is good. He has game intelligence and reads situations and makes smart decisions."
Binh was on loan at Binh Dinh last season where he played all 16 matches for the V.League 2 club and scored one goal. He contributed to the team's promotion to V.League 1 this year.
He also caught eyes of Park's scouts and was for the first time called up to train with the national U22 team last December.
During his year-long load spell at Binh Dinh, he showed outstanding performances and progress which were main reasons that coach Truong Viet Hoang decided to call him back and gives him a place in the first team of Viettel.
"In 2021 we play in different competitions, both local and international," said Hoang.
"Apart from hiring foreigners, we also want to open the door for our young players including those who won the U21 crown. It will be opportunity for them to sharpen their skills and strengthen their ability."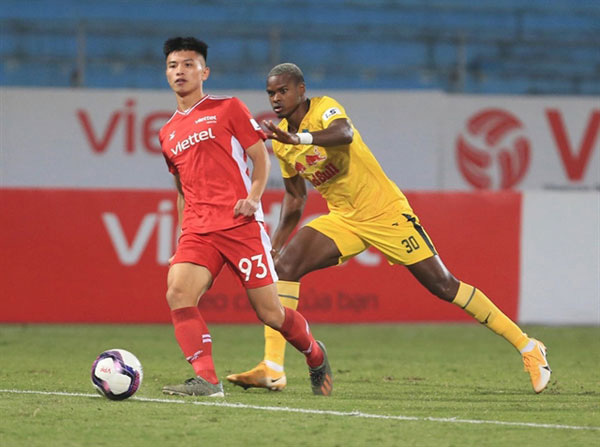 Nguyen Thanh Binh (left) competes during the V.League 1 tournament. The 20-year-old has played in all matches of Viettel FC since the beginning of the season. Photo courtesy of VPF
Binh has not been a regular face in the starting line-up but he played in all 12 matches of this season from the bench. He is a strong defender with strong tackles and sometimes used as a secret weapon with headers that challenge every goalkeeper.
With nearly 560 minutes on the field, he is a rare 20-year-old player receiving such much time to perform in the V.League 1, especially under the jersey of the defending champions.
It was no doubt that he had the second time join Park's squads early this month. This time, he is a national team member. Not many Vietnamese players have had such big jump in their careers.
The South Korean trainer has a habit of adding young players to his senior team, a way to let them understand the high pressure and intensity in working with their senior teammates. It is a preparation for long-term plans in his tenure as well as for the coming SEA Games.
After a week practising, defender star Do Duy Manh appreciated his teammate when talking with reporters about Binh.
"He is young but full of desire and contribution," said Manh.
"His outstanding performance at Viettel should be a reason that he is called to the national team.
"Having a chance to train with the national team, senior teammates, experienced coaches is great for every young player like Binh. I believe Binh is a good player. He will grow faster and be better here and in the future.
"The current team includes quality players, juniors and seniors, from different clubs. We have our own strengths. Everyone must show our strongest points, do best as both an individuals and in the teams to vie for a place in the final list and make up a strongest squad."
Only 28 best players will travel with Park to the UAE for three remaining matches of Group G from June 7-15.
"I don't know if I could make it. But first of all I must show my best during the training camp to draw coach Park's attentions," Binh told reporters.
"I hope that I can be a member of the team, and then the SEA Games squad, too."
VNS

Park Hang-seo completed his 14-day quarantine on Thursday after returning to Vietnam from a holiday in his native South Korea, and is itching to get back to work with the national team.

About two weeks since undergoing leg surgery, Do Hung Dung is starting down the long road to recovery.