Young singers gain int'l achievements in 2020
Although 2020 was a tough year for the entertainment industry in Vietnam as well as the rest of the world, young Vietnamese singers gained outstanding achievements at international music award events.
Young songwriter and singer Jack reached great success in 2020, winning the Best Southeast Asia Act category at the 2020 MTV European Music Awards.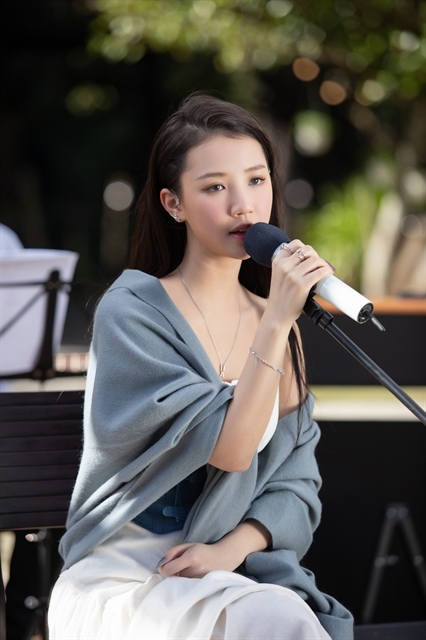 Amee, 21
The 24-year-old artist beat out nominees Violette Wautier from Thailand, Benjamin Kheng from Singapore, Agnez Mo from Indonesia, and bands K-Clique Malaysia and Ben&Ben from the Philippines.
Addressing his fans, he said: "I am so proud of all of you. I could not have achieved this honour if it weren't for all of you."
Thanks to his fans, Jack released his latest MV Dom Dom (Fireflies) on December 26 to send his love and gratitude to his many admirers.
The MV ranked No 1 on trending on YouTube in Vietnam 39 hours after its release, with 14.1 million views. It earned 24.7 million views in four days.
Dom Dom is a pop ballad written by Jack and mixed by singer Khai Dang. Directed by Nhu Dang, the MV conveys a humanitarian message about forest protection.
Jack said: "I want to spread messages about environmental protection, and loving yourself through images of bright little fireflies."
"2020 has been a very memorable year for myself. Firefly is a gift I want to send to my beloved fans who are always by my side and look after me. I put so much love and hope in my MV that every listener can feel it," he added.
Jack, whose real name is Trinh Tran Phuong Tuan, became known in 2019 with hits like Hong Nhan (Beauty), Song Gio (Upheavals), Bac Phan (Misfortune) and Vietnam Toi (My Vietnam), which were co-performed with young songwriter and singer K-ICM.
The songs' MVs have attracted hundreds of millions of views on YouTube, which helped the duo win Best New Asian Artist Vietnam at the 2019 MNET Asian Music Awards.
The duo broke up in early 2020, and both artists are building their own solo careers.
On March 10, Jack released his first solo MV Being A Boy, which ranked No 1 on YouTube Vietnam for nine hours after its release, with 4.5 million views.
The song, a blend of pop and disco, was written by Jack and mixed by music producer HOAPROX, whose composition appeared in the electronic music album "Electric Asia Vol.2: The Best New Hits from Asia" released by Billboard in 2018.
The song's lyrics are about the disappointment and sadness of a man who witnesses his lover's wedding.
Being A Boy has attracted 143 million views.
His second MV Hoa Hai Duong (Camellia) ranked No 1 on YouTube Vietnam 16 hours after its release, with 8.2 million views.
The song was written by Jack and mixed by music producer DTAP.
Its music style is future bass combined with traditional music, while its lyrics are about the sorrow and nostalgia of a man who lost his lover.
Hoa Hai Duong has earned more than 127 million views since its release day on September 22.
"I have liked Jack since his first MV with K-CIM. His music has modern elements combining traditional music that makes people feel emotional," said Do Hoang Anh, a student at Lac Hong University in Dong Nai Province.
"His solo career has impressed me deeply. All three songs are beautiful and the MVs have surprised fans like me. I'm happy for Jack with his great achievements in 2020," Anh said.
Youngest Vietnamese winner at MAMA
The year of 2020 saw great progress in singer Amee's career.
Amee, 21, is the youngest Vietnamese to be honoured at South Korea's MNET Asian Music Awards (MAMA). She was named the Best New Asian Artist Vietnam at the MAMA 2020.
"I'm a big fan of K-pop, so for me, the MAMA award is a dream. I am proud to be able to introduce Asian audiences to not only Vietnamese music but also the beauty of its traditional culture," the singer said in the video when receiving the awards.
Amee, whose real name is Tran Huyen My, a Hà Nội native, became a trainee for St. 319 Entertainment at age 15.
She debuted in 2019 with the album "dreAMEE" with 10 pop ballads featuring the theme of love written by young composers Hua Kim Tuyen, Ly Ly and Grey D.
Her first title track Anh Nha O Dau The (Where's Your Home) featuring B Ray released in April 2019 was trending second on YouTube Vietnam after two days with 2.5 million views.
The album's other songs like Den Da Khong Duong (Black Iced Coffee without Sugar) and Ex's Hate Me have become hits among young Vietnamese.
In March, Amee released the MV Sao Anh Chua Ve Nha (Happy at Home) featuring rapper Ricky Star, calling for people to stay home to prevent the spread of COVID-19.
The campaign #HappyAtHome launched by the Ministry of Health that promoted the song called for people to share happy moments at home and restrict activities in public areas.
The song brought Amee the New Artist of the Year title at the 15th Devotion Music Awards given by the The Thao & Van Hoa (Sports and Culture) Newspaper in March.
On December 13, Amee launched a video of her first mini concert called "dreAMEE", her first live acoustic show on YouTube.
The show featured her seven favourite songs which were remixed in an acoustic style, attracting young singer Hoang Dung and rapper Ricky Star. The video has attracted nearly 5 million views.
YouTube viewer Esther said: "It has been a long time that V-pop has seen something new. Amee is a truly special gem."
VNS

Vietnamese singers have developed new music projects to entertain and inspire their fans during the COVID-19 pandemic.