Woman goes from top swimmer to leading triathlon athlete
After conquering the pool as a swimmer and a coach for HCM City and Singapore, Pham Thuy Vi has since become one of the top triathlon athletes in Vietnam.
Pham Thuy Vi competes in the SEA Games 2019 in the Philippines. — Photo courtesy of Pham Thuy Vi
Though she only started training for the event in 2018, the 39-year-old was the best Vietnamese athlete at the IRONMAN 70.3 Vietnam 2019 in Da Nang and won a place to attend the 2019 IRONMAN 70.3 World Championship in Nice, France that year.
"I took part in the TRI-Factor in Singapore in 2019 and TRI-Factor in Vietnam in 2021 in the standard category and finished first and third, respectively. In the Sunset Bay Triathlon in Quang Ninh Province in 2019 and 2020, I also triumphed in the women's category," Vi told Việt Nam News.
Her spectacular successes in the triathlon helped Vi qualify for the 30th SEA Games in the Philippines in December 2019.
"Ironman 70.3 Da Nang 2019 was the first time I competed in a triathlon tournament with a long distance with 1.9km swimming, 90km cycling and 21km running, and I finished first among the Vietnamese women as well as broke the old record by more than 30 minutes. The start was very sweet for me," Vi added.
"The SEA Games 2019 in the Philippines was an unprecedented competition. I was still a coach of Singapore at that time, but I was still a Vietnamese citizen, so I accepted the invitation to join the Vietnamese triathlon team. This acceptance meant a lot to me because, in the Vietnam team, there were also former swimmers who were trained by me in the past.
"At that time, I was also coaching a number of Singaporean athletes on the triathlon team. On the day of the competition, I had a lot of emotions when I heard the cheers in both English and Vietnamese from my Singaporean trainees and Vietnamese fans 'Go…coach Vi go...' and then 'Vi, do your best'. A feeling that I have never experienced when I was a teammate with former Vietnamese swimmers and an opponent of the current players of Singapore. But no matter what field it was, it was a feeling of being loved and of good sportsmanship," said Vi.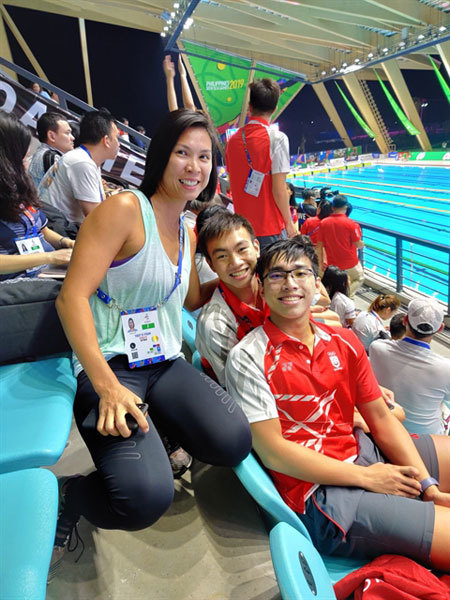 Pham Thuy Vi and her swimmers at the SEA Games 2019. — Photo courtesy of Pham Thuy Vi
Vi said that she trains for triathlons as naturally as breathing.
"As a lover of sport, I love everything related to it. I started running because I wanted to lose weight and was judged to be not too bad, so the BoiDapChay Club encouraged me to try the triathlon. I quickly agreed because I wanted to have fun, hoping to join the tournaments with everyone and enjoyed the race-cations together," said Vi.
"Fortunately, both swimming and triathlon are sports that can be trained for a lifetime so I think I will stick with it for a long time," Vi added.
According to Vi, the COVID-19 pandemic makes training very complicated, but she still works out daily.
"The swimming pools are closed so I can't practise swimming. Running and cycling with a permanent mask makes high-intensity exercises very difficult to perform, so long outdoor runs and cycles are often switched to light intensity. I cycle with high intensity on a training machine at home. The swimming exercises are replaced by strength exercises on land with resistance bands and body weight," Vi said.
The triathlon movement in Vietnam is developing strongly. The first Ironman 70.3 tournament was only held in 2015 but the number and quality of athletes have improved tremendously.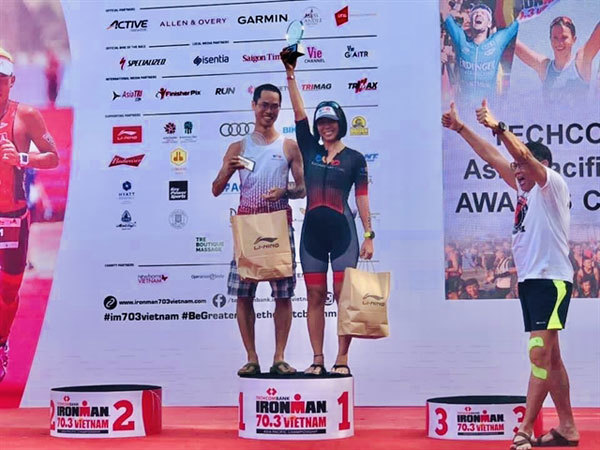 Pham Thuy Vi (right) was the best female Vietnamese athlete at the IRONMAN 70.3 Vietnam 2019 in Da Nang. — Photo courtesy of Pham Thuy Vi
"Earlier, finishing the 70.3 event in six hours was the dream of many people, now it is just the 'entry-level' of the new participants. The number of people attending and training has also increased quickly, which is really a proud sign for Vietnamese triathlons," Vi said.
Later this year, the triathlon will be present at the SEA Games in Vietnam. This is also the first time Vietnam has had the event as part of the regional Games. Vietnam is also preparing to establish a triathlon federation to organise, manage and support the discipline.
"This is an important and necessary step to find and specialise athletes for this young sport. I have no plans to compete with the national triathlon team as an athlete anymore but would be happy to continue travelling with the team as a coach," Vi said.
Although Vi is no longer competing for the national team, she still plans to enter upcoming domestic and international triathlon events.
"Training without competition loses its meaning and joy. Besides, I still feel like I haven't trained enough to reach my best in this sport, I'll keep trying to see how far I can go," she said.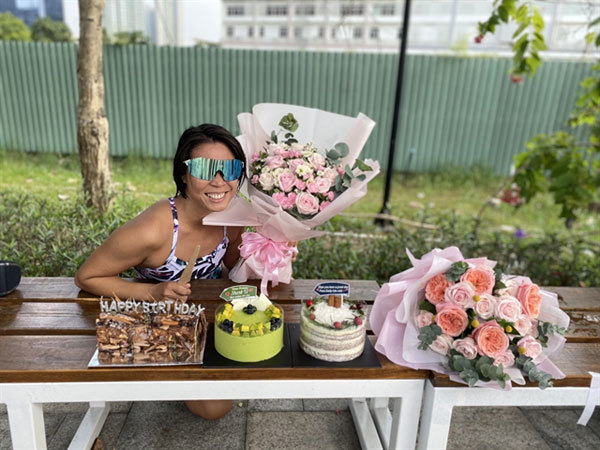 Vi ẹnjoys her birthday party held by Vietnamese swimmers in HCM City last year. — Photo courtesy of Pham Thuy Vi
Beginning coaching
Born in 1982, Vi won plenty of national titles from 1996-2001. However, at the age of 18, Vi suddenly retired from competing to focus on coaching, even though she was a promising swimmer of HCM City. Since 2001, she has pursued a career as a coach by taking the course at the HCM City University of Physical Education and Sport.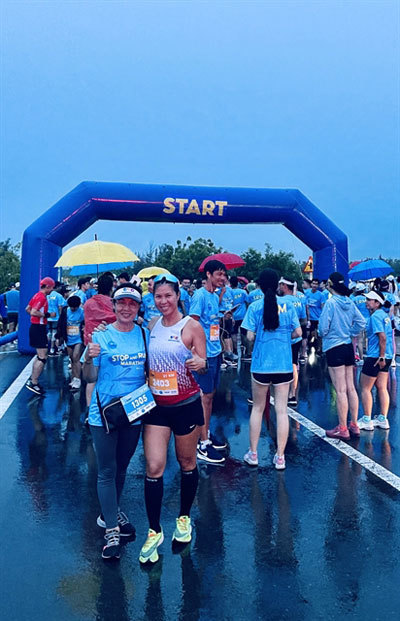 Pham Thuy Vi (right) and her mother at a recent event. — Photo courtesy of Pham Thuy Vi
From 2004-2011, Vi coached the HCM City swimming team and often led her team to compete abroad.
In 2013-2019, she coached Singapore's top swimming club Swimfast and was the assistant coach of the Singapore youth swimming team.
"I don't regret quitting my career as an athlete so early, but I admit that if I had continued to train right, I would likely have gained more results. However, stopping at that time gave me more good things later," said Vi.
Vi is also the co-founder of Boidapchay (swimming-cycling-running) Company based in HCM city and the head coach in swimming.  
VNS

The Tuan Chau Sunset Bay Triathlon 2020 will be held on August 1 on the Tuan Chau Islands, Quang Ninh Province.

Runner Nguyen Tien Hung is very proud to be part of Vietnam national duathlon (run-bike-run) team for the upcoming Southeast Asian (SEA) Games in the Philippines, where the event returns for the first time since Thailand 2007.