Vietnamese artist displays installation artwork at Chateau La Coste

Popular artist Tia Thuy Nguyen has just become the first Vietnamese artist to display artwork at Chateau La Coste, France.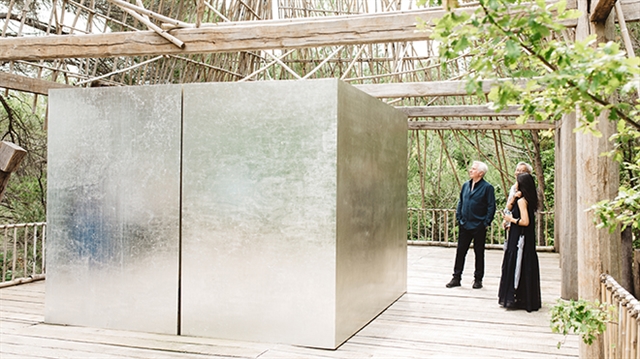 A part of Silver Room installation work. — Photos thethaovanhoa.vn
Thủy, who has been a costume designer for various popular movies like Cô Ba Sài Gòn (The Tailor), Mẹ chồng (Mother in Law), Tấm Cám: Chuyện chưa kể (The Untold Story), Ngày nảy ngày nay (The Lost Dragon), has displayed her first ever installation work at Chateau La Coste.
Titled Silver Room, Thủy's work is a reflection of the common houses of ethnic minority groups in the central highlands region of Việt Nam. The work incorporates silver gilding techniques of Vietnamese traditional lacquer art, carving techniques on quartz and jackfruit tree wood.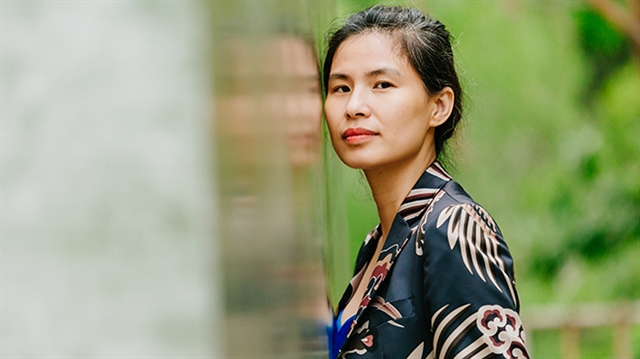 Tia Thủy Nguyễn poses for a photo with her work.
Thủy has spent nearly three years researching and working on the installation. The room is designed with an open roof, gaps between bars of wood bring light and shadow to the room, which results in non-stop changes according to time and light source during the day.
That's why, according to Thủy, Silver Room is not an installation work with specific features on location but also has momentous features.
The room measures 16.2m in height, 6m in width, 14.9m in length. It took ten months for experienced workers in the central highlands to find suitable wood and treat it before making the room.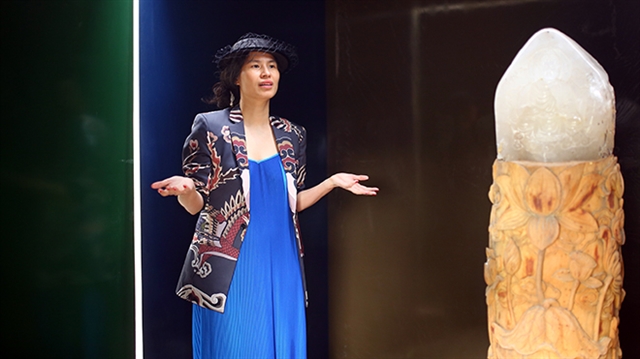 Tia Thủy Nguyenexplains the philosophy of her work at the opening ceremony.
The room's 26 pillars and floor were made from 1,300 cubic metres of wood. The open roof was made from old bamboo measuring 4 to 12m high.
All joints were tightened with string, not nails, following skills of building communal houses by central highland elders.
The work stresses on the "duyên" (Destiny) notion in Buddhism, which expresses the lifestyle and belief of the artist in a world of equanimity when they confront the conflicts of the past, present and future; the desire and relinquishing; homeland's identity and integration into the world.
The philosophy has persuaded collector Paddy McKillen to choose the installation for the exhibition, Thủy said.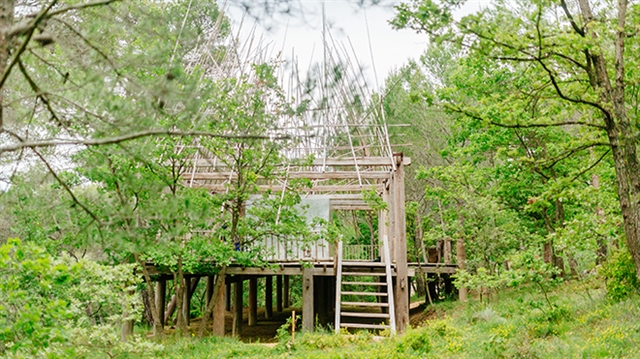 A general view of the Silver Room.
The permanent exhibition at the Chateau gathers other noted artists like Tadao Ando, Louise Bourgeois, Tracey Emin, Alexander Calder, Sean Scully, AI Wei Wei, Tom Shannon, Sophie Calle, Tunga, Tracey Emin, Frank O. Gehry, Liam Gillick, Andy Goldsworthy, Jenny Holzer, Guggi, Per Kirkeby, Kengo Kuma, Paul Matisse, Tatsuo Miyajima, Jean Nouvel, Larry Neufeld, Renzo Piano, Richard Serra, Michael Stipe, Hiroshi Sugimoto, Jean-Michel Othoniel, Lee Ufan, and Franz West.
In the opening ceremony gathering some 50 invitees including collectors, curators and artists from Brazil, France, the UK and the US, Thủy could not hide her emotions.
"I'm just a small artist with a big belief that if I really have passion and work with whole my heart, my voice will echo farther," she said. "Vietnamese contemporary art is developing. I hope there will be more voices of Việt Nam to reach the world."
Thủy was born in 1981 in Hà Nội. She now lives in HCM City. After her graduation from Việt Nam Fine Arts University in 2006, she received a scholarship to study her MA and PhD at the Kiev Royal Art and Architecture Institute, Ukraine. In 2016, Tia Thủy Nguyễn established The Factory contemporary centre in HCM City.
After her Silver Room at Château La Coste, Thủy has been invited by various galleries and art centres in France.
She will return to her familiar painting and try some interactive installations using natural light for her solo exhibition next year. She is compiling her own book on sketching practice. — VNS