Vietnamese unique festival: Khau Vai Love Market 2021 to open in May
At the market, ex-lovers are reunited, talk about their current marriages and warm up their lost love.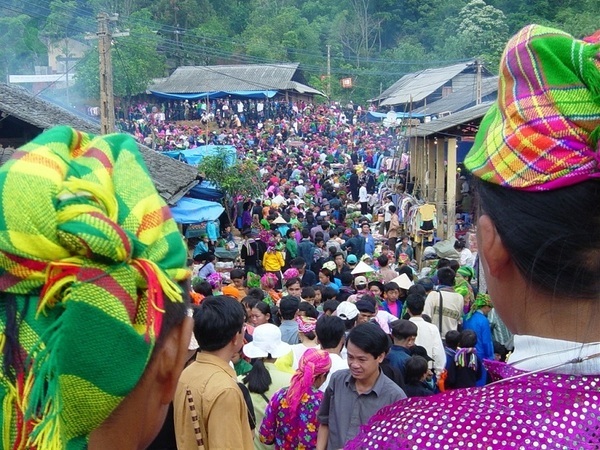 Khau Vai Love Market 2021 will open in the central stadium of Meo Vac district in the northern mountain province of Ha Giang from May 6 to 8.
The love market, which is located about 200km far from the province's center, has been held once every year.
Under the theme "The love songs fair", the festival this year will be organized in three days with activities showcasing the most typical cultural features of the local ethnic minority people.
In the framework of the festival, there will be special and attractive activities imbued with the local cultural identity such as a beauty contest to choose the beauty queen of the ethnic groups; the incense offering ceremony at Ong Temple and a prayer for love, among others.
The event will also feature cultural and art performances, and folk games, including drum dancing of the Giay ethnic group; joining Hmong people in lanh cloth weaving; flute making and horse riding; fire dance of Lo Moong ethnic group; folk song performance of Giay ethnic group; black pig race and Day cake pounding competition.
Visitors will taste traditional dishes such as maize wine, mint-fragrant honey, smoked pork, goat hot pot, and wearing the costumes of the ethnic minority girls and women. In addition, there are also various booths displaying and selling local products.
Legend has it that the Khau Vai Love Market, dating back over a hundred years, emanated from the love story between a Hmong boy and a Giay girl that sparked a grudge between the two ethnic groups.
In order to avoid bloody confrontations, they were forced to be away from each other. However, the couple vowed that they would meet once a year on the 26th day of the third lunar month at Khau Vai market in Meo Vac district of Ha Giang province.
Today, the one-in-a-year meet-up became the dating fair, for young people to find love and married couples to freshen their feelings.
hanoitimes

The annual Vietnam International Travel Mart (VITM) 2021 will take place in Hanoi from May 5 to 8 with the theme "New Normal - New Opportunities", a press conference in the capital on April 5 heard.