Vietnamese movie "Old Father" reaches record revenue
Since it was launched on March 3, "Bo Gia" (Old Father), a family movie starring comedian and TV host Tran Thanh, has earned VND400 billion (nearly $20 million), a record in the country's cinema history.
Video: The theme song of "Old Father".
The revenue as of April 4 was from 5.3 million tickets sold.
Released on March 5, "Old Father" has set new records for the fastest Vietnamese movie to reach ticket sales of VND100 billion and VND200 billion. The film collected VND100 billion (nearly $5 million) in just four days after being released, beating the previous record of six days held by "Gai Gia Lam Chieu 3" (The Last Egg 3).
On March 19, its revenue reached VND290 billion, officially surpassing Hollywood blockbuster "Avengers Endgame" (VND285 billion) to become the highest-grossing cinema movie in Vietnam.
After a month, "Old Father" remained in the top 2 at the box office.
The movie distributor Galaxy Studio and producer plan to release "Old Father" abroad, specifically in Singapore and Malaysia from April 22, and perhaps Thailand after that.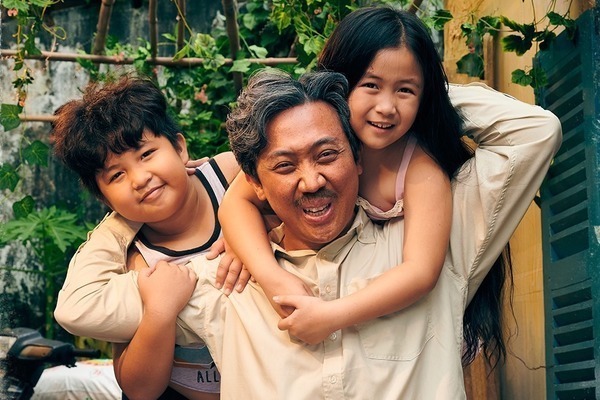 5,3 million people watched "Old Father" at cinemas.
"Old Father" centers around Sang, an old motorbike rider who lives in a low-income neighborhood in HCMC. Although Sang is poor and suffers from an illness, he always sacrifices himself for his family.
The film's production cost is estimated at VND23 billion (US$1 million), with an all-star cast comprising Tran Thanh, People's Artist Ngoc Giau, Le Giang, Tuan Tran, Ngan Chi, La Thanh, Quoc Khanh, Le Trang, Che Nguyen Quynh Chau and Minh Tu.
The "Old Father" movie is an adaptation of a web drama of the same name directed by Vu Ngoc Dang. The web drama version, which was released on YouTube in early 2020, was the most viewed web drama in Vietnam with more than 90 million views for its five episodes.
Seven Vietnamese films with the highest domestic ticket sales to date comprise "Old Father" with VND400 billion, "Flirt with pregnant wife again" with VND191.8 billion, "Mat Biec" (Dreamy Eyes) with VND180 billion, "Tiec trang mau" (Perfect Strangers) with VND175 billion, "Em chua 18" (Jailbait) with VND171 billion, "Furie" with VND160 billion (up to VND200 billion from both local and foreign markets) and "The Last Egg 3" with VND165 billion.
Quynh An

The Lunar New Year (Tet) has always been an ideal occasion for film distributors, but it will probably be different in 2021.