Vietnamese icon takes on British influence
Images of two Vietnamese girls dressed in ao dai (the traditional Vietnamese dress) bearing the country's national flag in landmarks around the UK and at cultural events made a strong impression on those who've seen them.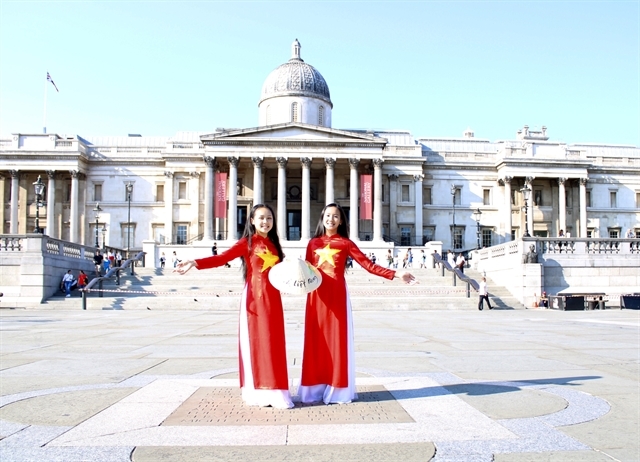 Emily Nguyen and Anna Hoang in their ao dai with Vietnam 's national flag
This particular design is within the Love Collection of ao dai, initiated by Emily Nguyen and her friend, Anna Hoang.
Love Collection was inspired by the girls' affection and admiration for both countries, joining British culture with Vietnamese distinction.
Their efforts to bridge the two cultures and inspire other teenagers were honoured recently at the She Inspires Awards 2020, which are presented to amazing women who have transformed lives and made a difference in their communities.
In December, Emily and Anna were featured in the book Quarentena And Beyond, written by inspirational leaders from around the world and released in the UK, the US and Spain.
"I'm beyond speechless. Receiving the award was an honour in itself, but being featured in a best-selling book was an entirely new opportunity that we were amazed to have received," said Emily.
Love Collection
She began to learn about the traditional outfits of her ancestral home after seeing photos of beautiful Vietnamese women in the elegant long robes.
The first in her family to pursue the arts, the 14-year-old came to the attention of the head of the culture and arts department of the Vietnamese Association in the UK, who discovered her artistic talent and potential in the summer of 2018.
This was also when she found a companion in realising her dream of creating her own ao dai collection -- 11-year-old Anna Hoang. Both were attending the Brit School, the leading performing and creative arts school in the UK.
The collection, which they dubbed 'Love Collection', includes five designs: Prince and Princess Showing Love, Love Ao dai, Lovely Colours, All My Love, and Tomorrow is Our New Rainbow.
"Our inspiration for Love Collection and doing what we do is our love and admiration for our two countries -- Vietnam and the UK," said Emily.
"Because our parents were born in Vietnam and we were born in England, we always felt the urge and desire to combine the two countries, and we displayed our affection by using Vietnam 's traditional dress and elements of the UK."
"We wanted to spread a message of love and positivity around the world and do our best to help others and make them happy."
One of the most special designs is Prince and Princess Showing Love, which uses text to send a message about diplomatic relations between Vietnam and the UK.
"The dresses feature British culture and architecture but still retain the distinct features of a Vietnamese ao dai," Emily said.
To promote their creations, both encouraged their classmates to wear an ao dai at performances on runways and squares in front of an audience. Their UK student friends were impressed by the traditional Vietnamese dress because of its delicate shape and soft fabric.
They frequently wear ao dai at forums or events they attend and at the same time introduce Vietnam and its people and culture to international friends.
According to Victoria Georgia, the initiator of Miss Regal World, Emily and Anna's collection is one of the most effective ways to present Vietnamese culture.
She also said the designs, which combine famous sites in England such as the clock Big Ben and traditional Vietnamese structures like village gates, are creative and intelligent.
Big hearts
Beyond being cultural ambassadors for the two nations, Emily and Anna have also been passionate about charity activities.
The two have been active members of Cancel Cancer Africa, supporting cancer patients in Africa, and of Autism South East, helping autistic kids.
In June 2019, Emily, together with a group cultivating talent among Vietnamese children in the UK, held a fundraising event that featured songs and dances from herself and some of the kids, which raised VND150 million (US$6,500) for disadvantaged children via the charity Together for Short Lives.
When the COVID-19 pandemic broke out in the UK, Emily and Anna called on the community and used what they received from House of iKons Fashion Week London to buy 360 boxes of hand lotion, 40 boxes of gloves, and hundreds of face masks and bottles of hand sanitiser.
The Mayor of London, Sadiq Khan, sent Emily and Anna a message applauding their meaningful contribution and effort.
The two girls launched a charity programme called Thuong Ve Mien Trung (Affection for the Central Region) last year, which called on the Vietnamese community in the UK and international friends to support people in Vietnam 's central region severely affected by floods. Together they raised over VND150 million ($6,500) which is given directly to those in need.
"The message I want to send to the younger generation is to go after your dreams and ambitions, because if I can do it, they can too," Emily said.
"There have been many times in my life when I've failed and felt the urge to give up. For example, I've been rejected at modelling castings and singing auditions, but I didn't allow it to bring me down. Instead, it motivated me to work harder, and Love Collection came to be, which has now received awards and been shown in magazines, and I've been invited to travel worldwide.
"So, I want to share the message that you can do anything you set your mind to, with hard work and effort. Any failures along the way are just part of the road to success."
The two girls are planning a Love Collection Charity World Tour, where they will travel all around the world and the funds raised will be donated to their chosen charities.
"Our biggest goal is for Love Collection to be known for doing good deeds, so we can have a bigger audience and do our part to further spread love and positivity worldwide," Emily said.
VNS

With the aim of further promoting Vietnam's traditional outfit, the "ao dai", among international friends and honouring its value while assisting in the compilation of a dossier on recognising Hue ao dai as a national intangible cultural heritage,