Vietnamese Guinness recordmakers perform in Long An

A group of Vietnamese Guinness record-makers will perform in an entertainment show in Long An Province tonight to celebrate National Family Day on June 28.
Vietnamese "witch of musical instruments" to hold tour
He can make music from anything!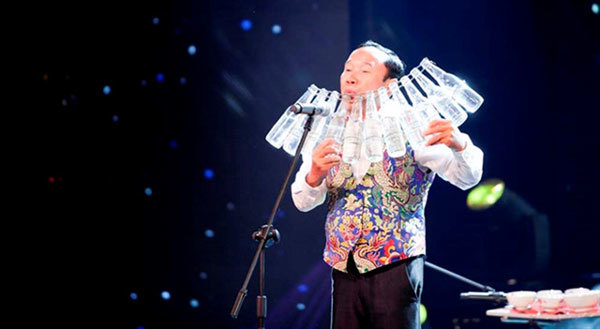 Viet Nam Guinness Record maker Mai Dinh Toi plays music with his instruments made from daily objects, such as water tubes, bottles and cans. Photo courtesy of the organiser
The event, Vietnamese Guinness Records Show, has the theme "Hiếu Nghĩa Đoàn Viên" (Duty-Loyalty-Reunion).
Highlighted performances will include kung fu master Le Yen Quyen from the Tu Anh Duong Dragon Dance Troupe in Can Tho Province, young trumpet players from the Vo Thanh Trang Troupe, and artisan Mai Dinh Toi of HCM City.
They are all members of the Vietnamese Guinness Recordmakers Club, which researches and publicises new records in various fields set by Vietnamese.
"We hope our show will encourage people to live peaceful, happy and healthy lives," said a representative from Vietbook, a partner of the Guinness World Records Organisation since 2005.
Traditional musician Toi will play Vietnamese music with instruments he has made from water tubes, bottles, cans and other objects.
Toi, a native of the northern province of Thanh Hoa, studied folk music at the Viet Nam Academy of Music.
After school, he won a silver medal for his flute and drum performances in which he used his mouth and feet (which took him seven years to perfect) at the National Musical Instrument Performance Festival in 1992. He has also played the flute with his nose.
He has created more than 10 musical instruments made of various materials like water pipes, bowls, bottles and glasses.
Toi made small changes to the đàn bầu, a Vietnamese one-string instrument, which is often used in folk music performances and as an accompaniment at poetry readings.
The đàn bầu is made of bamboo parts, a wooden rod, half of a coconut shell, and a silk string. It can only make a sound when musicians pluck a fixed position on the string.
Toi's changed the instrument so that players could pluck at any spot on the string.
Toi, who has been recognised by the Asia Book of Records for creating unique musical instruments, has performed in 30 other countries, including the US, France and the UK.
The Vietnamese Guinness Records Show will open at 8pm at the Happyland Entertainment Centre in Ben Luc District in Long An Province.
VNS